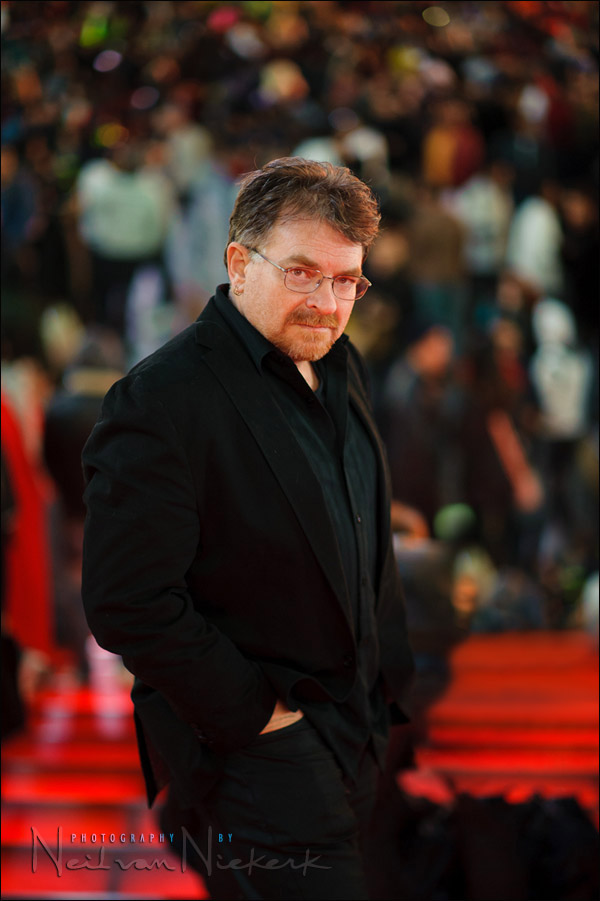 Feeling on top of the world!
Oct 31st was A Big Day for me. Today, after nearly 12 years here in America, I finally became a citizen of the USA.
To encapsulate how I felt at that moment, I asked my wife, Sara, to take a celebratory photograph of me near the top of the red steps in Times Square this evening. I really do feel on top of the world.
Instead of the usual photography related post here, I'd like to indulge myself a little and revel in this moment.
It's been a long journey – at times arduous, often exhilarating, but mostly just a constant working towards a specific goal – creating a life here in the USA that would offer (specifically) my daughter a better future here than might be possible in South Africa.
We emigrated at the start of 2000, on my wife's H1B1 visa. I was a stay-at-home dad for nearly 3 years since I didn't have a work permit. When I finally received my work permit, I started working for one of the studios here in New Jersey as a 2nd shooter. (This was somewhere towards the end of 2002.) I continued shooting for numerous studios for a few years, and eventually set off with my own business as a photographer around September 2006.
I worked as a Television Broadcast Engineering Tech back in South Africa. However, with an over-riding interest in photography (and music), I had already started a career there as a part-time photographer. So when I finally had the glimpse in 2002 of the possibilities here in the USA, I was hooked on the idea of making photography my full-time career.
The emigration process crippled us financially at the time. It was hugely expensive to move to another country. Starting from scratch was hard work, and meant long hours. The upheaval around the 9/11 terrorist attacks also had a near-catastrophic impact on our plans to live in the USA, since the company that my wife worked for at the time, was one of the many companies that folded in the aftermath of 9/11. (It's a complicated story involving the work permit system.)
My wife, Sara, is still working in the tech industry, doing very well in her career. Similarly, my daughter is doing exceptionally well at school. She is now in her final year in high-school, and has been in an advanced curriculum for gifted and talented kids since elementary school. On top of that, she is also involved in a bunch of extra-mural activities. All of this adds up to be real vindication of our decision to uproot ourselves 12 years ago, and move to another country.
Even with some of the success I've had as a photographer in just a few short years – such as the two published books – I also know that any achievement or success are just small milestones in a much longer arc. An arc that involves a lot of work and constant chipping away at it. But right now, I feel good. I completed my citizenship test, and took the Oath of Allegiance to the USA. I'm here to stay, and I really look forward to the journey ahead.
And with that, I also want to say thank you to everyone who follows and supports this website, and has helped me over the past few years, making this site what it is. There's more to come.
[ edited to add on Oct 3, 2011 ]
I anticipated a few replies to this post, but nothing like this flood of support! I am amazed and flattered and humbled. Thank you for all the lovely comments and congratulations and well-wishes. It really really is inspiring!
To appease the techies who follow the Tangents blog – the photo at the top was taken with the Nikon D3 and Nikon 85mm f1.4 AF-S lens. Camera settings: 1/1250 @ f1.4 @ 1600 ISO … all available light as exists in Times Square on any given night.