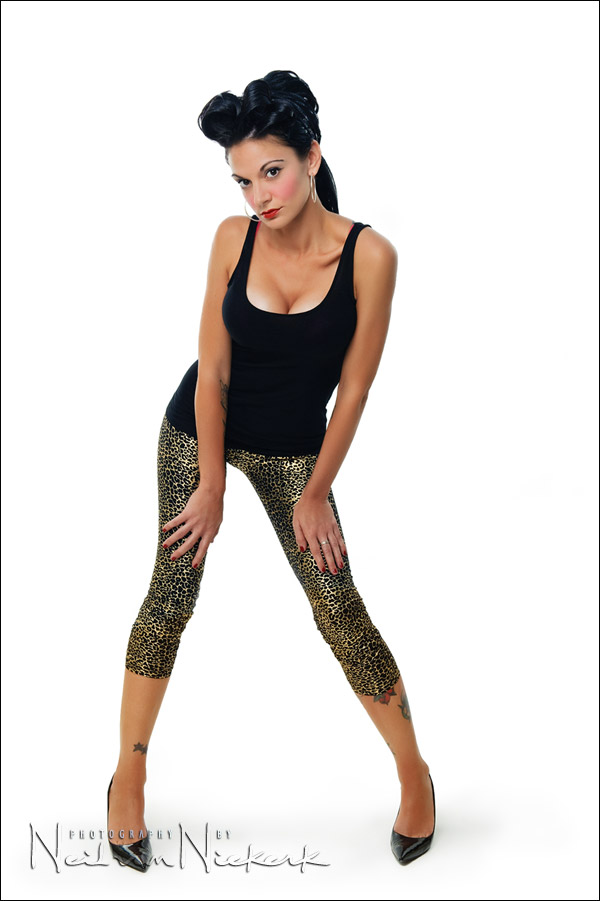 The first time I became aware of the pin-up artwork of Alberto Vargas was with the release of the album, Candy-O, by the Cars in '79. It was often mentioned how Vargas was brought out of semi-retirement to create this image.

With that, my interest in pin-up artwork by the legends, Vargas and by Gil Elvgren, was fired up.



This will also explain why I've been a fan of the photography of Robert Alvarado ever since I first saw his work. He clearly pays homage to those two artists.
pin-up style photo session – trash-glam
Jessica and I have discussed doing some pin-up photo sessions for a while now. This is from the first photo session today, going for a trashy glam look. Combined with her self-proclaimed let's-get-Jessica-a-D700 fund, we're even playing around with the idea of doing a calendar of pin-up photographs of her.
Here is the pull-back shot of the set-up:
Two Quantum flashes lit up the background.  The main light was with a 3×4 softbox nearly over-head of me.  Working within a small area set up with a back-drop, I wanted the light as even as possible.  I wanted to flood the place with light. That's all there is to it, really.
Equipment used during this photo session:
Nikon D3;   Nikon 24-70mm f2.8 AF-S (B&H);
Profoto AcuteB 600R power pack (B&H);  Profoto 3×4 softbox (B&H)
Red-Wing light-stands;  Pocket-Wizard Plus II Tranceiver (B&H)
.. and a bunch of Quantum gear.