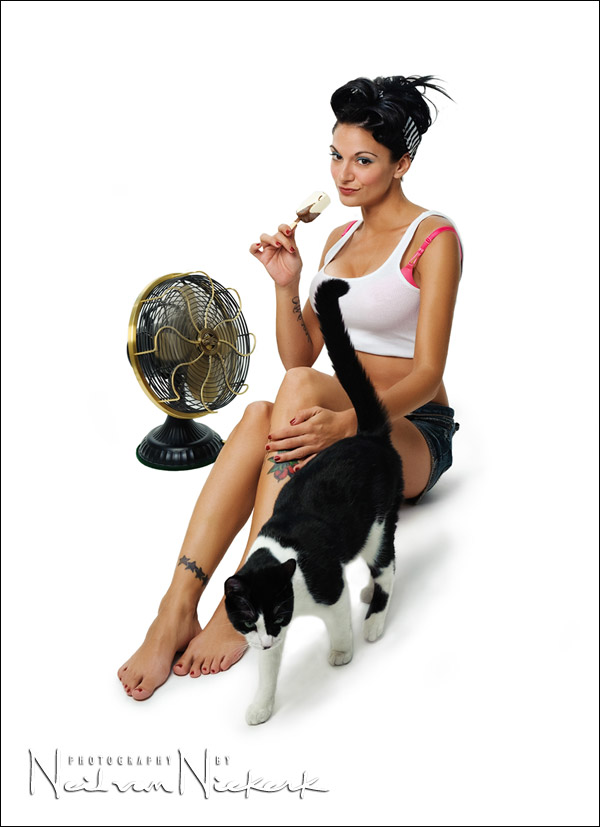 pin-up style photo session – a hot day
Continuing on with the pin-up series with Jessica, we decided on the concept for this session as 'A Hot Day'. Skimpy summer holiday clothing; ice cream; a fan (with the blades made whirly in Photoshop) .. and incongruously, one of my cats walking through the set, looking for attention …
OllieKat came and went for a few photos, but only that one really worked with him in it.  But there was one other moment that had us in hysterics.  Like any other cat, he has a wild imagination, and at some point came charging through for no real reason, determination on his face, effectively "photo-bombing" us.
That expression on my cat's face is just priceless!
The setup is exactly the same as shown in the previous post – a Profoto 3×4 softbox nearly in line with the camera to provide soft even light.  Two Quantum flashes to the side to light up the background.
Equipment used during this photo session:
Nikon D3;   Nikon 24-70mm f2.8 AF-S (B&H);
Profoto AcuteB 600R power pack (B&H);  Profoto 3×4 softbox (B&H)
Red-Wing light-stands;  Pocket-Wizard Plus II Tranceiver (B&H)
.. and a bunch of Quantum gear.