review: Canon 300mm f/2.8L IS II
Canon updated their already highly regarded 300mm lens, with the Canon 300mm f/2.8L IS II  (B&H / Amazon). For a review of the Canon 300mm f/2.8L IS II. I wanted to try something a little different. I wanted to use the wide aperture of the lens, as well as the compression that a 300mm lens offers, to shoot video of a model, Lea Liu. Instead of just photographs, I decided and create a "moving portrait" of her. This will hopefully show some of the magic that you can get with a wide-aperture telephoto lens.
The video footage was shot in Times Square a few evenings ago, just using the flood of light from the billboards.
The initial portion of the clip is just a series of glimpses of Lea through the crowd in Times Square. It was a bit of a battle to get a decent sequence, since people would often stop in their tracks right in front of the camera. Which is okay; I'm just one more person there. An amusing moment was when someone came up to Lea while I was photographing her at a distance, to ask her where she bought her clothes. "Hey lady, we're working here!" I did actually say that, but just under my breath.
This first section of the video clip is just with the
Canon 300mm f/2.8L IS II
 (
affiliate
). With the second section (where you can see the cars), I added the
Canon EF 1.4X III extender
 (
affiliate
) to turn this into an impressive 420mm f4 lens. This placed Lea so far from me that she couldn't quite see my hand gestures as I was directing her … so she had to wear her glasses. (You can't politely shout over that distance.)
Even though this short video clip has even less of a story than your average music video, it will show you the compression that this focal length creates for portraits, and how dreamily out-of-focus the background is at f2.8
All sections were shot with the lens wide open. And yes, it's a "holy macaroni!" impressive kind of a lens.
The video footage was shot with a tripod, but I also took some photos hand-held … and the aggressive Image Stabilisation is just as impressive. The images were sharp, even hand-held at 1/100 shutter speed.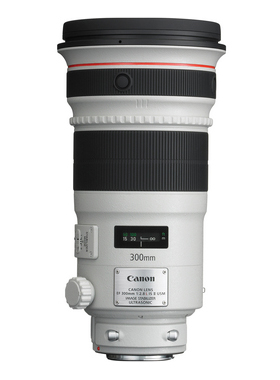 This video clip was edited with iMovie '11.
I slowed the video footage down to 50% speed to make it more dream-like.
The music track is a royalty-free track provided via Triple Scoop Music.
The artists is Sarah J Hyland, and the track is called Mmmhot.
---
Regarding my camera settings for shooting the video footage:
I stayed around 1600 ISO for the most part, but for some sections (not shown here), I dropped it by a 1/3rd and even 2/3rds of a stop. For the section at the end of this clip where Lea is standing at the cars, my ISO was at 2000.
But there is more to this …
I needed to shoot at f/2.8 and didn't want to vary my aperture to get the appropriate multiple-of-160-ISO setting. I wanted to show the look the lens gives wide open. So I kept to f2.8 through-out.
I wanted to keep the camera at 1/50th off a second shutter speed through-out.There are many articles online which will describe why 24fps gives a film-like appearance. And for specific reasons, it means we need to shoot at 1/50th shutter speed to maintain the 180 degree shutter rule, if we are shooting video at 24fps. So I kept my shutter to 1/50th shooting the video footage.
Therefore, since I wanted to keep to a 1/50th shutter speed, and wanted to shoot at f2.8 it meant that I had to change my ISO to suit, even though my specific ISO setting might not match the ideal.
---
Photo gear used during this shoot
More about this tripod: It features a unique quick-release and lock system for the legs which makes it incredibly easy to set up and collapse again. You simply pull on the legs to extend them, and they automatically lock in position. It is heavier than a carbon-fiber tripod, but the ease of setup made it an easy choice for me as my video tripod.