review: DJI Osmo camera & gimbal
For the birthday celebration of two of the members working for Modern Gypsies productions, a bunch of their friends were invited to  help assemble a Chinese Dragon … and then the group of us wove our way down the sidewalks of Brooklyn where we ended up at a night-club. This was also a perfect time to test my new DJI Osmo camera and gimbal  (B&H / Amazon). The camera offers up to 4K resolution, and has a 3-axis gimbal for stabilization.
The video clip above is a 3 minute long compilation of video footage that I shot with the DJI Osmo during the evening.
In the low light in their apartment, and out on the streets, as well as the night-club, the camera was constantly at the max ISO available for video on the Osmo – 3200 ISO. So keep that in mind when watching the video – this is 3200 ISO from a small sensor. I think it looks remarkable.
Even though the camera offers 4K resolution, I only needed 1080p video resolution. Originally, I had wanted to use a frame-rate of 60fps, but there wasn't enough light for that, so I settled for a  frame rate of 30fps, and f/2.8 – the widest aperture possible. White balance was set to AWB, since the color balance was constantly shifting as we moved from area to area.
The video clip was assembled in iMovie, with no post-processing done to the video. So this video clip should give you a very good idea of how good the camera looks at 1080p resolution, directly out of the camera at such a high ISO.
You also need to keep in mind that I was walking at a brisk pace to keep up with the dragon, or to get ahead of them. The night-club was packed with people dancing, so I was getting jostled a bit as well … and yet, the video is remarkable stable.
(This photo above, isn't a still capture from the camera – it is a screen capture in iMovie as illustration here.)
Specifications: DJI Osmo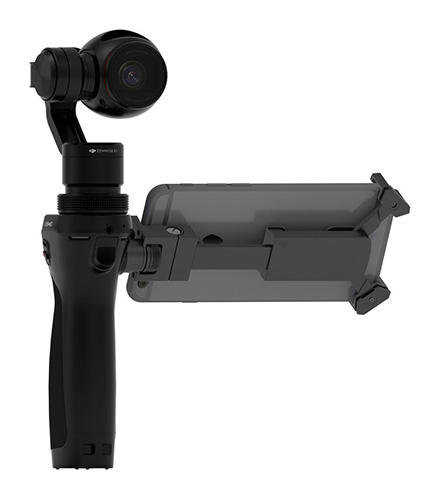 The
DJI Osmo
 (
affiliate
), combines their Zenmuse X3 camera & gimbal.
There is a smartphone holder to turn your phone into a WiFi-connected on-board monitor to check your video output while you move. The Wi-Fi features a range of up to 85′, so you can operate the camera and gimbal remotely as well.
The handle offers easily accessible buttons to switch the gimbal on or off, and to start / stop recording. (The handle is detachable if you want.) There is a joystick for manual pan and tilt. Better yet, you can use your camera phone to give you touch-screen control over the movement of the camera!
The DJI Osmo offers video resolution up to a stabilized 4K format – all in a handheld form factor. The camera features a 1/2.3″ CMOS sensor that enables up to full DCI 4K (4096 x 2160) video recording at 24 or 25p as well as 12MP photo capability.
I was very impressed with the speed of starting it up. The grip is a comfortable size, and the buttons ergonomically placed. The Osmo felt surprisingly well built, yet still light enough to carry around without fatigue to your hand or arm.
At one point in the night-club, I connected with the dragon, and the camera got knocked into a different direction – two taps of a button on front of the handle, and the camera oriented itself forward again. A super-fast way to correct any hiccup like that. Also, if you tap that button three times, the camera swivels around to offer you a selfie mode. The 2nd-last snippet of video there, is … well, I think I'm recognizable enough for you to figure out.
You can download an app, which turns your camera phone into a monitor and controller – Wi-Fi connected via the Osmo.
The price for the DJI Osmo camera and gimbal  (B&H / Amazon), is currently around $600 – an affordable price for a device which raises quality on-the-run video footage, up another big step.