Rotational time-lapse video (example)
Testing a new time-lapse rig in Times Square that shoots rotational time-lapse sequences. The Dynamic Perception Stage R Motion Controller is a finely crafted machine that smoothly rotates the camera. It is a very slick setup that is controlled via an app from my iPhone, all the settings are entered and controlled via a bluetooth connection from my iPhone. No more guessing with an analog controller.
Here is my very first test shoot with this set up – a 180 degree rotational time-lapse view of Times Square. It came out much better than I thought it might, considering this is actually a first test with this rig. (Why waste time shooting something less spectacular for a test?) It would've been a 45 minutes shoot for the 360 degree view, but someone bumped my tripod – so I shortened it to this 180 degree view you see here.
One of the neat additions to this setup is the angled bracket with which you can tilt the camera upwards. It helps in keeping the horizon even while the camera is tilted up. It would be more difficult to get right with just a ball-head on the tripod.
I shot the individual images as RAW files so that I could bump up the contrast, and bring up the shadow details in post-processing. Then the video was compiled in Lightroom.
I can see a few problems in this video clip – my shutter speed was a touch too slow for the timing of the rotation, and this caused a few stutters. The next test will be smooth though … I have the hang of this!
I would love to repeat this in a few months – can you imagine how this would look during a snow storm with the car's headlights coming in through the snow, while the electronic billboards are lit up!?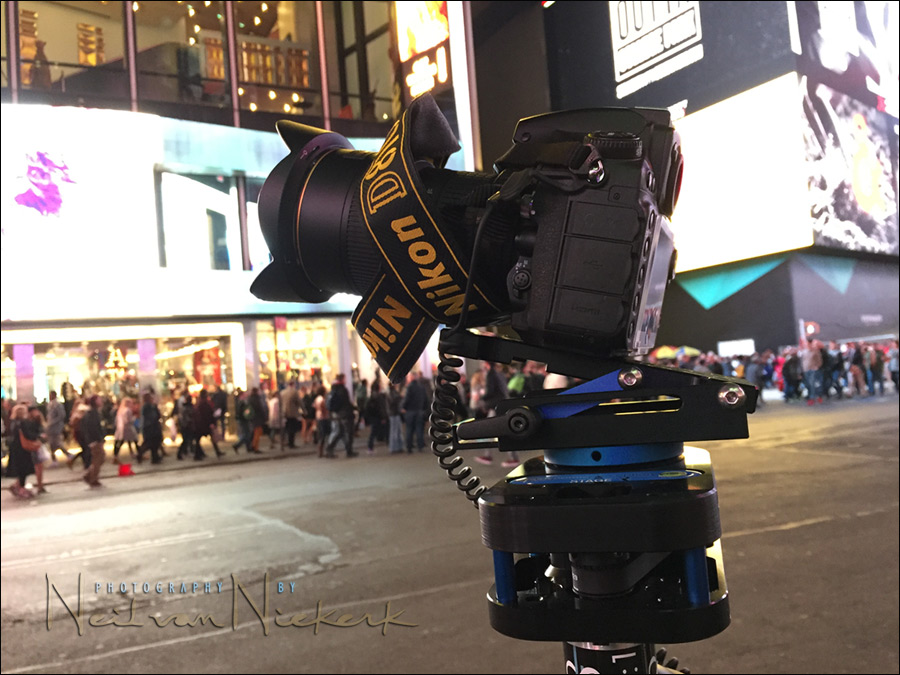 Equipment used during this shoot
Related links
Timelapse photography – a complete introduction
As with everything in photography – or as with everything in life really – there is a learning curve. Then you have two options. You can reinvent the wheel, and figure it all out from scratch by yourself … or you can do some homework and study what people before you have done.
There are several websites that are loaded with information – and then there is this thorough primer on the topic, written by Ryan Chilinski: Everything you want to know about Time-Lapse Photography. (Amazon)