Sony A1 : large vs medium RAW highlight recovery
One of the limitations for me about the Sony A1 (Amazon / B&H), was that I couldn't select a smaller size RAW file than 50 megapixels … until now.  Sony changed that with the release of firmware 1.30 and now there are two further options than the 50 mpx full RAW file. You can now have Medium RAW (21 mpx) and Small RAW (12 mpx). There were immediate reports that the smaller RAW files, don't have as much leeway for recovering blown highlights. With this video, I wanted to get a clearer idea of what we are up against.
One of the questions I see is why would one want to shoot with a smaller file when the Sony A1 (Amazon / B&H) delivers truly spectacular 50 megapixel files. (The skin tones are just superb!) The answer is that for volume workflow like a wedding and other events, you simply do not need that kind of resolution, and the overhead of the larger file in terms of storage and processing time.With a wedding, you really don't want or need 50-freaking-megapixels of a bouquet or details.
So this update was really good news for me. With a wedding, I could photograph everything in medium RAW since 21 megapixels are just fine for most uses … and then switch to large RAW for the portraits, bridal party and family photos. In other words, those photos which might more deserver such stunning resolution and detail.
Back to testing how the highlight recovery differ between large and medium and small RAW, I set up a white shirt on a clothing rack in the studio.  It was lit with continuous light set to Daylight WB.
Things to keep in mind:
– This was a non-scientific test. I wanted an idea of the range I could work in with these files.
– I only tested the camera at 400 ISO.  The response might very well be different at other ISO settings.
– We are only looking at the highlight recovery.
So, as with many things you read about photography on the internet, do your own testing to corroborate.
Download the RAW files from this link to make your own comparisons.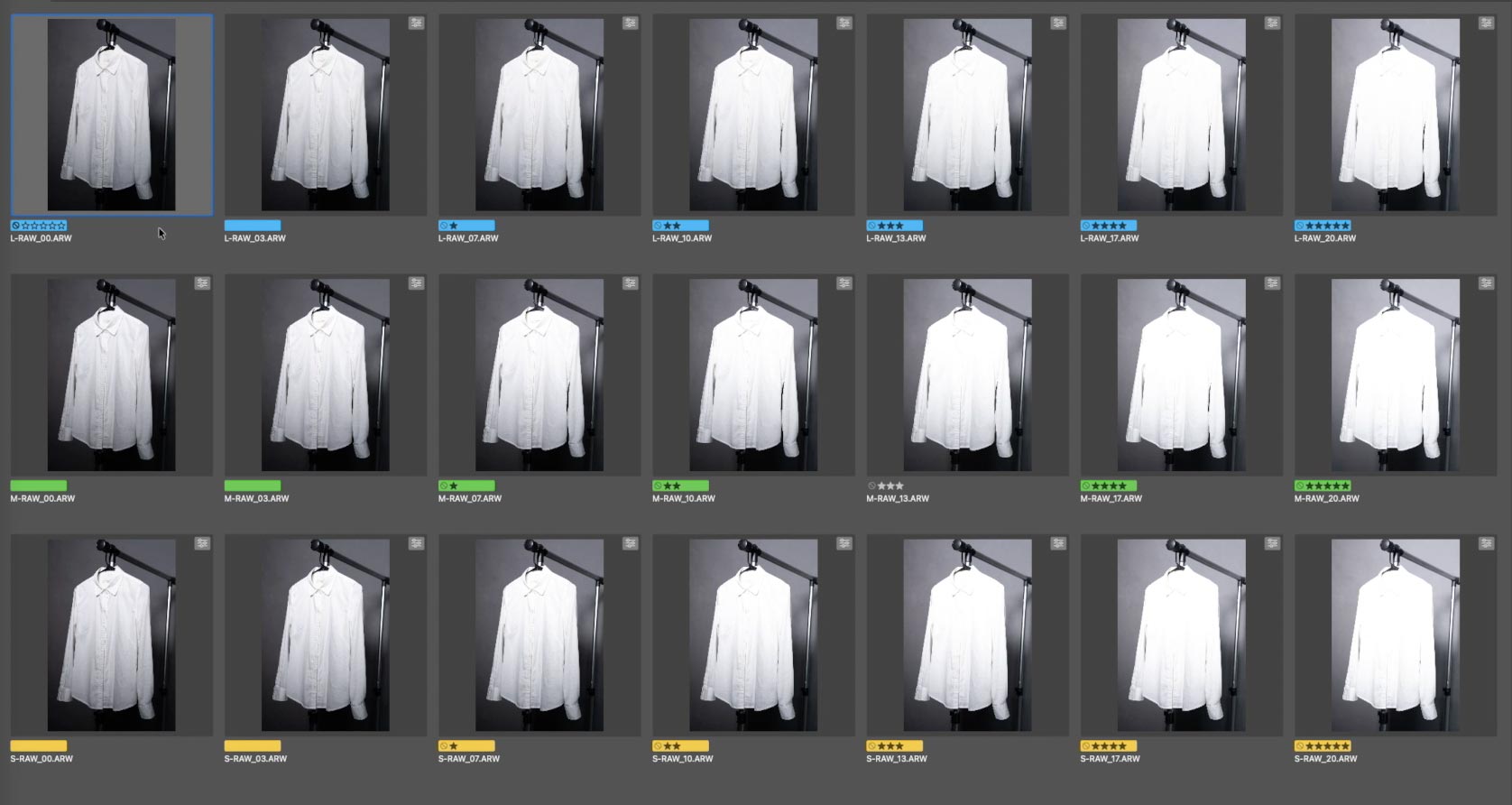 Summary
With the medium and small RAW files, you can easily pull back the highlights by 2/3rds stops for over-exposure. At 1 stop over-exposure, you're starting to see the medium and small RAW files lose a touch of detail. So I would say that's about the limit.
From what I see here, I would be happy to use medium RAW, since I would be working well within the margins of 2/3rd stop. If you consistently over-expose more than that, you need to tighten up your technique, imho.  But if you need that kind of dynamic range that the full RAW file offers, then stay with the full RAW fie.