Tightening the hotshoe on the Canon 1D series camera
If your hotshoe on your Canon 1D series camera has become loose, it is an easy fix! Somehow the 4 little screws that hold the hot shoe to the camera body can wriggle loose over time, causing the flashgun to wobble. This can even lead to poor contact between the flashgun and the camera.
Fortunately, to fix this, all you need is a set of jeweler's screwdrivers.
Indeed, you just need to lift that thin metal plate and unhook it, and slide if off …
… and then tighten the four little screws. I'd even suggest something like Loctite, or a similar adhesive to hold the screws in place in future.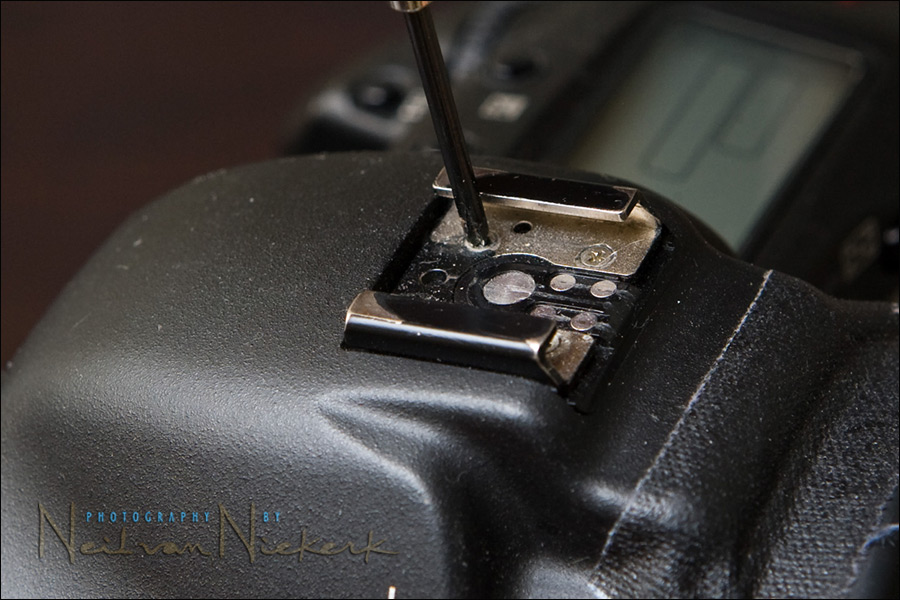 When putting the metal cover back into place, make sure you hook it properly over the open edge of the hot shoe mount, so that the cover is seated properly.
And that's it! Simple.
P.S.  the piece of gaffer tape that you can see there, is to hold the eyepiece into place so it doesn't pop off so easily.