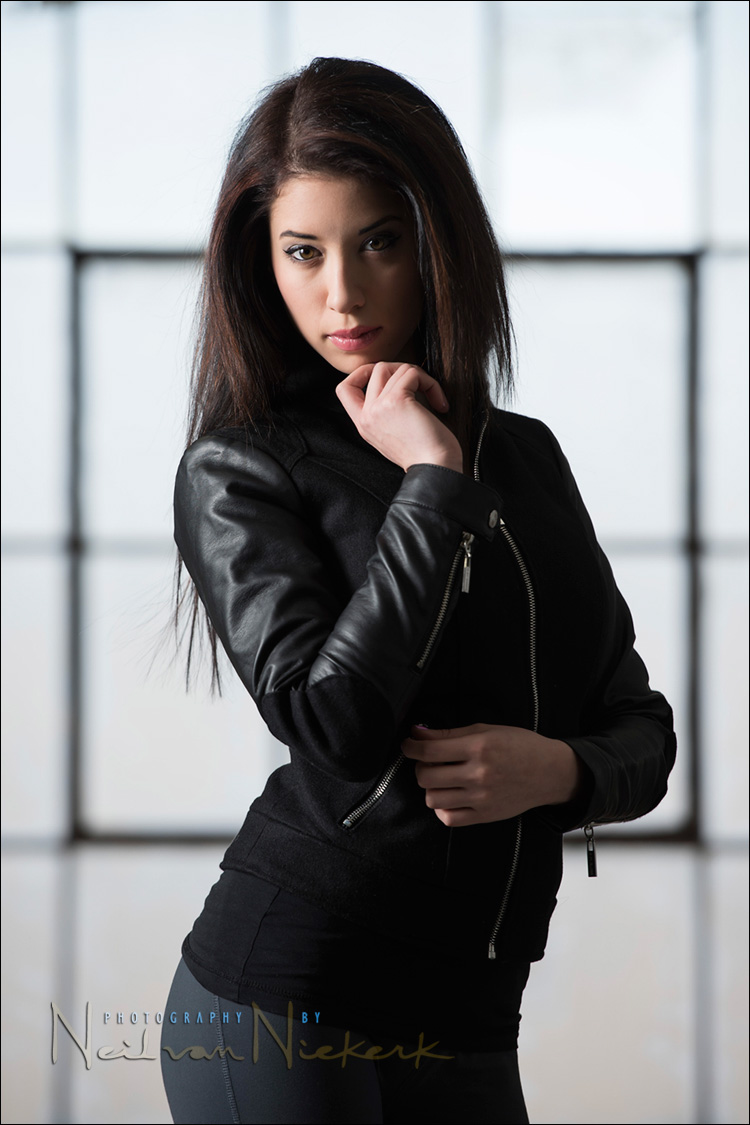 review: Bolt VB-22 barebulb flash
These are good times for photographers who love using off-camera flash. There are more and more options coming out for us to choose from and use.
B&H has rebranded their own version of a popular series of flashguns. The Bolt VB-22 bare-bulb flash (B&H) looks like the Cheetah Light CL-360, and the Godox Witstro AD360, and the Neewer AD-360. They all seem to have similar spec. So if you've been browsing for any of those options, B&H has the Bolt VB-22 flash at a competitive price.
For the photo at the top, I had my camera set to 1/200 @ f/3.5 @ 100 ISO to have the window appear in a certain way – bright enough, and out of focus. I used the Bolt VB-22 flash with a white Westcott 7′ Parabolic Umbrella (B&H) as the large light modifier. More about this further down in the review.
At a quick glance – what does the Bolt VB-22 offer?
It is a powerful manual-only flash, with a guide Number: 262′ at ISO 100.
Comparing it in the studio to a speedlight, it offers 2 stops more light than the Nikon SB-910 (or Canon 600EX-RT) would.
High-speed flash sync option
The instruction manual that came with this unit says that the flash unit is HSS-capable with a dedicated high-speed sync trigger. This is still to be released at the time of this review. Shutter speeds of up to 1/8000 will be possible then.
The flash-head can rotate nearly 360 degrees horizontally, and has a wide motion range vertically. The flash-head is bare-bulb, but can take reflectors, and has an attached slot for umbrellas.
Using the flash in the studio for portraits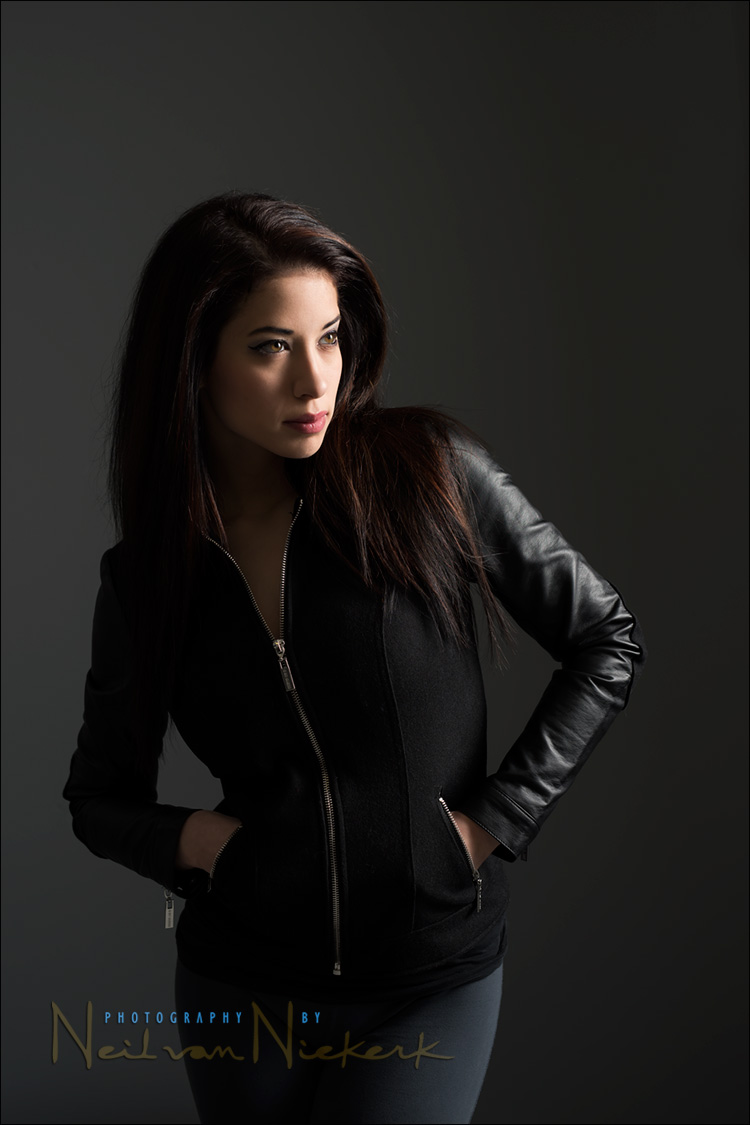 This photo and the one at the top, are part of sequences I shot in my studio to see how the Bolt VB-22 flash handles and performs. I used a white Westcott 7′ Parabolic Umbrella (B&H) as the light modifier.
camera settings: 1/160 @ f/4 @ 100 ISO.
I "scooped" the umbrella away from her so that only part of the light reflected from the umbrella would fall on her. i.e. I feathered the light like this to contain the light falling on the grey studio background. I wanted soft, yet dramatic light on my subject, Melanie … and I also wanted to control the way the light fell on the background. As you can see the umbrella is pointed more towards me than Melanie.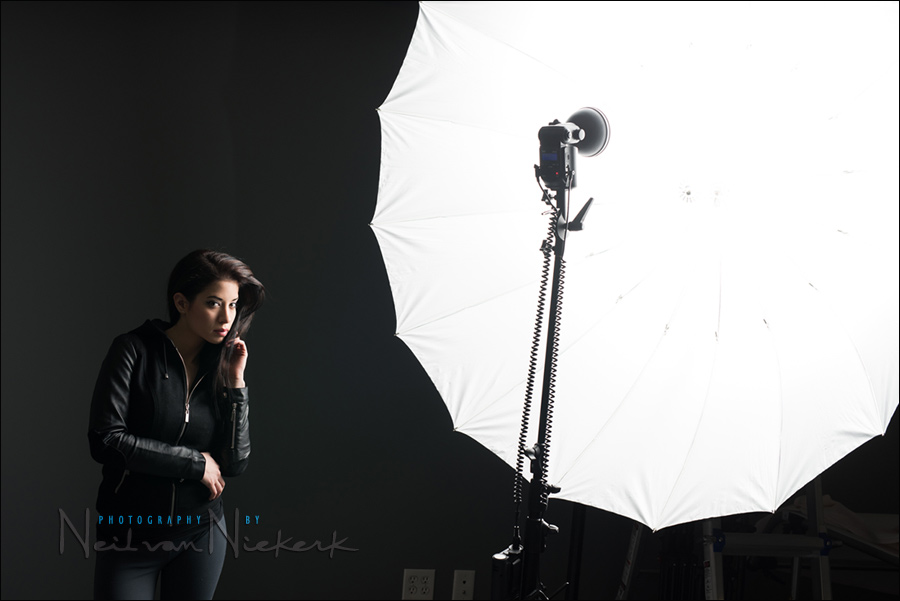 The Bolt VB-22 flash has an output of 360Ws which is a lot of juice in a portable flash! If you look at the previous article, comparing output: studio lights vs. speedlites / speedlights, you will notice that the speedlight had approximately 3 stops less light than the 500Ws Profoto D1 / B1 flash.
With that in mind, I expected about a 2 stop difference between the Bolt and a speedlight. This simple test compares their output when bounced into the Westcott Parabolic Umbrella. Doing so helps even things out a bit for us in the comparison.
The speedlight was set to 35mm zoom of its flash-head, and the Bolt flash had a dedicated metal reflector on it.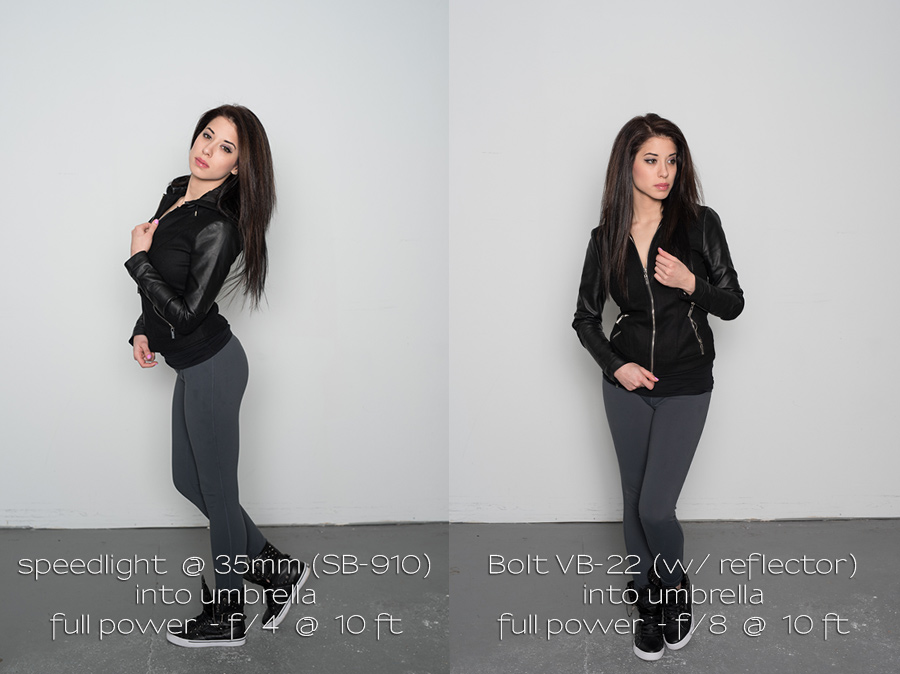 Summary
So this is what you can expect from this flash – a lot of power in a unit that appears quite well-built and sturdy. The controls are easily adjusted and are very obvious in their function. Once they get the HSS option on the market, it will be an even stronger contender. (I used Pocketwizards in the studio to fire the flash.)
Purchase the Bolt VB-22 & accessories from B&H
Specs & features of the Bolt VB-22 flash
According to the manufacturer's spec sheet:
Featuring a bare-bulb design and an output of 360Ws, the Bolt VB-22 Bare-Bulb Flash is a specialized shoe-mount flash unit that offers users a quality of light similar to studio strobes in a compact, portable package. The bare bulb design provides a full 360° specular light and is able to work with a variety of optional light modifiers, such as an umbrella mount, colored filters, and grids for creating distinct lighting effects.
The unit features a powerful guide number of 262′ at ISO 100 and covers about 28mm when used with the included reflector. The flash can also be used as an optical slave at a range of up to 33′. This mode has two settings to control whether to trigger the flash immediately when the master is fired or to ignore a single preflash.
The VB-22 flash also features a stroboscopic, or repeat, mode that allows the unit to fire multiple flashes in a row, meaning users can capture multiple images of a subject in a single exposure. The locking head can rotate 135° right and 180° left as well as tilt from -15 to 90° for added control and versatility. Additionally, the unit is fully manual and offers power settings from 1/1 to 1/128. The flash does require power from an optional external power pack which will provide a recycle time of approximately 0.1 to 5.2 seconds. It comes with a retaining ring, diffuser, reflector, power cable, protective pouch, a stand/tripod mount, a stand mounting foot, and a shoe mounting foot.
– Interchangeable shoe and stand mounts that allow more secure attachment to either a light stand, tripod, or shoe.
– Manual AF-assist light for focusing in low-light situations
– The backlit LCD display is 1.75″ in size
– Power settings from 1/1 to 1/128 in 1/3 EV steps
– Flash duration of 1/300 to 1/10,000 second
– Can be triggered via hot shoe, PC sync cord, 3.5mm cable, as an optical slave, or with a dedicated remote control
– High speed sync will be available with future dedicated remote control
Contest & give-away prize (now closed)
This contest is now closed. Check my comment at #89.
I have one of these Bolt VB-22 flash units (with accessories) to give away as a prize! 
To be in line to win the main prize, (the Bolt VB-22 flash), post in the comments how you could use such a flash (which is 2 stops more powerful than a speedlight), or how it would make a difference to your photography. Make your entry informative or fun. Show us your website if you want. Show us an image or two.
I will pick one winning entry on Monday, Feb 2nd. The most interesting or informative or deserving entry chosen by myself and my assistant, gets the prize. Unfortunately, due to high shipping costs, this part of the contest is only open to people in the USA who live in the lower 48 states.
However, there is a secondary prize which is open to everyone, worldwide! A copy of Tilo Gockel's book – Creative Flash Photography.  The winner of this book prize will be chosen via random number generator.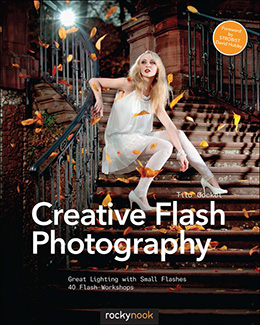 Creative Flash Photography, is divided into 40 chapters, or as the author calls them, Workshops.  Over the course of 290 pages, Tilo Gockel gives us insights in how he uses speedlights to photograph a diverse range of subjects:  portraits, product photography, macro photography, shooting for eBay,  photos for Catalogs, food photography.