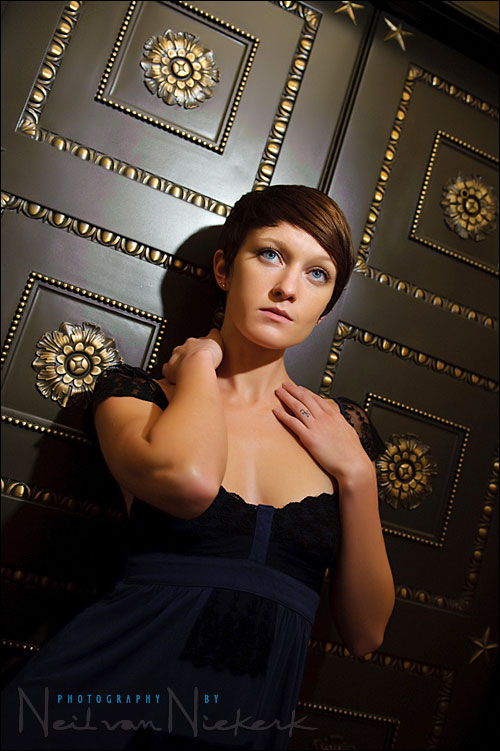 using two video lights for photography
Video lights as a way of lighting still photography portraits is something that I've mentioned more often on this blog of late.  When the subject and setting is such that a more dramatic way of lighting would work, then I quite often use video lights.
This image is from the recent workshop in Philadelphia, and someone held a single video light to the right and above me. The angle that the light should be held at, is guided by how I want the shadow under her nose to appear. I prefer the shadow to appear as loop lighting or as butterfly lighting, instead of having the shadow of her nose fall across her cheek or mouth.
It looks dramatic and beautiful. In this case, with Nikiya standing so close to the background – an elevator door – we can get away with a single light. Similarly, if we had positioned her so that she is against an out-of-focus background with some color and detail, then a single light would also work. Then the background would be light enough to create separation so that the model pops out. I positioned myself so that the hot-spot on the metallic doors created a natural halo around her.
But when there is a background that would appear dark or even black, with no separation, then we need to make another plan. In this case, another video light to throw some light pattern on the background …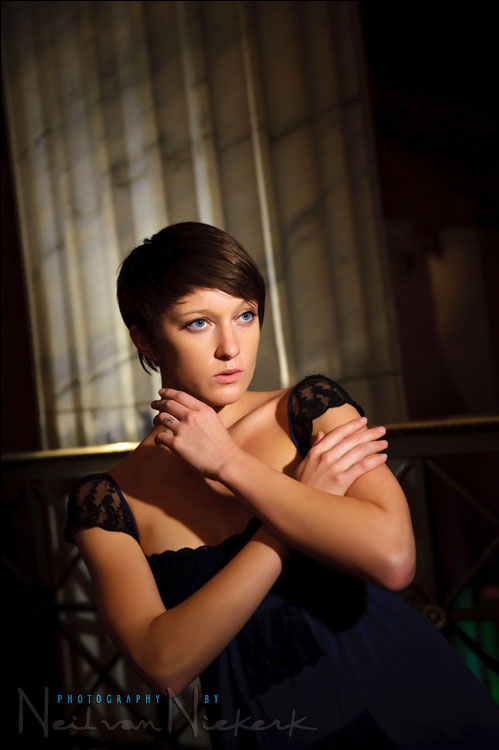 Here the second video light was held to camera left, and flagged with barn doors so that the light didn't fall on our model.
Camera settings:
1/160 @ f3.2 @ 1250 ISO for the top image, and
1/125 @ f3.2 @ 1250 ISO for the second image.
White balance was Incandescent / Tungsten, adjusted a little bit as part of RAW workflow.
With these settings, similar results could be achieved at f1.8 or f2 and a lower ISO if you are using a camera that doesn't have great high-ISO capabilities.
Details and spec of the actual video lights that were used.
The beauty of the video light again is that with the quick fall-off in light to the edges, it creates a pattern and not just a flood of even light. Then there is always the ability to use the barn-doors to flag the light even further to create a swathe of light or just a streak of light in the background. That light on the pillars there give enough separation between the model and the background, and still creates a natural vignette around her .. adding to the dramatic look of the image.