video: Product photography – two perspectives
Another in the series of Two Perspectives videos — this time with my friend, David Patino, a commercial photographer also here in New Jersey. The challenge this time was product photography. We both photograph two items (in our respective studios), with different approaches.
The product photography that I do, is generally catalog work done on a white product table and only requires this simpler way of shooting. David has a more creative approach, and it is fascinating to see him work with an idea.
I mostly use the Manfrotto large still life shooting table  (B&H) in the studio. It makes it really easy to get that white "infinity curve" look for catalog work such as product listings on Amazon. There's a way of shooting with it that gives good results quickly. The adage that "if you only have a hammer, everything looks like a nail", is quite true. With this challenge I defaulted into thinking in terms of the shooting table / product table. David's creativity took him further, and this makes for (I think) a fascinating video, even if the video is somewhat longer than usual.
When I photographed the two items, I relied on things I have learned over time, including from David. For the first item, a clock with reflective surfaces, we constructed a translucent cone with a roll of Savage Translum backdrop (B&H / Amazon) that I had in the studio for just such occasions. Over time you accumulate these items in a studio, including the black perspex I had on hand to photograph the second item – a flashlight.
David uses a medium format camera mostly – the Phase One XF with the IQ3 trichromatic back. This camera (with the Helicon Focus software ) allows focus stacking – you can shoot sequences of images which have a slightly different focus points, and any of these sequence of images can then be compiled in software to a single image which then appears to have much bigger depth-of-field. (Photoshop does this as well.) He used Capture One software to concert the RAW images to TIFF files. (In the video he said JPGs, but he concerts to TIFF as his regular workflow.)
More of David Patino's work:  Website  |  Instagram  |  YouTube   |  Podcast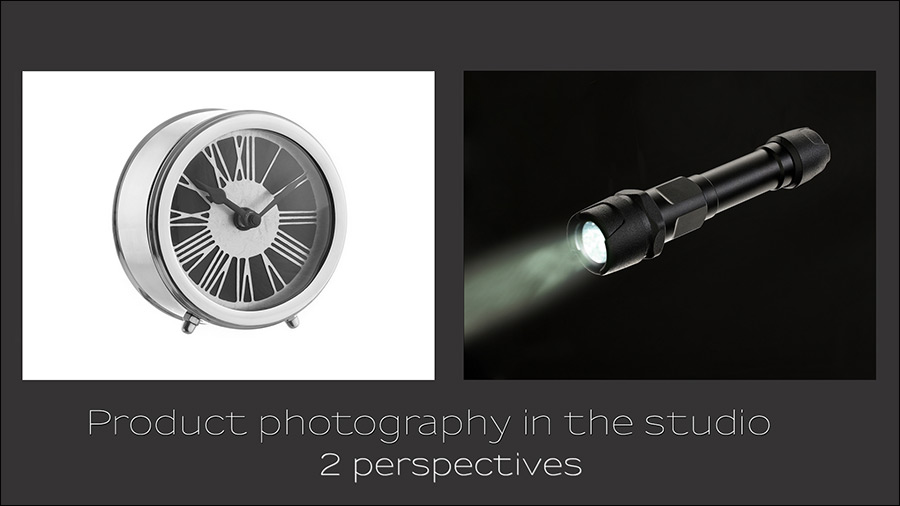 Photo gear used during these photo sessions
Neil vN's studio:
David Patino's studio: 
Related articles