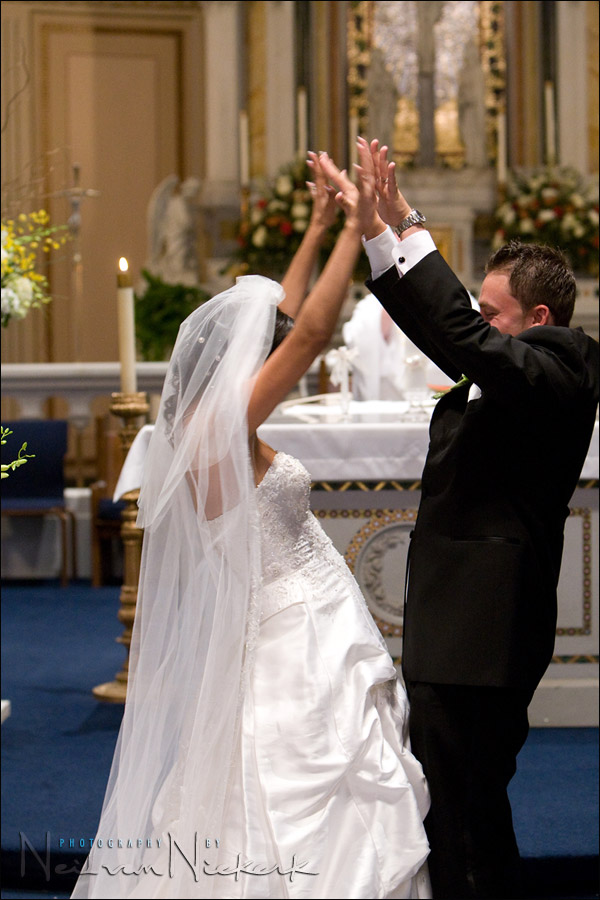 This was a first for me  – a couple who high-five each other after the first kiss!
(This was from a wedding last year.)
My settings : 1/100th @ f3.2 @ 32oo ISO.
Yes … 3200 ISO.  I couldn't use flash and I needed a hand-holdable shutter speed with the 70-200mm zoom.  Even though it is a stabilized lens, I do need a shutter speed that is fairly fast to stop any movement.  (Or stops movement enough.)
So why this photo?
Choice of ISO settings for wedding photography
Well, I frequently get asked how I deal with high-ISO noise, since many of the photos are taken at ISO settings over 400. The answer might be surprising … I usually don't. Even though I own both Neat Image  and Noise Ninja, (both excellent pieces of noise reduction software), I rarely find the need to run any images through these programs.
Personally, I use the entire ISO range available to me on my cameras.  Fair enough, I do use digital cameras that are at the top end of the spectrum and they do allow me to use very high ISO settings with ease. (Currently these are the Canon 1D mk3 and Canon 5D and Nikon D300.)
And to show that I do indeed use the entire range of ISO settings available to me, here is a screen-grab of my window in Bridge where I edited images from a wedding that I would to give to the client.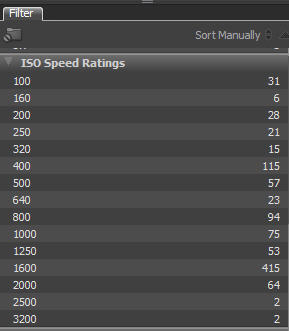 So yes, I do hop between different ISO settings.  I change my ISO nearly as often as I change my shutter speed and aperture.  This is a notion that I think many photographers still have to get used to … that the ISO setting is another control that can be varied at will.
Back to the high-ISO noise aspect:
How noise appears depend a lot on what camera you use, whether you'll notice noise at 800 ISO or 1600 ISO … and then more importantly you have to consider what size you're going to print to. Also, the crucial thing is not to under-expose. That will definitely show up as a noisy image.  But if your exposure is correct, you're already well ahead in getting an image that has less noise.
That photo at the top of this article was taken at 3200 ISO.  So what does the noise look like ?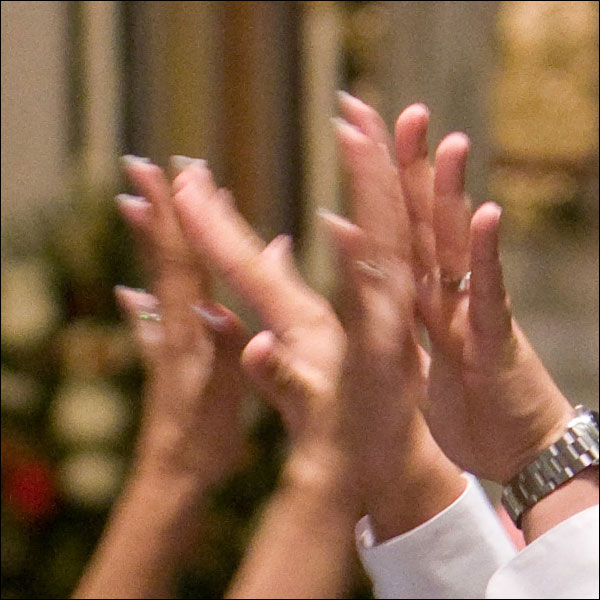 Pretty remarkable actually for 3200 ISO.  (This is with ACR in Bridge at the default settings.)
But you know … this isn't all that relevant in the end.
I have made 8×12 prints that I show potential clients, which include images shot at 1600 ISO and higher without noise reduction software being used … and NO ONE has commented about the noise. If you looked at the prints you would see the noise, but it isn't intrusive.  At larger sizes it might be noticeable, but not really at that size, or for use in an album.
The problem is only really a "problem" if you look at 100% on your computer .. but that isn't what is going to appear in print. I suspect too many photographers get hung up on the noise issue, without considering what the use of the images will be. But the best way to check for yourself is to make a few prints.
(Once again, the disclaimer is that I do use cameras that allow me higher ISO settings with ease.)
Formal photos / portraits I seldom take higher than 400 ISO … but reception photos I easily go to 1600 ISO and sometimes higher, since they will rarely be printed larger than 4×6.
Looking at two more images which have appeared elsewhere on this blog already :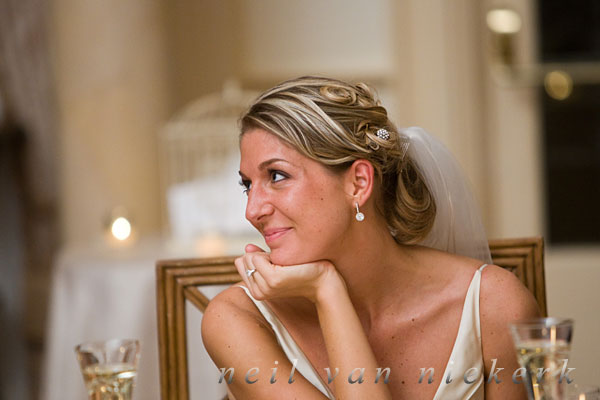 settings: 1/100th @ f2.8 @ 2000 ISO.
.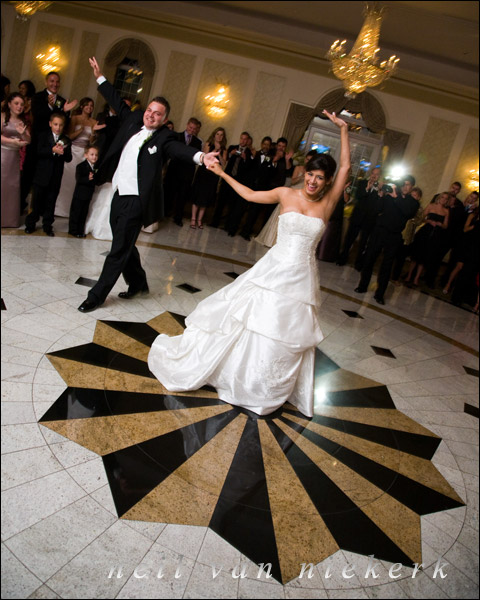 settings:  1/25th @ f4 @ 1600 ISO.
I could show you 100% crops of the images, and you would see some noise .. but again, I'd have to say that doing so wouldn't be all that relevant except for technical interest perhaps.  We need to look at how the images will be used, and where .. and as such, the high-ISO noise is of lesser concern than getting the moment successfully.  And that would include using a high enough shutter speed to freeze any motion (if that is the intention),  and an aperture chosen such that we have sufficient depth-of-field.
The main reason why I would choose a higher ISO over a slower shutter speed, is that it is far easier for me to correct high-ISO noise (should it be a problem), than it would be if I had an image that is too soft from motion blur or camera shake.
So I'll easily bump my ISO up even higher if that is what I need to do in order to get the shot that I want.