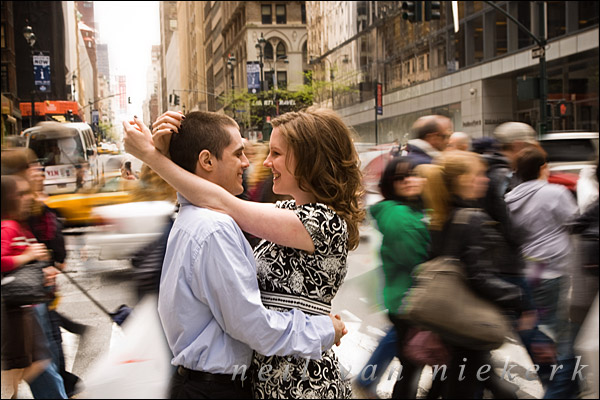 This image from the recent photo-session with Amy and Nick in Manhattan received a number of comments and questions about the technique.  The basic camera settings for several sequences of images here, were 1/20th (at f8) and 1/10th @ f11.  The image above was one of a sequence at 1/20th.  But there's more to it …
Amy and Nick were enthusiastic enough to work with me in several times running out to the middle of this busy Manhattan road whenever the light changed and pedestrians crossed.  The idea was, as seen here, to have them sharp against a blur of people and traffic.  I set my camera to a slow shutter speed, and used a stabilized lens to compensate.  This was essential in getting the couple sharp in the image, and not have camera shake at such a slow shutter speed.  Since we had to work fast, using a tripod would've been far too cumbersome.  ( Besides, I never bring a tripod with me on a portrait shoot like this.)
The effect of the people and traffic blurring was unpredictable, and I therefore simply opted to have my camera blast 10 frames a second (at such a slow shutter speed).  This way I made sure I got enough images every time Amy and Nick stood still in the road.
(I should note that the images were initially edited for exposure, contrast, saturation, white balance, etc, as part of my normal raw workflow.)
Here is an image where I liked how the people and traffic blurred around them, but I wasn't  happy with the other person's face being so dominant in the middle.  It was a distraction.
.
With this image, I liked Amy's hands and there was also a pleasant blurred area between them …
… so I decided to combine the two images in Photoshop.
I started off by layering the two images, and then tried to get as good a positioning of them in the combined image by transforming the one image.  I checked this by changing the opacity of the one layer. It would be simpler blending the two images, if the position of my subjects (Amy and Nick) corresponded fairly closely between the two images.
.
And then I used a layer mask on the one layer and blended the two images.
.
For the final image I added a slight soft-focus effect on the background, and also increased the contrast ever so slightly.  I also brought down the saturation on the green jacket so that it is less distracting.   And there's the resulting image – quite successfully showing the energy of New York, but still leading your eye to the couple.