continuous studio lighting – Westcott Spiderlite TD5
When I undertook to do the recent webinars for the Clickin Moms forums, I knew I had to pull a couple of things together to make the webinar presentation as slick as possible. So there were a number of hardware logistics I had to take care of before-hand. The one thing that I knew I would need, was continuous light on me during the webinar. I couldn't rely on the existing light in whichever studio I was going to broadcast from.
I have previously owned a Westcott Spiderlite kit; one with with three lights. However, when I found it under-powered when using the daylight fluorescent tubes, I sold it again shortly after. Nothing beats the amount of light that a flash unit puts out. But, I needed continuous light now. Looking at my options, I checked out the latest Westcott Spiderlite kits again. They now sport larger and brighter daylight-balanced fluorescent bulbs. The Westcott Spiderlite TD5 (affiliate), that I settled on this time, puts out a total of 220W.  Or as it is now described, 220 Total Fluorecent Watts. Quite bright!  This has been updated with the Westcott Spiderlite TD6 (affiliate) since.
After the we had wound down broadcasting the latest webinar, we still had use of the studio … and my favorite model, Anelisa, agreed to linger a while so that I can play with the Spiderlite and see what we can come up with.
Of course, the beauty of continuous lighting is that you can see exactly what you are getting, and how the light falls on your subject. It is much easier now to verbally nudge your subject in how they should move or position.
The downside of these lights, are that they aren't very powerful. Unless you are working with a tripod, you'll have to rely on higher ISO settings and wide apertures.
The photo above was shot at 1/125 @ f4 @ 800 ISO.
While the WB was on my camera was set to Daylight, I ended up using a White Balance setting of 4600K in processing the RAW file.
Here is the pull-back shot to show how the light was positioned in relation to Anelisa.
Showing more of the studio interior:
We were deep enough into the studio, away from the window light, that the daylight didn't have much of an effect. What you see in the final image, was entirely just the Westcott Spiderlite.
For one of the sequences, we played around with the idea of having Anelisa gently swirl her hair so that it would blur. The appearance is then as if her hair was wind-blown. Flash would've frozen this movement, but with the continuous light, it appears as this blur. Hopefully slightly enigmatic.
Camera settings: 1/100 @ f4.5 @ 800 ISO
More about the 
Spiderlite TD5 Light Kit
– this is the single light set. There are 5 bulbs which are switched on or off, via the switches on the back. This way you can enable any any number number of lights, from one to five of them. There is no rotary dial or something similar to dim the lights. You have to mechanically switch them on and off in combination. With multiple setups, you might end up setting one of the lights to be dimmer than the others. But in using just the one light, you pretty much just switch it on to full power and then position it.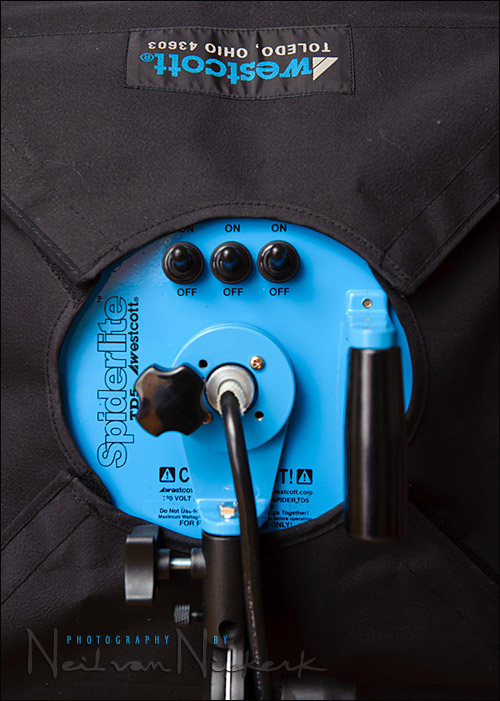 Even though I bought this set with the specific purpose in mind to act as my lighting when recording video segments or presenting webinars, it was fun to play around a while with a continuous light source much larger and powerful than the video lights that I normally use on location.
Westcott Spiderlite kits