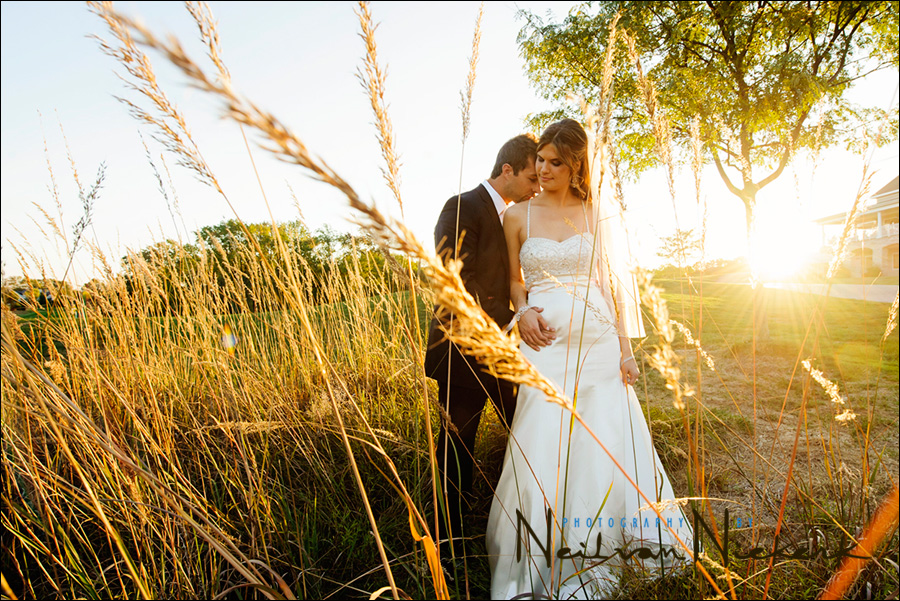 favorite wedding image of the weekend
Walking back to the reception venue from where we were photographing the bridal party, I saw this patch of grass. I knew it would make a great location for the couple with the setting sun in the background. Shooting into the sun though, I was nearly blinded by the bright light and sweat stinging my eyes – so I shot several continuous sequences while moving in the grass. This was to make sure I get at least a few clear images when I finally choose a selection of photographs for the couple.
I used the Nikon D3 and the outstanding Nikon 14-24mm f2.8 AF-S. (B&H)
This lens is incredible, not just for its extraordinary edge-to-edge sharpness, but also for how well it controls flare … especially considering it is an ultra-wide zoom.
Camera settings: 1/400 @ f7.1 @ 500 ISO … just available light.
I had the lens set to 15mm, but cropped the images in post-processing it.
I then added a few layers of effects, blended at different opacities, to punch up the warm summery glow a bit more. It was a blend of Nik Color Efex 3 (Glamor Glow), and two filters from the Totally Rad Actions set (Technicolor Dream World; and Get Faded Summer).
I envisaged this more of a panoramic image. You can see the final intended crop by clicking on the image above.