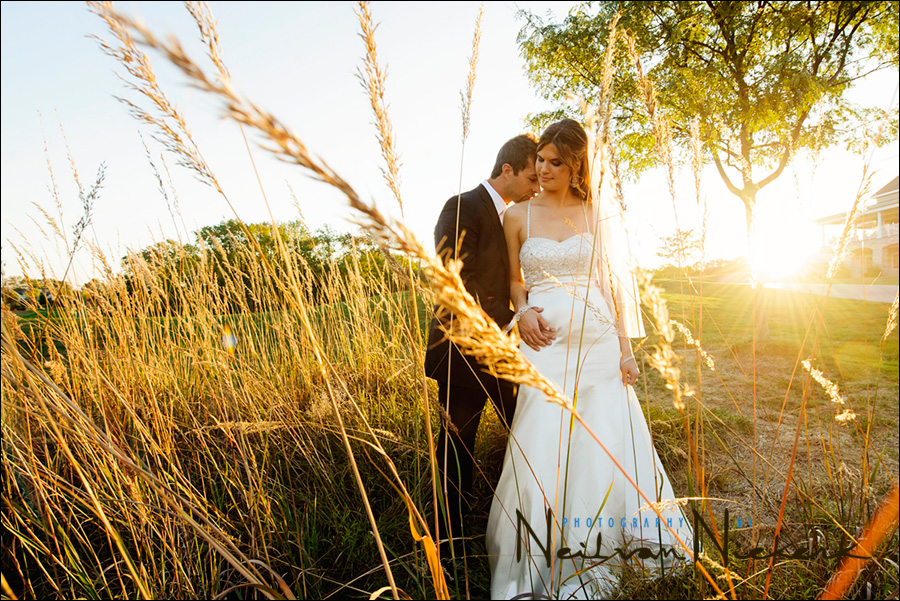 Focusing your camera – Focus-lock & recompose
Following up from the article on focusing modes of your camera – when your subject is off-center, you have two options to acquire and hold focus:
use the appropriate off-center AF sensor
(but you can run  into the problem of it not being a cross-type AF sensor), or
lock focus, and then recompose the shot
A scenario where you might want to use focus-lock & recompose, is when there is strong back-lighting, and your camera has difficulty auto-focusing. The photo above would be a typical example.
Here I was shooting directly into the sun, and was nearly blinded by the bright light and sweat stinging my eyes – so I shot several continuous sequences while moving slightly sideways in the grass. This was to make sure I get at least a few clear images when I finally choose a selection of photographs for the couple. I pre-focused the entire sequence by standing up and focusing more towards their feet, so that the sun in the frame didn't mess with the auto-focusing. Then, locking focus and recomposing, I was able to get sharply focused images.
With this image, the depth-of-field at f/7.1 was enough to cover any focusing error incurred by the focus-and-recompose method.
And here we get to the crux of a potential problem with focus-lock & recompose – as you swing your camera through that tiny arc to recompose, the plane of focus might shift too much.
This is more problematic with wide-angle lenses, where we tend to swing the camera through a wider arc than we most likely would with a telephone lens.
If your lens has a perfectly flat plane of focus, then as you move your camera with that tiny bit of rotation to recompose, the focused distance will remain the same, but the plane of focus will also rotate through that same arc. So if you subject is off-center, the plane of focus might now be behind your subject, and you get a photo that looks slightly out of focus. (This looks similar to a back-focused image, but the cause is different. Back focusing is usually due to poor calibration between the lens and camera.)
The plane of focus changing with the focus-lock & recompose method, isn't much of a problem when you shoot with a longer lens for a tight portrait. That tiny arc you move the camera from their eyes to a better composition, will barely affect the plane of focus, and DoF will most likely cover any tiny error in focus.
But with a wider lens, this is potentially big problem at wide apertures – as you rotate your body to change the composition, the focused distance might not be correct still. It really depends on how much you move the camera, and how much DoF you have, and also the curvature in focus plane of the lens. With these variables, it is good practice to be conservative with the focus-lock & recompose technique. If you are sure your non-center AF points are accurate, it would be the better choice to use the appropriate AF sensor for your composition.
Camera settings & photo gear (or equivalents) used for this photo
I envisaged this more of a panoramic image. You can see the final intended crop by clicking on the main image.
 1/400 @ f7.1 @ 500 ISO … just available light
Related posts