a band-aid for memory leak problems with Adobe Bridge (Mac)
While I do have Lightroom and Aperture, I have a preference still for using Adobe Bridge to view (and edit) individual images or groups of images. What makes Bridge easy, is that the edits (via the .xmp files), are read by both Lightroom and Bridge.
There has been one problem that has been driving me crazy on my Mac when I use Bridge … the apparent memory leak with Bridge that eventually eats up all the Free Memory on my system. I used a program called iFreeMem to regularly free up memory on both my Macs, but the program worked less well with Mountain Lion. And when I upgraded my iMac to 16Gb of RAM, iFreeMem just didn't work properly at all.
Then some sleuthing via Google showed me a very simple way of doing this. This is something so simple that any competent software engineer will smirk (and the Linux gurus will fall over laughing) … but I wanted to put this out there as info for photographers who use Mac and Adobe Bridge, and who have been as frustrated with this problem that Adobe refuses to fix. (Or could it be a Mac problem?)

the backstory, briefly:
I use a 27″ iMac in my office, on which most of the editing work is done. I also have a MacBook Pro (hooked up to a Cinema display), which is my main machine since it is one I can take with me when I travel. Both have had this problem with Adobe Bridge from at least CS5 onwards. It has now become untenable. Beyond frustrating to watch your machine slowly drop from their 8Gb of RAM to less than 100Mb of free memory. Both machines would then become sluggish until Bridge is closed and re-opened.
In the past week, I did a clean install on both machines. The MacBook Pro's hard drive (SSD) had it's data corrupted, and the iMac had a recall for the hard drive. So I took it in to the nearest Apple Store for the replacement drive. (More about photography workflow and back-up plans.) At the same time, I upgraded the iMac's memory from 8Gb to 16Gb.
I was hoping the clean installs of the OS on both computers (and the upgrade of memory on the iMac), would solve the problem. Alas, not. Even the 16Gb of the iMac would be taken up by Bridge's incessant appetite.
So I looked around on Google. Of course, there's a flood of info, ranging from hard-core indecipherable techie stuff, to shrugging of shoulders by Adobe on their forums. And a lot of people frustrated by similar problems.
The quick-fix / band-aid:  purging memory via Terminal
While this does nothing to solve the under-lying problem, it does help us get ahead and actually be able to use Adobe Bridge on our Macs.
– Open up Terminal (via Applications / Utilities)
– type in this command: purge
This will purge the memory, and you will be able to see the result on your Activity Monitor (as in the image at the top.)
To have easy access to this, I now keep Activity Monitor and Terminal on my Dock.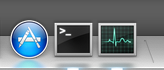 This now allows me to continue working with Adobe Bridge. Not elegant, but it helps.
As always, I would love to hear from others if they have any tips or insights.
links to related articles:
– Terminal 101: Managing Memory in Mountain Lion  (MacLife)
– Bridge Help / Manage the cache | Adobe Bridge CS4, CS5  (Adobe)
– Using Activity Monitor to read System Memory and RAM being used  (Apple)