photography workflow – back-up plans (update)
A previous article, photography workflow – back-up plans for your main computer, dealt with two ideas:
safe-guarding yourself against catastrophic failure or loss of your computer
preparing yourself for when your hard drive crashes.
I do think the ideas there are solid – making sure you're not vulnerable to a single point of failure in your system. The comments from others supported this and also offered a lot more advice and other possibilities. With that, I slightly adapted what I was doing:
my bootable clone hard drive is now a fire-proof & water-proof safe made by ioSafe
Backblaze as an off-site / online duplication of my files
Using the PackRat feature of Dropbox
With all this in place now, I think my back-up plans are very solid, especially with some extra redundancy thrown in there …
Now, you may well ask what the photo of Las Vegas has to do with photography workflow … but it is just an Instagram photo from my hotel room in the MGM when I was there earlier this year for my presentation at WPPI. Instead of just lots-of-words, there's a pretty photo to brighten all this up.
Back to the workflow stuff …
I distinguish between two parts of my workflow:
my computer (a MacBook Pro), on which I have my work files and documents such as Excel spreadsheets, and contracts, etc. My emails and Calendar is also on there.
my photographs, which I keep on external drives – two Drobos
With that, I do different things to each of those parts, to protect myself against catastrophic failure.
Everything I mentioned in the article photography workflow – back-up plans for your main computer, is still in place, but I've added the following elements:
1. ioSafe
As mentioned in the previous article, I have a bootable clone of my main computer's hard drive.  Super-Duper! creates an exact copy of my hard-drive every night, just in case my main hard drive dies. A solid idea, but my external hard drive was just a portable hard drive.
When I saw reviews of the ioSafe, and that it is fire-proof and water-proof, I was hooked. There is also the option of getting the ioSafe with an SSD drive, which is indestructible. Not only is it fire-proof and water-proof, it is also shockproof and crush-proof.
Have a look at these astonishing video clips to see they mean exactly that!
– video clip on Gizmodo
– BBC review of the ioSafe
– ioSafe website with more news
Now, that is seriously impressive!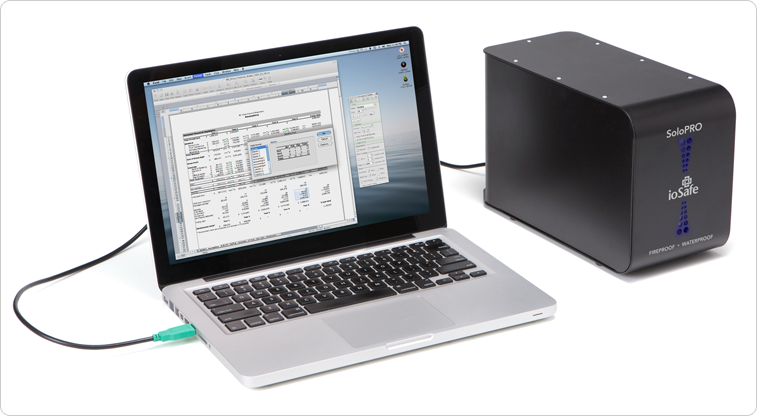 I didn't quite feel that I needed to protect my computer against a tank rolling over it – and with online back-ups of my files via Dropbox and Backblaze, I am fine. But I really like the idea of a very rugged hard drive protecting my data. So I now have an ioSafe SoloPro. There's even a data recovery service built into the price of this hard drive.
For people who distrust online back-ups, something like the ioSafe will be ideal. You can even bolt the hard-drive down to your desk. No one is dragging that puppy anywhere!
2. Backblaze
For online back-up there are a number of services. I had a look at Backblaze after someone mentioned it in glowing terms when I posted the original article.
Backblaze has three immediate advantages for me:
– it's very affordable.  Surprisingly affordable.
–  unlimited capacity.
– should you need your data, they can send it to you on a hard drive for a fee.
It takes quite a while for the initial back-up to Backblaze if you are dealing with huge volumes of data – multiple Terrabytes – but once the initial back-up is done, the incremental backups are quite fast. And then you're all set.
3. Using the PackRat feature of Dropbox 
I wrote extensively in the original article about how I use Dropbox to keep my work files safely backed up online. With Dropbox's "Packrat" feature, they now keep an unlimited number of any files that I may delete or change. Wonderful peace of mind.
I should also mention that any back-ups of my programs, such as Mac Mail, Calendar, Contacts, I save in a Dropbox folder. So I can always resuscitate my essential stuff from Dropbox should I lose my main computer. Of course, my Calendar and Contacts are also backed up on iCloud.
You may well say "paranoia" and say that even my redundancy has redundancy – but I am unlikely to lose data, whether by my own stupidity, or catastrophe.
As before, I'd love to hear how everyone else is doing it. Please share.
related articles
back-up plans (update)