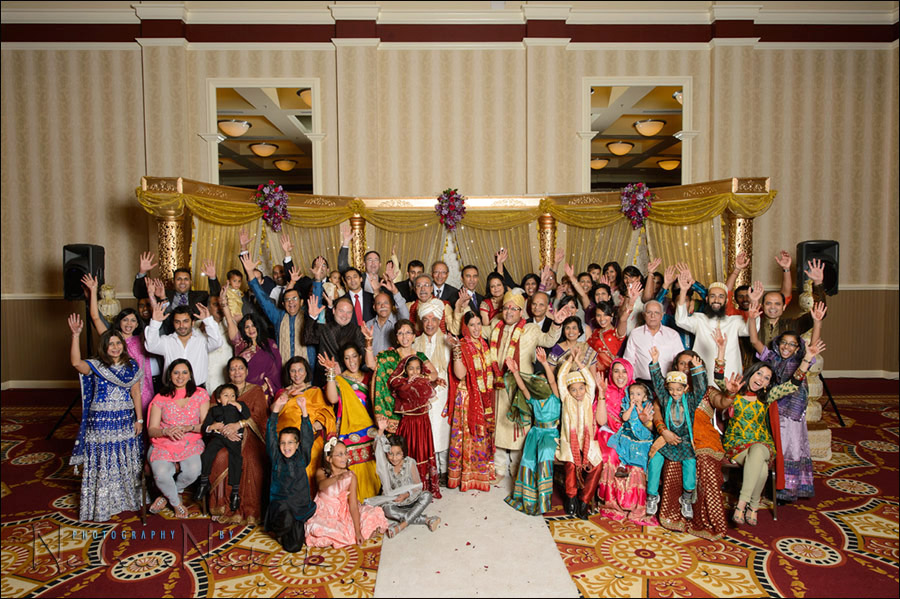 wedding photography – lighting large groups of people / formal portraits
Relating to the article positioning your flash for the wedding formals, where the family portraits and groups where photographed with a single umbrella and two speedlights, the question then inevitably comes up – what do you do when you need to photograph a large group of people.
The obvious answer is – you need a lot more juice! You either need to add more flashguns, or use a more powerful unit.
As a wedding photographer of Indian weddings, I know that I will be dealing with huge groups of people. And that means a small aperture – and that means a really powerful flash.
In a previous example, shown in this article  - how do you light large groups? evenly! - I used two Quantum flashes and large 60″ umbrellas to spread the light. But the Quantum flashes, even though they are tough workhorses, aren't that much more powerful than a speedlight.
Instead of the effort of setting up two Q-flashes on their light-stands, I am now using a much simpler set-up – a Profoto 600R kit with a huge softbox. The current equivalent of that set would be:   Profoto AcuteB2 600 AirS/R Power Pack  (B&H). The softbox is the Profoto RF 3×4′ Softbox (B&H). The Profoto is ridiculously easy to set up. Even the softbox with the spines is hassle-free. The way that the softbox clips around the flash-head is also very straight-forward and hassle-free.
What you see in the photo above, was lit by that single large softbox 4 ft by 3 ft. There is slight light fall-off to the sides, but nothing that a quick swipe with the Local Adjustment Brush in Lightroom won't fix. It's a small trade-off doing this in post, for the simplicity of the lighting setup during the event. Do keep in mind that most groups would be much smaller, and then the light fall-off doesn't exist.
The positioning of this Profoto softbox is exactly the same as described in this article - positioning your flash for the wedding formals. With this, I get consistent awesome light.
The summary to all this: I use whatever is necessary for the specific task, but also with an eye on what is easy to use.
camera settings: 1/125 @ f/10 @ 400 ISO
equipment used
Nikon D4 (B&H);  Nikon 14-24mm f2.8G AF-S (B&H)
Profoto AcuteB2 600 AirS/R Power Pack  (B&H)
Profoto RF 3×4′ Softbox (B&H)
video tutorials – wedding photography
If you like learning by seeing best, then these video tutorials will help you with understanding photography techniques and concepts. While not quite hands-on, this is as close as we can get to personal instruction. Check them these and other video tutorials and online photography workshops.


another example, with a pull-back shot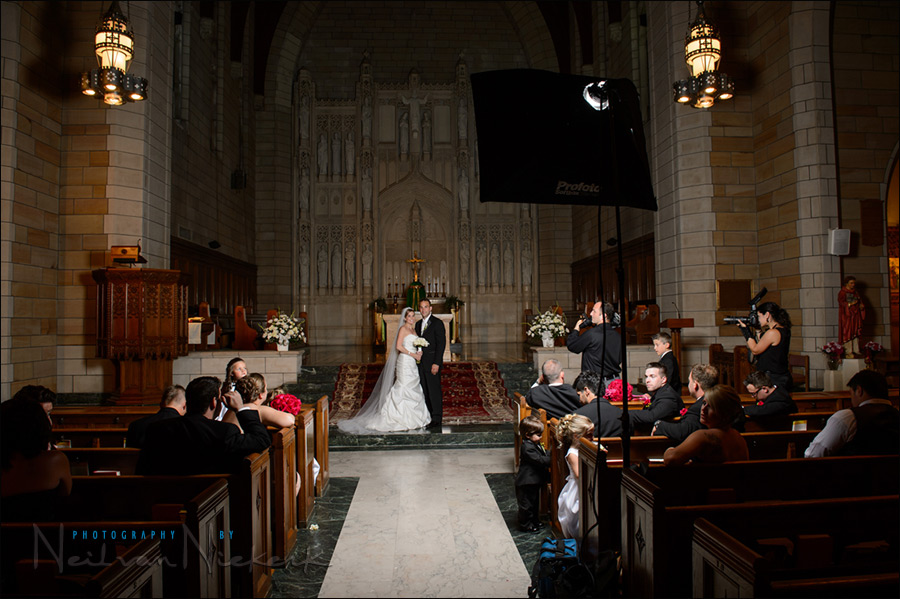 The pull-back shot here from another wedding, shows the absolute simplicity of lighting the formals this way. One massive softbox to my right, just inside the pew so that there's no chance of someone tripping over the light-stand. What I like about the Profoto and the amount of power it is capable of delivering, is that it doesn't strain to get enough light on your subject. (With a speedlight or two, we're often working at full power, and the recycling time is then much slower.)
The following image shows the quality of light on just the couple themselves.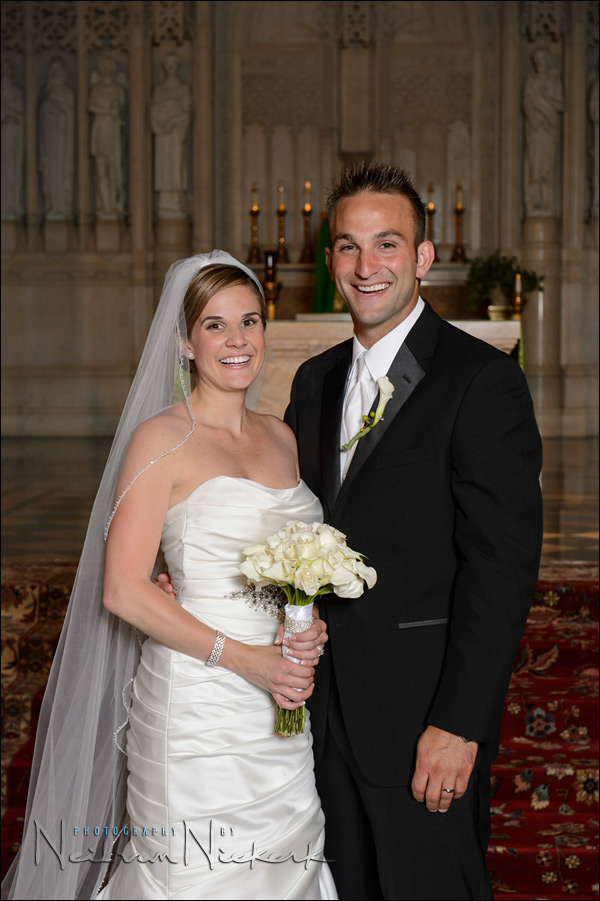 camera settings: 1/60 @ f/5.6 @ 400 ISO
equipment used
Nikon D4 (B&H);  Nikon 24-70mm f2.8G  (B&H)
Profoto AcuteB2 600 AirS/R Power Pack  (B&H)
Profoto RF 3×4′ Softbox (B&H)
related articles