Available light photography: Posing into the light
A topic that we've given more and more attention to here on Tangents, is available light photography – but specifically the idea that in using available light, it isn't just a random way of taking photos, but that consideration has to be given to the direction of light. When you work with someone you want to take a portrait of, it is crucial that you pose someone in flattering light. This often means posing someone into the light, with the one shoulder toward the direction of light. This idea works for even the simplest of cameras – in this case, an iPhone photo of the bride.
---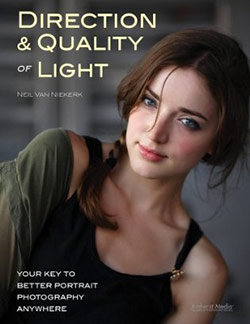 Direction & Quality of Light
I wanted to distill the essence of what we, as photographers, work with – light! Before we can truly grasp on-camera flash and off-camera flash, and really, any kind of photography, we have to be aware of the direction and quality of light. We need to observe the light that we have, and then decide how best to use it, or enhance it.
With this book, I try my best to share those "aha!" moments with you, and I do believe this book can make a difference to your photography.
The book is available on Amazon USA and Amazon UK, or can be ordered through Barnes & Nobles and other bookstores. The book is also available on the Apple iBook Store, as well as Amazon Kindle.
---
Photographing a sensational bride, Julie, I asked her to turn toward the light, and turn her gaze upward away from me. Her pose was instinctive, and I only helped her in placing her free hand, by asking her to gently shape her body with her hand, instead of letting her hand dangle loose.
I wanted to share some of my images. So I asked her if I could shoot a photo with Instagram on my iPhone, so I could post it directly from my phone to Facebook and Instagram.  I had shot the entire sequence here with my Nikon D4, and the images look really good. Really good! But I wanted to immediately show some friends, and the iPhone was the choice for sharing an image.
Keeping to the same pose, the photo looked great, even on this simplest of cameras – the iPhone. This is the fundamental idea – the direction of the light is all important in photographic lighting. This is true whether you use on-camera bounce flash or off-camera flash. It's just as true for available light photography, whether you use your phone's camera or a top-of-the-line pro camera.
Related articles