Boudoir photography, by Critsey Rowe
Boudoir photography has seen a huge surge in popularity in the last few years. But as much as boudoir is a fascinating genre, it is also quite challenging.
The pressure is on *you* as the photographer to get the best images you can of someone who is most likely feeling quite vulnerable. So not only are your lighting skills and posing skills and your general skill as a photographer tested … your people skills really need to kick into gear too. Boudoir photography is personal photography on so many levels.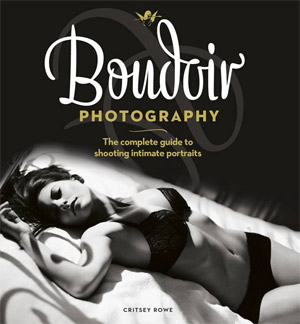 Subtitled, the complete guide to shooting intimate portraits, Cristsey Rowe really did aspire to write a book that covers every aspect of boudoir photography thoroughly.

This 156 page book covers topics such as obtaining locations, hair & make-up, wardrobe, accessories. Topics which are a good introduction to the mind-set that it is more to this than just the actual picture-taking.
The 30 pages devoted as a posing reference is the core of the book, in my regard. Posing the boudoir client is where the photo session can easily come unglued. While under pressure, you can easily run out of ideas with a momentary "brain-freeze". Therefore, it is essential for a boudoir photographer to have a repertoire of ideas on hand to use. Attention is also given in this chapter to corrective posing, and working with a plus sized client.
The chapter on post-processing is also an important one. In my experience, boudoir photography's biggest time drain is the time spent in front of the computer, carefully retouching the images. The other chapters in the book cover the actual photo session, and the presentation afterwards.
Such a thorough overview of the subject would of course be less appealing if the book didn't contain numerous sexy and alluring photos. The printing is also of a high standard.
For a look inside the book, check the Amazon link:
Boudoir Photography: The Complete Guide to Shooting Intimate Portraits
My final summary – right now, this is in my opinion the best book available on the topic of boudoir photography. Highly recommended.
Further reading