book review: Classic Modern Pinups, by Robert Alvarado
When I first heard news that Robert Alvarado was (finally!) publishing a book of his best pinup photographs, I was excited. I've been a huge fan of his work ever since I first came across his portfolio on Model Mayhem and several other photography forums. I even attended a workshop where he explained his lighting and posing of the models, as well as his Photoshop techniques.
Drawing inspiration from the classic pin-up artist like Gil Elvgren and Vargas, Robert Alvarado had steadily fine-tuned his skills as a photographer in this style. Alvarado photographs beautiful women in this stylized way, and then finessing the images with Photoshop to give a glossy air-brushed look … lending the images a look that is definitely and recognizably his.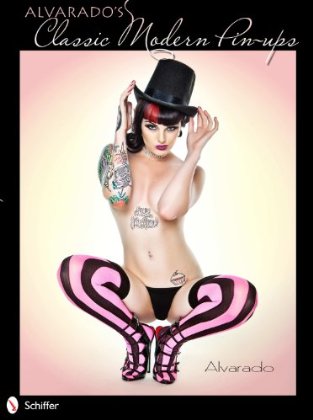 While I knew the images would be stunning, I just had to reassure myself that the printing and binding of this hard-cover book would do the images justice. And this book looks and feels luxurious. Sumptuous even.

145 images in this 144 page book, means that nearly all images have their own page. There are a few 2-up layouts, but most images are on their own. No distracting elements. Just beautiful photographs in a large 9×12 book.
What surprised me when I paged through the book, is that a fair number of his photographs which I really like, didn't make it for selection in this book. And that's testament to the breadth of Alvarado's work. He can produce such a beautiful volume as this, yet there is probably enough other images that he could release a volume 2 effortlessly, and it would be just as stunning!
There's not much more to say except that this book has a proud place on my shelf along with the likes of Richard Avedon and other great photographers – books that I often reference for inspiration and ideas. There's no higher compliment that I can give.
Other photography books