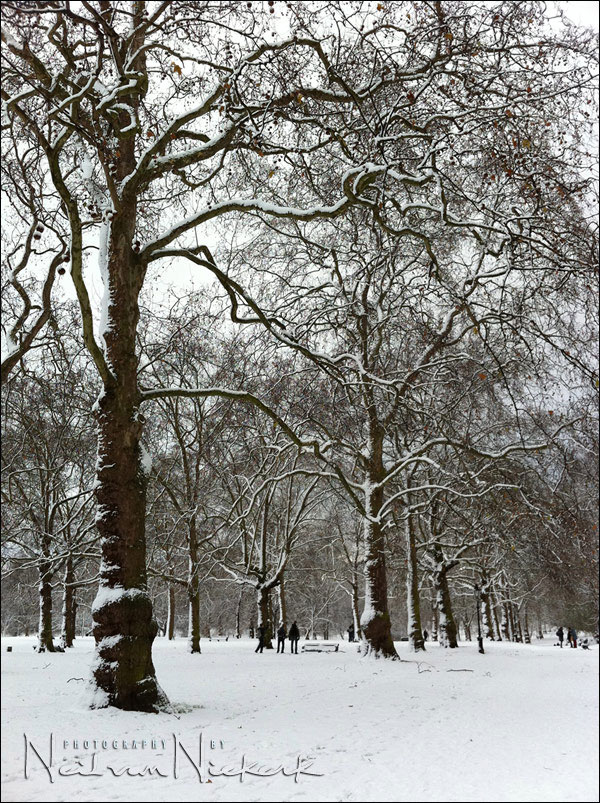 photographic composition – finding and framing your best shot
Strolling through Green Park in London, I saw these rows of winter-barren trees. The way the snow clung to the trees and branches from the morning's snow storm, white against dark brown, gave a posterized effect already – the crazy patterns of the branches starkly etched against the white snow.
I took several photographs, finally liking this photo above the most of all. Aside from resizing, it is straight out of camera … my iPhone 4. And therein was a lesson for me that I mulled over the rest of the day, while further exploring the urban landscapes of London …
When I first saw the rows of trees, I pulled out my Nikon D3 and 24-70mm f2.8 lens. I tried to encompass as much of the landscape as I could at first, shooting horizontally and vertically, and changing my viewpoint. But keeping to 24mm focal length, in an attempt to "get it all in".
Here is a straight-out-of-camera version from the Nikon D3:
… and juiced up a bit with Nik's latest HDR software they just released. I like this version:
After several frames with the D3, I decided to take a shot with my iPhone to upload to Facebook to show family and friends. However, the iPhone has a fixed little lens, and not as wide as the 24-70 lens is capable of portraying. So I had to more carefully frame my shot to make it meaningful. I couldn't just rely on the expansive landscape to look impressive. My composition had to be more precise now. I then took the photo at the top with the iPhone, and liked it most of all.
And there-in was the lesson I relearned on this day. Not to let visual laziness and entropy over-take me. I shouldn't just revert to the widest or tightest focal length that a zoom lens is capable of. Instead, I should *look* at the scene – the landscape – and *see* what it is that I want to portray. What are the essential elements that will hang together with a visual coherency?
Using the fixed focal length of the phone's camera, forced me back into this mode of thinking. A little shocked at realizing how easy it is to slip into a lazier way of taking photographs, I undertook to approach photography during the rest of my trip with the same sparseness I was accustomed to when I shot slide film years ago. Barely being able to afford film and processing, I had to make every shot count. I would meter carefully, and frame carefully. I put thought into it. The 9 frames a second pro digital bodies have gradually changed how I shoot. Digital allows you to shoot multiple frames "for free", so there is no apparent cost to taking many more photographs. (We tend to ignore the 'cost' of the extra time in front of the computer.)
So that was the lesson relearned – make every shot count by putting thought into the composition and timing. Look and consider. Breathe.
Exposure metering for snow scenes:
Exposure metering when you have a snowy landscape that is evenly lit with soft light, is dead easy.  It is a simple study of tonal placement. As such, the metering technique is closely aligned to how I use the histogram to get correct exposure for the brightest relevant tone.  In this case, I push the histogram to the very edge for the snowy landscape.  Sunshine with this snow landscape would be a touch more complicated, but on this overcast day, it is really a simple matter to get correct exposure.  There is also this earlier article where I explained how to achieve correct exposure, photographing a dog frolicking in the snow.
Even on the iPhone, you shouldn't have to bear under-exposed images with a snow landscape.  If you touch the screen of the iPhone, you can tell the camera where to focus … but also what it should meter off. So you could pick a mid-tone … or as in this case, I touched the screen where there was a big snow-covered tree trunk in the foreground.  The dark and light tones averaged out, and I got pretty close to correct exposure for the iPhone photograph, in camera already.