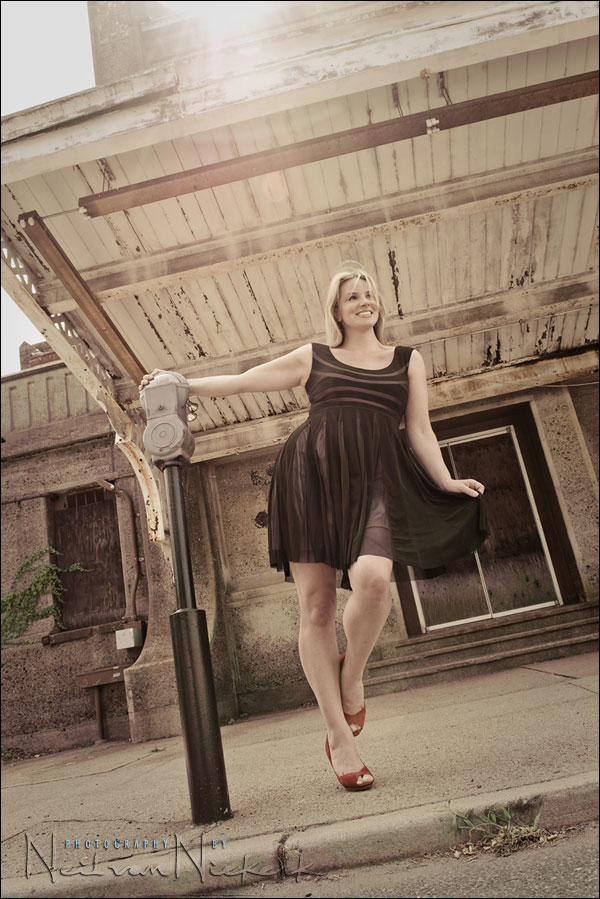 dynamic composition – changing your viewpoint (model – Carrie)
Near the end of the recent photo session with Carrie, I walked across the street to find another angle. Walking back, I noticed the sun just dipping behind the roof of this old train station. I thought it might flare interestingly if I caught the sun just on the edge there.
The problem was that I had to step into the street a few times when there was a lull in the traffic. The angle was a tough one since I had to, or rather, wanted to keep my camera at ground level to shoot up. I wanted the flare, and I wanted this angle to accentuate Carrie's legs.
I resorted to stepping into the road, crouching down, pre-focusing, and then holding my camera away from my eye at ground level. There was no way I was going to lay down in a busy street! It took three tries, each with a series of images, until I "blindly" got the composition the way I wanted it .. with the right amount of flare.
Playing around with the controls in ACR (similar to Lightroom), got me to a retro- faded look I liked. The processing hopefully complements the sun-kissed image and add to the overall feel of the photo.
Settings:  1/250 @ f5.6 @ 200 ISO  //  no additional lighting
Equipment used:  Nikon D3;  Nikon 24-70mm f2.8 AF-S  … at 24mm