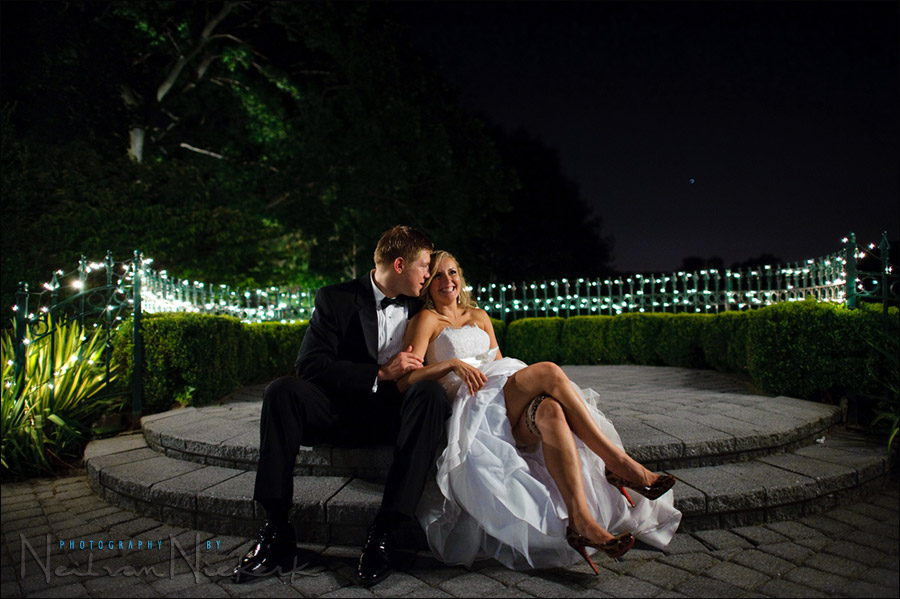 review: Nikon 24mm f/1.4 G AF-S
For a long time the only wide-angle auto-focus prime lens that Nikon had available, was the remarkable 28mm f1.4D … which caused the lens to reach astronomical prices eventually on the used market when it was discontinued.  I sold my copy of the 28mm f1.4 a few years ago – a move I still regret – but I couldn't pull the trigger on a $4000.00 wide-angle prime lens when Nikon's wide-angle zooms were so incredible.  The Nikon 14-24mm f2.8 AF-S (B&H), for example, set a new standard for how good a wide-angle zoom can be, surpassing pretty much ever other lens, including primes. But still there was a gap in Nikon's line-up with a fast aperture wide-angle prime lens.  Until now … enter the Nikon 24mm f1.4 G (B&H) which I was happily able to use at a wedding this past weekend.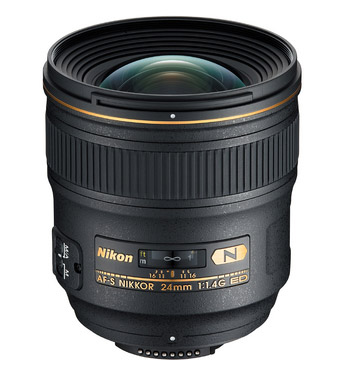 Fast lenses (ie, wide aperture lenses), come into their own for a few specific reasons.
The faster aperture allows us:
– more control over depth of field,
– the use of a faster shutter speed,
– the ability to better mix flash and ambient light in low light.
The photo above and below, were taken during a lull in the reception when I took the couple, Kristy and Tom out to the gardens of the venue.  The photo above was lit just by two lamps on either side of the couple and the twinkly lights.  (Click on this link for the wider shot of the area.)  I specifically wanted to see how this lens would perform in low light, and whether it could deliver the goods – sharp images at a wide aperture.  This would allow me to shoot faster than if I had used a tripod.  For the style that I photograph weddings in, a tripod would be very slow to work with … especially when the couple doesn't want to be detained from the reception for too long.
So I still want a shutter speed that is fast enough to hold steady with ease … and sharp.  I like sharp.
For the photo above, I was able to get a sequence of crisp images at
1/40 @ f1.6 @ 1600 ISO
I still steadied my elbows on my legs where I knelt down on the ground.  I also posed the couple so that the light falls onto Kristy's face like that, and not be shrouded in shadow.
For the photo below, we went to the gazebo on the grounds.  I know, I know .. but still, there were lots of twinkly lights we could use for available light photos.
There was enough light like this for photos at 1/40 @ f1.8 @ 1600 ISO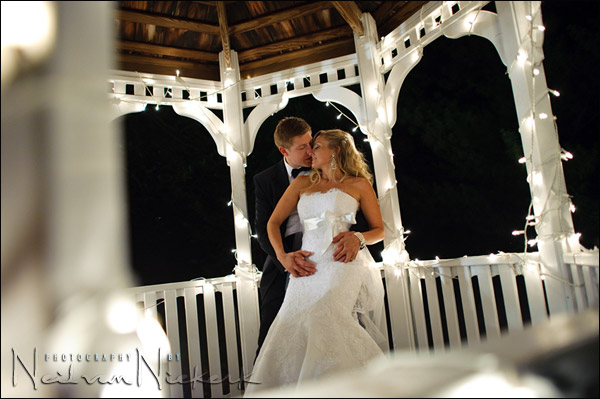 Where a fast aperture lens comes into its own, is with control over depth of field.  My natural inclination is to use (or even accept), the increased depth-of-field that wide-angle lenses give us.  But even with a wide-angle lens, the wide-open aperture gives us the opportunity to bring attention to one specific thing in the frame.  The selective focusing forces our attention to something specific .. in this case, Kristy's super-cool leopard-spotted shoes.
1/200 @ f2 @ 1000 ISO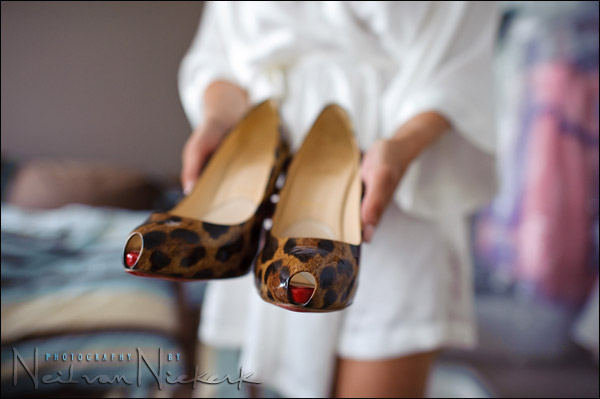 Next, two images of Kristy looking at her dress.
The first image was with the Nikon 24mm f1.4 G (B&H)
Using the ample available light in the room: 1/250 @ f1.8 @ 800 ISO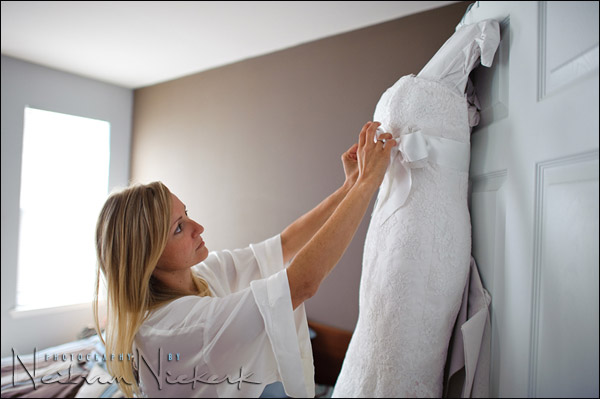 This image below is shot in in my usual way with some bounce flash.  Balancing the flash with the ambient light to give a natural look, while giving me more depth-of-field and/or a higher shutter speed and/or a lower ISO: 1/160 @ f4 @ 800 ISO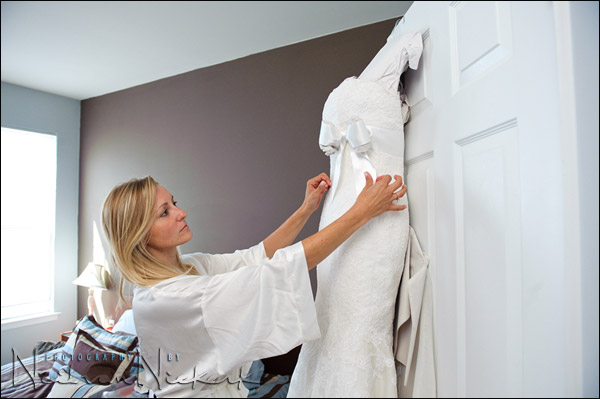 The shoes were irresistible.  I positioned them on top of a mirror that I placed on the bed.  I wanted a simpler look than the bed cover.  Reflecting the shoes and the out of focus dress allows our eyes to go to the shoes immediately.  The lamp balances the photo, but preferably needs to be out of focus … which the new Nikon lens allows for.
1/400 @ f1.6 @ 1000 ISO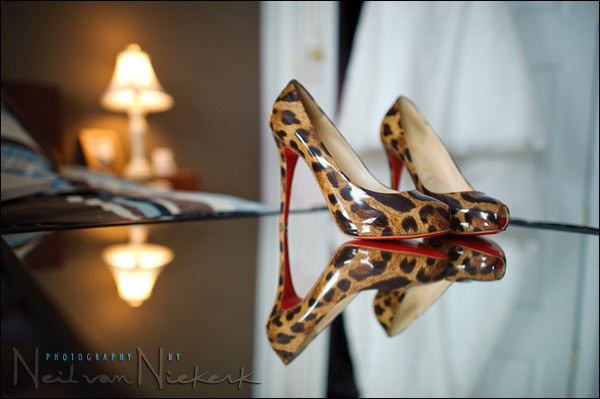 Just for comparison, how the depth of field would be at f4
Unfortunately, I changed perspective in changing lenses when I did more detail shots with the 24-70mm f2.8 .. but you get the idea.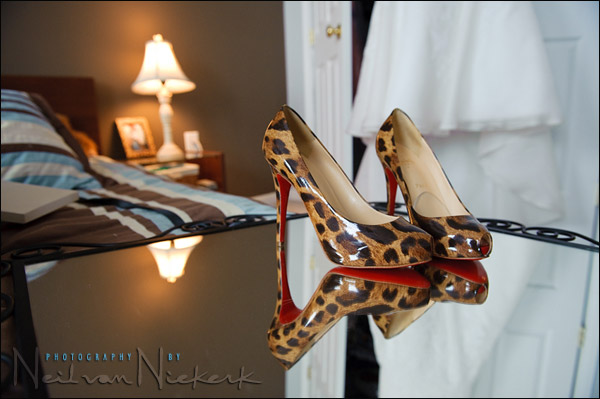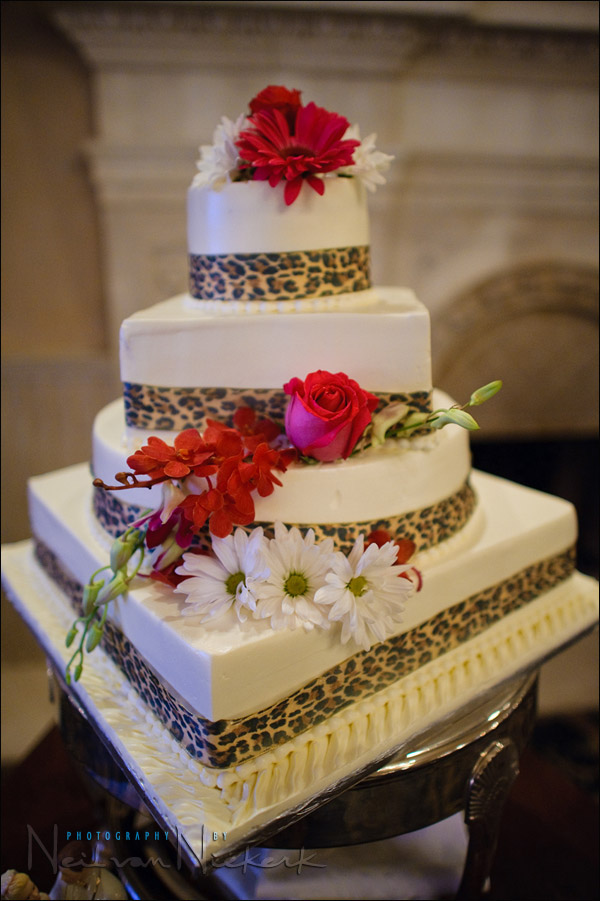 For detail photos of the wedding cake, I usually resort to using bounce flash that I gel for Tungsten.  Shooting wide open with the Nikon 24mm f1.4 G (B&H), allowed me to just use the available light in the reception room.
1/40 @ f1.4 @ 1600 ISO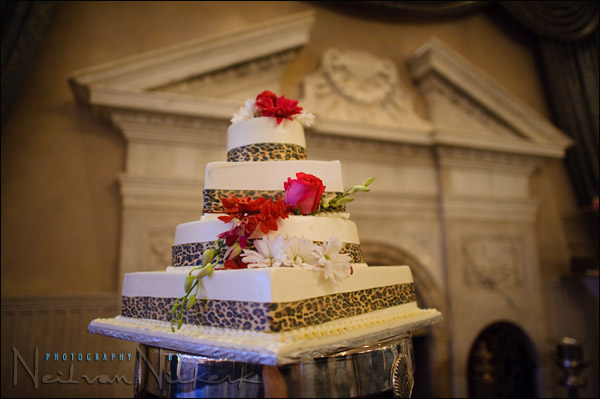 Just for comparison, the usual way I would photograph the wedding cake, using directional bounce flash.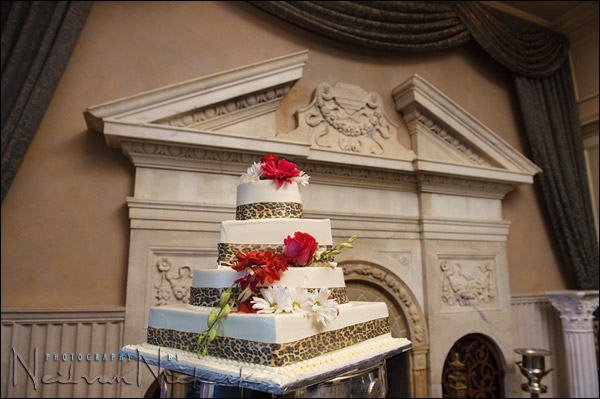 1/80 @ f4.5 @ 1600 ISO … TTL flash at +0.7 EV
Nikon 24-70mm f2.8G ED AF-S (B&H)
Using bounce flash of course gives me sharp images for those fast-paced action shots of the wedding cake.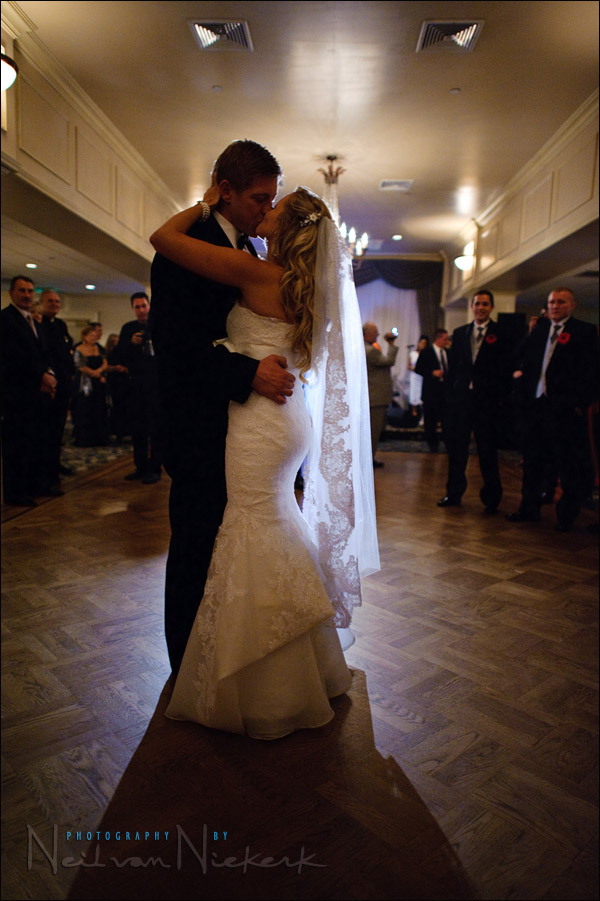 Foregoing flash for a few photos, using the videographer's light for back-lighting.
1/80 @ f1.4 @ 2000 ISO .. but I did have to pull up the exposure in post by 0.7 EV
Finally, three more photos from the romantic portraits during the night-time outside.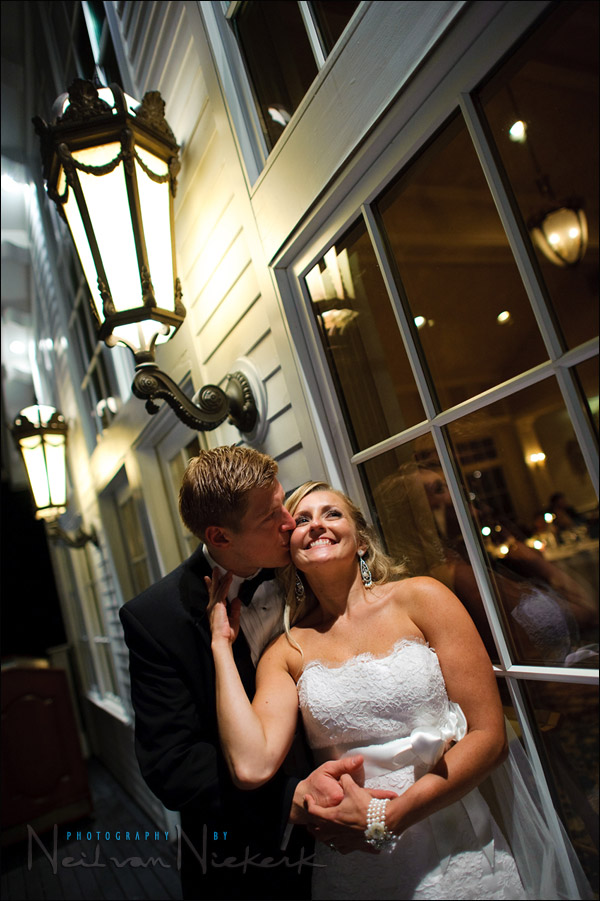 1/60 @ f1.8 @ 1250 ISO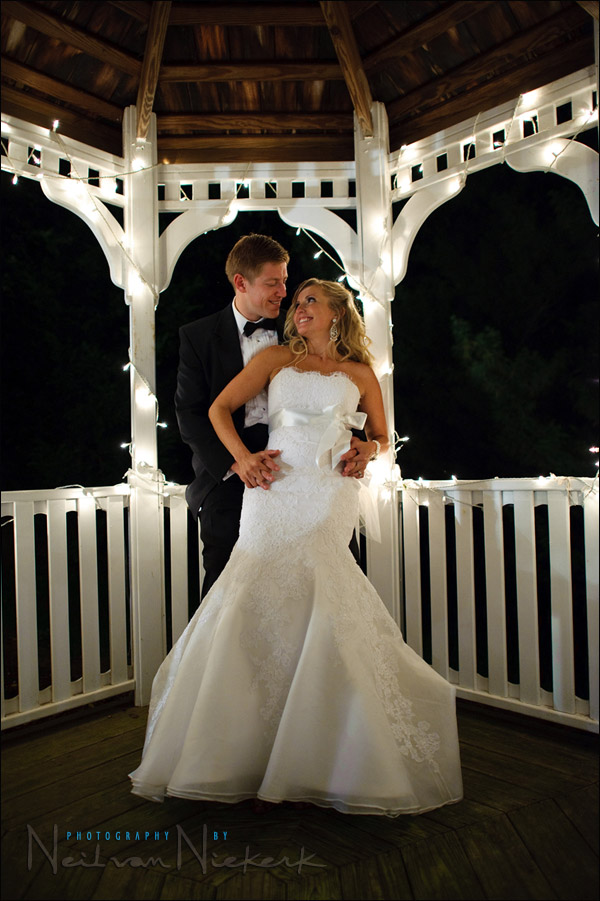 1/40 @ f1.8 @ 1600 ISO
After the photos at the gazebo, Kristy and Tom walked back to the party at the reception.  Just before they reached the reception room,  I asked them to turn around and look at the camera. The two lamp-posts that we used for the top-most photograph, gave us enough light for this photograph.
1/60 @ f1.6 @ 2500 ISO … and it is sharp!
It still blows my mind that with high-ISO capable cameras, along with fast prime lenses, we can pull in light for very usable photographs in such low light.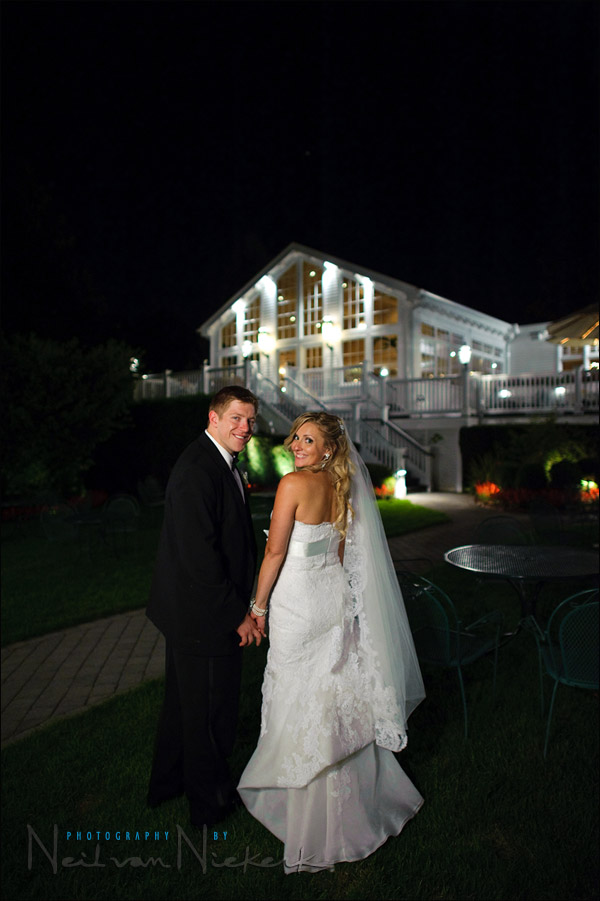 Overall assessment of the Nikon 24mm f1.4 G
I'm in love.  Fair enough, I'm in love with the Nikon 24-70mm f2.8 and the Nikon 70-200mm f2.8 VR II, as well as the Nikon 85mm f1.4 too.  This new lens by Nikon is long overdue, and in my opinion is an essential lens if you do any kind of work in low light levels, or desire that look that a fast prime lens will give you.
Some photographers have reported copies of this lens with poor focusing, but this lens behaved very well.  Really well.  (I suspect that the problem lenses might have been a specific initial batch that Nikon will sort out.)
The bokeh of this lens is superb.  Smooth.  Definitely smoother than the Nikon 14-24 used at 24mm.  (I did test the lens for its bokeh, but really, who wants to see photographs of the flowers in my garden?)
The lens' build quality is obvious.  It feels solid, with a chunky heft.
Final summary … this stellar lens continues to build Nikon's legend, and will be an essential lens for many photographers.
If you would like to purchase this lens, it is available from B&H at this link:
Nikon 24mm f1.4 G