The diminishing value in using a Facebook Page
In the past week or so, Facebook once again changed things on us. I know, I know, another week, another unannounced roll-out of something new and fabulous on Facebook. This time however, the change is a big deal for photographers who rely on their Facebook Page for marketing. You simply won't reach your audience unless you pay Facebook … per post.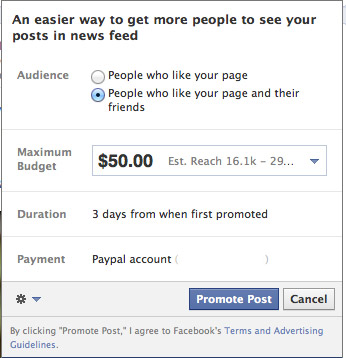 A while back, Facebook brought in the ability to "promote" your page by paying for more people to see a new post in their FB news feed. Obviously it's a way of making more money off people who want to promote their FB Pages to their audience.
I tried it as an experiment way back when they first started, and there was no noticeable difference in the final number of people who saw a new album of photos on FB. The paid and non-paid posts (which were photo albums), reached about the same number of people.
There was a lot of talk about engaging your audience, and getting your audience to interact. The more people talked about it, and commented on it, and shared it … the more FB would feed your new post to the FB news feed of others. Fair enough … it could be seen as a way of pushing forward the posts which were more popular. ie, the posts which "engaged" your audience. It made sense.
But then, they changed the algorithms heavily against us.
I first noticed it this week when I posted new photos of weddings I had photographed, on the Facebook Page for my photography.
Currently I have more than 9,000 fans, and previous to all this, every time I post a new selection of photos, it would usually show after a few days that I had reached an audience of around 4,000 to 7,500 people. That sounds good. A majority of people who liked my page, saw the new posts in their news feed.
Then this week I noticed that a few hours after I had posted a new photo album on FB, it still had only reached an audience of 6 people. Yes, 6 people!  A massive drop.
Something was up. When I mentioned this on my Facebook profile, a number of other photographers mentioned the same, and also linked to web articles on the topic:
MarketingLand – Facebook Accused Of Changing A Key Algorithm To Hurt Advertisers
"One thing's for certain, the move towards paying for reach has arrived. While admins can focus on posting quality material, and growing an engaged fanbase the reach simply can't be guaranteed without payment."
Business Insider – Facebook Continues To Tighten Organic Page Post Reach
"Facebook can fix this at any time, and may be forced to, considering the backlash they are about to receive from the very advertisers that are practically their sole source of revenue."
"… for a brand to reach beyond the fraction of core fans who see every post, an advertiser must pay to run campaigns such as promoted posts, which last longer in users' news feeds and are thus seen by more people."
"Doak put it more bluntly, framing it as Facebook gaming the system against the very brands it has encouraged to use pages:
This change is more than just a minor tweak. This is Facebook doubling down and admitting that they really don't have any interest in brands having a real relationship with the fans they've accumulated"
With this, Facebook has just radically cut down their use for me.
As a Facebook user, what really really pisses me off here, is that I don't have ready access to the things that interest me.
For example, I'm a fan of the music artist, Parov Stelar, and hit the "like" button on his page a long time ago. Yet, not a single story ever fed to my newsfeed. Why not? Didn't I distinctly notify FB that I'd like to be kept up to date with new posts on this page? So now Parov Stelar would have to pay to reach me? Alternately, I will have to manually check. Similarly with so many other pages and interests that I have liked on FB. (I am aware of the ability to have an Interests list on FB, but this is just another change in the goalposts.)
With this, Facebook has hugely affected its use for me. It just underlined the point that if I want to keep up to date with my interests, I am still better off with subscribing to mailing lists and checking blogs and having a list of RSS feeds.
The linked articles above mention a loss of up to 60% of people that see the pages. I'm in the region on 90% if I have to roughly estimate it. By reposting the album of photos, I have been able to get more people to see it, but the numbers are still way down.
If this trend with Facebook continues, I'll just put more accent on my blogs. FB doesn't bring discernible income to me. It's a marketing thing, sure. But I can't say that I have had any income which was solely because of FB. I don't have anything to sell in the way a retailer has … so there isn't much driving me to pay FB money for other photographers to see my FB page. I will just send the link to the FB albums to my clients, and they will share with family and friends, and I am content. That's all I really need from this. But there is no reason for me to use Facebook to the extent I have in the past.
This new change in algorithm is driven by FB being a public trading company, and they are trying to squeeze max $$ out of everyone and everything. With a heavy hand.
In another article on Business Insider, Facebook's director of product management for ads, says that FB is charging money to have posts feed to others, because of cluttered news feeds. Now, to me, this spin on things makes no sense whatsoever. Why not just feed the posts regardless? It is obvious they are charging money in this way because it is something they could milk us for $$$. Don't make it sound like a service to us that wouldn't exist otherwise.
Now at this point, I can hear a chorus already, dismissing this with arguments such as: "Facebook is a free service." Etc. My counter-view here is that *we* as the users are their product, and advertisers are paying mega-money to reach us with targeted adverts and the infernal games. As such, I do feel we Facebook isn't free. Us being there and using Facebook, is what gives Facebook such massive value. Damn right I will have something to say about what affects us all.
My advice – create content for yourself. Not Facebook.
Something I've been preaching for a long while now … there is no sense in creating unique content on Facebook by writing long pieces there. A self-hosted WordPress blog where YOU control the images and text is much more valuable to you in the end. And you can back it up and protect yourself, instead of being at the mercy of a larger force pulling the rug from under you.
There are examples of photographers who have been locked out of their accounts because some random stranger reported an image. It can be as innocuous as photos of a burlesque show. Boudoir photographers are especially vulnerable here from abuse by others by having images reported and pulled.
Further musings:
Something I've been wondering about, is whether this move isn't related to photos taking up so much more bandwidth than simple text or links.
I noticed that when I post a link to a new article on the Tangents blog, that the number of people who see it, is nearly to "normal" levels of a few weeks ago. But the photo albums are heavily affected. Text and links take up minimal bandwidth. But by the time a large album of photos are propagated to thousands of fans of a page, then the bandwidth overhead must become substantial … even though Facebook heavily compresses posted photographs. And this is perhaps why FB has decided that the high-bandwidth posts with photos need to be pushed along with the help of some $$$
The screaming irony here is that if you've been placing targeted adverts on Facebook to get more Likes for your FB Page, you've just been screwed … those people won't see your posts unless you pay again. And again.
A bold statement perhaps, and I could well be proven wrong here, but I strongly suspect this will backfire on them. And with this, I wouldn't be surprised if Facebook backs away somewhat from this heavy-handed move of choking news from our Facebook pages.
The flip-side of this is that if you've been relying on my posts on Facebook to be informed of new posts on the Tangents blog or my Latest wedding photography, then it is best that you check in regularly, or subscribe to the monthly Tangents newsletter, or use the RSS feed.
I'm very interested in what everyone else has to say about this, or have experienced.