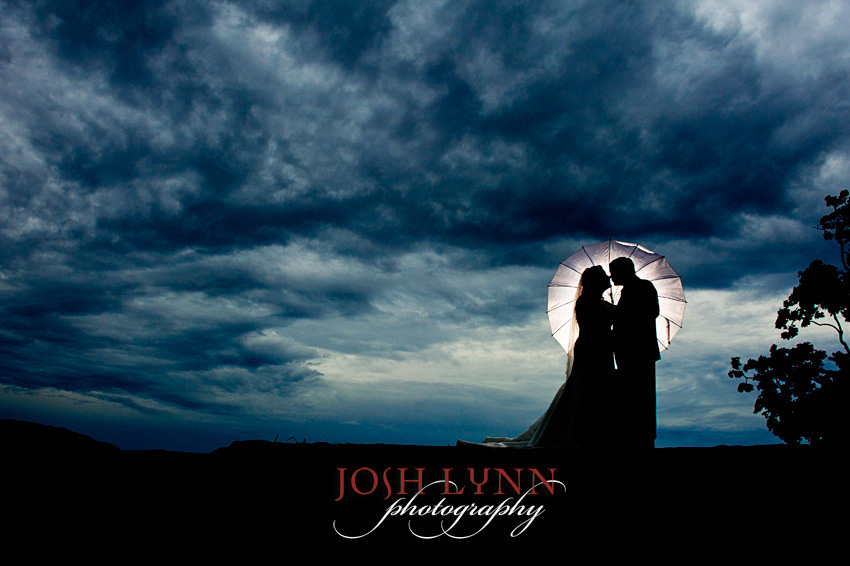 off camera flash for portraits of the bridal couple
My friend, Josh Lynn, just posted this spectacular wedding photograph.  It does look like he used flash there, so I thought this would make a another good example to see if we can 'reverse engineer' a photograph in terms of his settings and setup.
I first had a guess at how he set this up; and then had a look at the EXIF data, and this revealed the true story.  See if you can decipher this image yourself, without scrolling down at first …
My first impression and educated guess, (before looking at the EXIF data):
It does look like low light levels, with flash being fired into the umbrella the couple is holding up. Since the flash would be behind the bridal couple, I would assume a wireless transmitter and receiver being used to fire the flash.
The umbrella looks like a photographic umbrella. Look at the way the interior is drooping away from the backing at the top.  That double layer says to me it is a photographic umbrella – reflective layer inside, and black backing on the outside.  This would most likely make it a 60″ umbrella if I have to go by the size of it in relation to the couple.
The way the flash was triggered, makes me think it was a Radio Poppers set that controlled the Slave flash behind them.  Here's why I think the Slave flash was remotely controlled by the Master slave, and not with old school Pocket Wizard units.
For this setup, you'd either have to have done it a number of times before, so that the settings are predictable for old school non-controlled manual flash … or else you'd have to wirelessly control it from the on-camera speedlight.  Since there would be line-of-sight issues, it would have to be the Radio Popper units.  The other alternative – shouting instructions to an assistant crouching out of sight behind them about how to adjust the other flash – well, that just  seems too inelegant.
So that would, in my estimation, make Slaved flash controlled via the Master flash on-camera, via Radio Poppers.  The Slaved flash is most likely set to manual output via the Master.  Of course, the slaved flash would have to be on a small light-stand.  Or perhaps the plastic hot-shoe foot that the flash came with.  However, there is no detectable spill – just the light in the umbrella.  That would make me think the Slaved flash was on a lightstand.
Settings?  It looks like low light. Therefore I would guess a slow shutter speed and a tripod.  The aperture is probably a medium aperture.  Perhaps f5.6 .. perhaps f4 .. somewhere there.
Then I had a look at the EXIF data: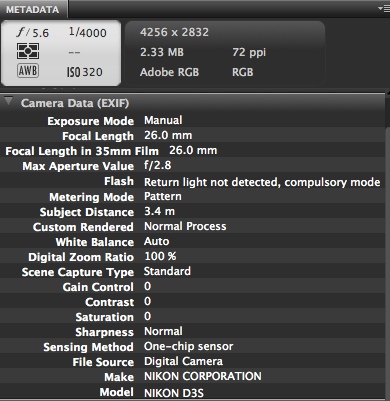 The EXIF data shows that this wasn't low light, but very bright conditions.
If we consider the Sunny 16 Rule … bright daylight being 1/250 @ f11 @ 100 ISO … that would equate 1/4000 @ f5 @ 320 ISO
The equivalent Sunny 16 settings are very similar to what we see here.  Off by 1/3rd stop in comparison.  But this is an overcast day, therefore Josh's settings of 1/4000 @ f5.6 @ 320 ISO looks about right to under-expose the sky like that for dramatic effect.  Now we just need that blitz of light in the umbrella to give this beautiful silhouette shot.
Josh also sent me a second photo taken during the same session: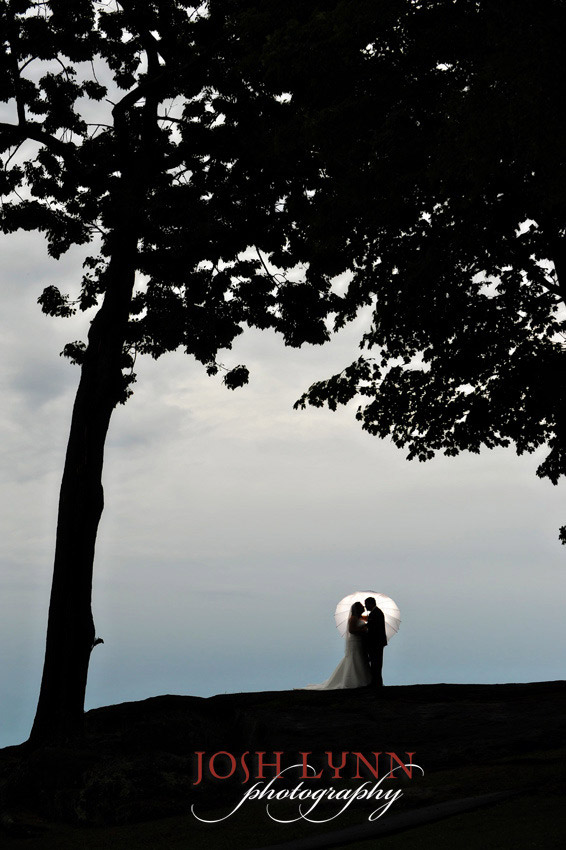 Looking at the EXIF data, we can easily see why the sky looks more neutral and less drama-filled.  Josh increased his ambient exposure by 2 stops.  (By dropping his shutter speed by 2 stops.)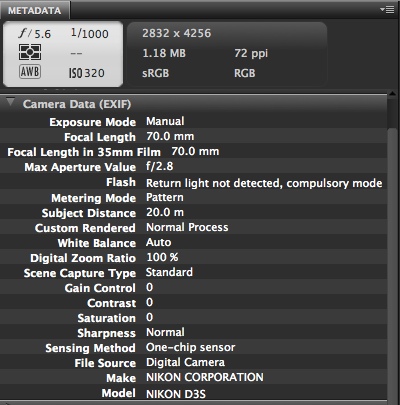 Anyone else want to have a go breaking this down?  Then we'll see what Josh has to comment.