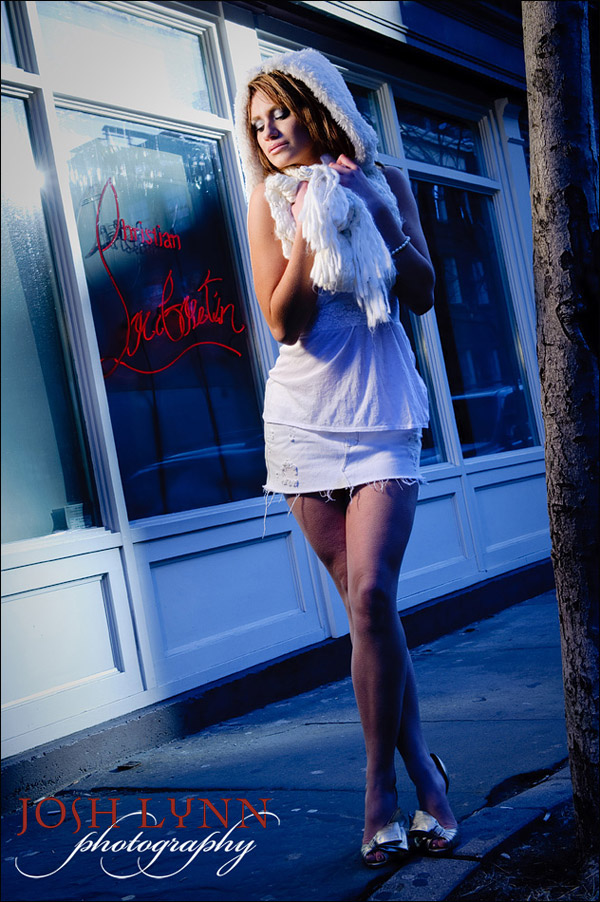 combining off-camera flash and ambient light
For a semi-guest-post this week, I thought I'd use a photo taken by my friend Josh Lynn, and reverse-engineer the lighting.  By scrutinizing the photo, we'll try and decipher how he set this up.  I did of course have the help of double-checking with Josh himself, and by checking the EXIF data.
Josh is a New Jersey wedding photographer – but this photo of our model, Danielle, was taken at a recent photo shootout in Manhattan.  Josh led a group of photographers showing some lighting techniques.
So let's see what we can figure out here …
1. direction of light.
Looking at the photo, the first thing we need to figure out, is the direction of  light.  It is apparent that Josh had used additional lighting of some kind. The main source of light was set up to camera-left.  We can make a pretty good guess at how high the light must have been, by looking at how the shadows are placed.  The first place I would look as at our model's face, and see how the shadow of her nose falls on her face. And from that we have a fairly good idea of the placement of the light.
2. color balance.
Next up, the bold colors should tell us that there were light sources with different color balance.  From experience, I would take a guess that we had a tungsten light source on our model, allowing a daylight background to go blue-ish in comparison.   This jump in color balance would be explained this way.  We have a pleasant warm color on her face, but this sharply changes to blue.
3.  gelled flash or video light?
Now that we have a strong idea that our model was lit by some tungsten light source, we have to figure out what exactly Josh used here to light – video light or flash. Video light tends to have a strong fall-off to the edges, giving a spot-lit effect on our subject.   The light that falls on Danielle is more widely spread than we're used to when we use video light for stills photography.  So I would take a guess that Josh had used flash here … and he confirmed this, and he also said he had used one of the gels that came with the Nikon speedlight to gel the flash for tungsten.
4.  light modifier on the flash?
Next we can try and decipher whether Josh had used a softbox here, or some kind of light modifier.   The fall-off to the shadows on her, would indicate that there was no softbox used.  I've also worked with Josh before, so I know he has a preference for using a bare flash.  Checking with him now, he said that he had used direct off-camera flash here.  The flash was held up on a monopod by another photographer.
5.  Camera and flash settings.
Looking at the photo, it would appear there is a shaft of sunlight that falls behind our model.  The sun can also be seen as a reflection in the window.  (Josh did confirm the hot spot in the window is the sun, and not a reflection of another flash.)   We can therefore guess that the shaft of sunlight was quite bright.  Our model is standing in the shade.  This had to have been deliberate positioning of our model to have her in even light, and then use additional lighting.
This all implies that we would've had to be close to maximum sync speed, with a low ISO and a small aperture.  This would've under-exposed our model .. who we then light up with off-camera flash.
Here is where a look at the EXIF data comes in handy, to see the specifics:
And there we have it … Josh used maximum flash sync speed.
There are good reasons for this choice.
ISO was 400 .. and our aperture was f10 … which is a fairly small aperture.  Personally, I would've dropped the ISO by a stop, or two stops, to get a medium aperture.  But these are choices the individual photographer makes to fit with a specific style.
6. TTL flash or manual flash?
Something else that the EXIF data tells us, is that the camera didn't detect a flash that fired.  This would mean that no TTL flash was used, but that the off-camera flash was fired by a wireless transceiver, such as a PocketWizard Plus II unit.  This then would imply that Josh had used manual flash.  With the Nikon speedlights, you can use Auto mode quite easily.  However, it just made sense to use manual flash here.
And there we have the final image.  Exposure for the background (ambient light), we use flash to expose correctly for our subject model in the foreground.
Over the past few weeks there have been several articles re-iterating a method in how to balance flash with available light – and I hope this example helps in showing how this specific method works in a different scenario.