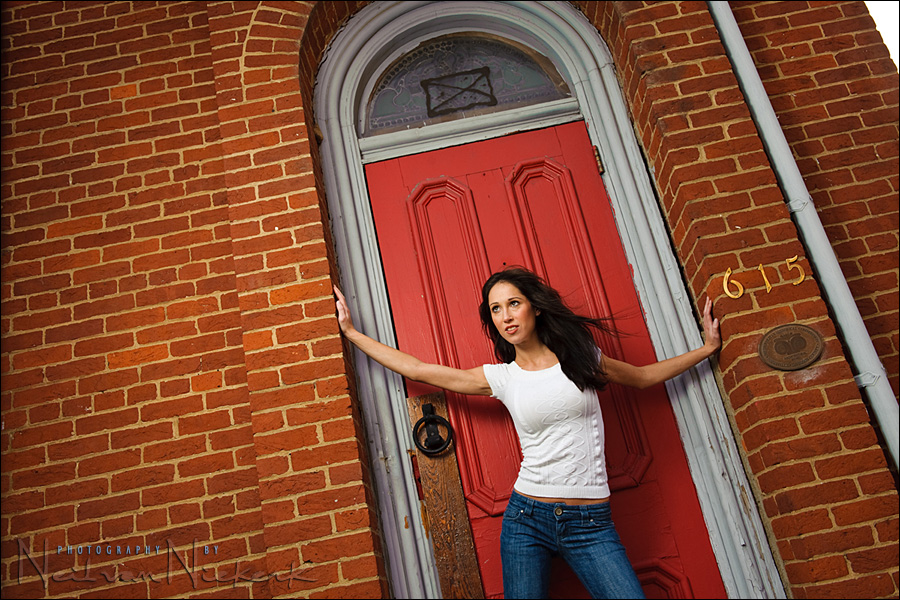 exposure metering for manual flash and softbox
Valerie is the striking model I used for a flash photography workshop held in Nashville. The lighting is simple – the softbox is held to the my left-hand side in this instance. As you can see in the ambient-only image below, I let the available light under-expose by a stop.  I metered for the available light with a hand-held meter.If you're unfamiliar with using a light meter, check out this first-steps guide to using a light meter with manual flash.
You could just as well have used the histogram method .. and then take the ambient exposure down by 1 stop, as in this example. It could be more, for a more dramatic result. You could do this via my shutter speed or aperture or ISO choice .. or a combination of those.
Here is the available light image before flash was added.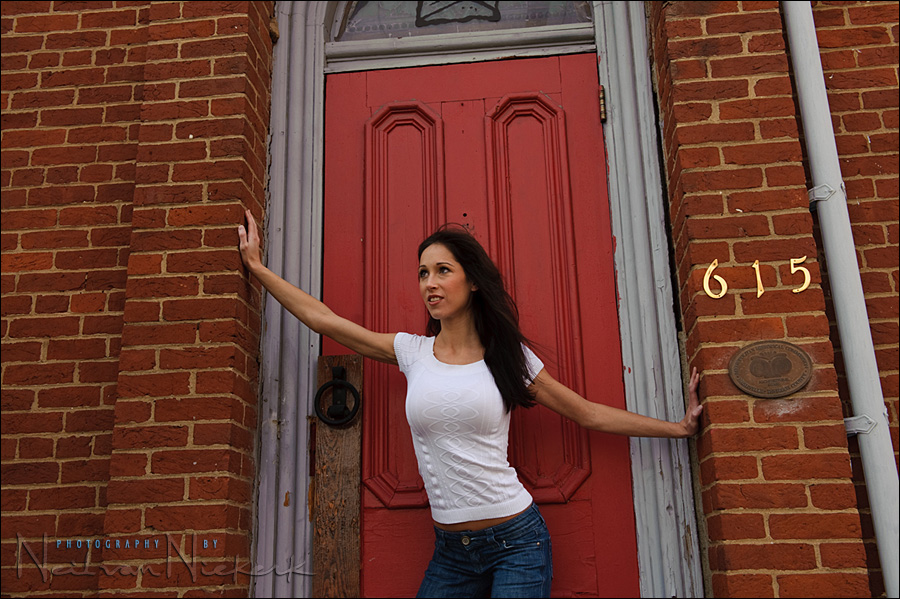 My settings for the sequence of images here were: 1/200th @ f5.6 @ 200 ISO.
This time I wasn't quite at maximum sync speed (1/250th for this camera) since I was working in the shade, and not in very bright light.  But the moment I work in bright light, using flash, it makes the most sense to be at maximum flash sync speed, and figure your settings out from there.
The ambient light was metered at 1/200th @ f4 @ 200 ISO.  Once again, this could've been done with either the flashmeter here, or by using the histogram.
I then changed my settings so that I would underexpose the ambient light by a stop.  I could've changed any of those settings, or a combination of them.  In this case I simply dialled down my aperture to f5.6 since I was already at the minimum ISO for this specific camera.  Then I set my speedlight to a specific power setting. We'll get to that.
manual flash is determined by 4 factors
– aperture
– ISO
– distance from the light source to subject
– and flash power setting.
In this instance, by metering for the ambient light and pulling it down by one stop, we have determined what aperture and ISO we would like to be at … which just leaves distance and power of our speedlight to be determined.
how far do we hold the softbox from the model?
This is where we balance out the decision based on a couple of factors.   The larger the light source (in relation to our subject), the softer the light .. but we also need a comfortable working distance so that the softbox doesn't appear in the image.  If we hold our softbox too far away, then the light progressively becomes harder.  Therefore, in practice, we would slow ourselves down if we worked precisely according to textbook formulas and set-ups.  It is just easier to be flexible about it on a shoot, and find that sweet spot where the light still wraps around your subject to an extent .. and you have enough space to move around without having to change the light's positioning too often.
Here, as part of the workshop demonstration, someone was holding the softbox up for me on a monopod.  This makes it much easier to change the position of the light as the model moves around.
When we've figured out the approximate positioning of the speedlight and softbox, then we need to adjust the power to where we get f5.6  – but there is some flex built into doing it this way.  If we need a 1/3rd stop more or less light from our speedlight and softbox, we can just move the softbox closer or further away by a slight amount.  This is an easier way to adjust the manual flash that continually hoisting it up and down to adjust the power ratio on the back of the speedlight.
And then of course there is also the leeway built into using the RAW file format.  In the image at the top, I had to pull down the exposure slider in ACR by 2/3 rds of a stop.  It seems that somewhere during the shoot the person holding the light up, might have moved a little closer.  But this is less of a concern while taking the photo, than keeping the rhythm of the photo sesssion.  Rather than a stop-start way of adjusting the lighting, it is better to take up that slack in exposure precision, while editing the image.
So while it might seem that there are a confusing number of settings we need to adjust, they aren't entirely random and they do fall into place with a certain amount of logic.
video tutorial to help you with flash photography
If you like learning by seeing best, then this video tutorial will help you with understanding flash photography techniques and concepts. While not quite hands-on, this is as close as we can get to personal instruction. Check it out, as well as other video tutorials and online photography workshops.

related articles: