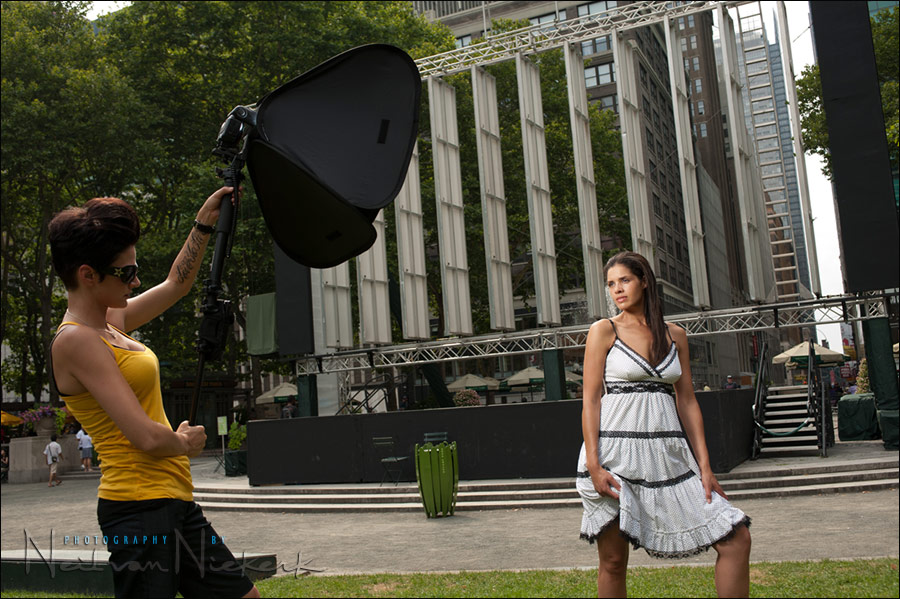 off-camera flash photography: distance between softbox and subject
There are all kinds of formulas for how to figure out the optimal distance between the softbox and the subject. One of the most common suggestions is to use the diagonal of the softbox. While I believe this might something you can play around with in the studio, I do think it is an overly technical way to approach it when shooting on-location.
Working on-location am usually concerned with:
– getting my composition,
– direction of the light from the softbox (in relation to my subject's positioning),
– my shooting distance from my subject ,
– and making sure that I can get the shot without the softbox getting in shot.
My take on this is that by adding the light from the softbox, I am dramatically improving the lighting on my subject, regardless of the finer differences in distances according to the calculations. Instead of spending time finessing the distance between the softbox and subject, I'd rather concentrate on my composition and directing my subject. The quality of light will be fine, even if it might not be at the theoretical optimum.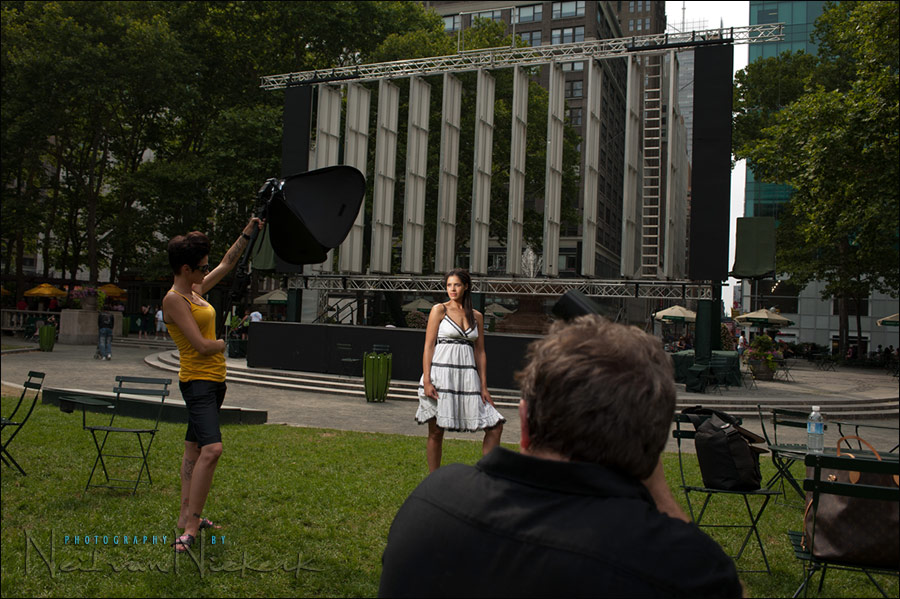 I'd also rather keep the rhythm of the shoot, than get bogged down with fidgety calculations of the distance between the softbox and subject. I also want to be able to move to my left or to my right, and not have to 'bump' the position of the softbox continually further to the side.
summary
As further examples, with two photo shoots where I used a small softbox – the Lastolite 8.75″ speedlight softbox (affiliate) – the softbox was certainly not held a mere 13″ away from my subject's face. That would just be impractical. Yet, by using that softbox, even if relatively small, I am already creating much softer light than if I had used a bare speedlight.
– a New York photo session with Kate,
– an intimate photo session with Carly-Erin,
So my advice, which I think is elegantly practical:
– get the softbox as close as you can,
– but not so close that you can't comfortably change position and angle,
– and make sure you get photographs that are interesting, instead of fritter time on the techie details.
In the end, while we might not be working at the theoretical ideal distance, using a softbox will give you softer light than if you hadn't … even if you move it further back.
related articles