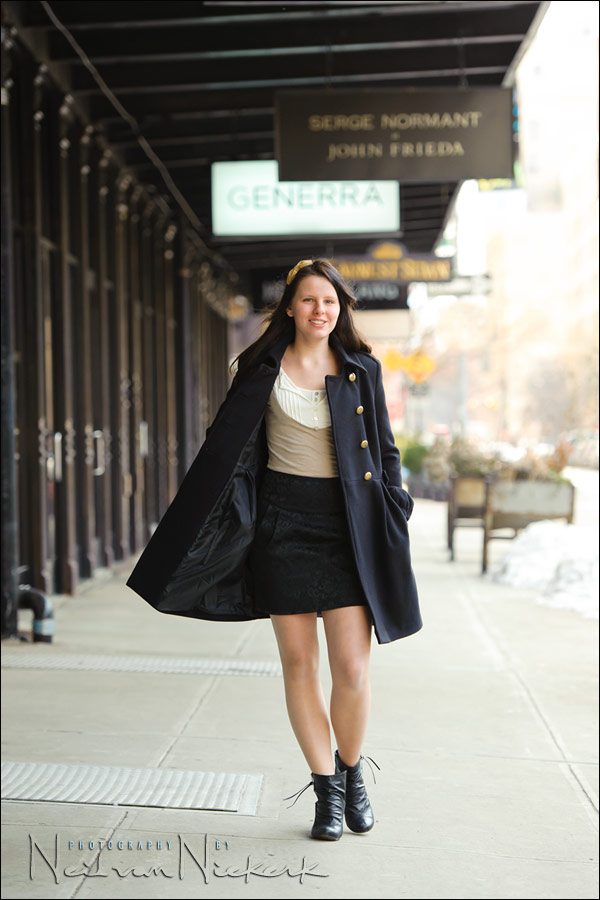 Kate – a photo shoot in New York
Kate is from Ukraine and has a deep fascination for New York. As a present, Kate's sister flew both of them out for a vacation here … and had me photograph Kate around New York yesterday. The idea was to get a mixture of portraits of Kate and some photos of Kate in obvious New York locales.
We started off in the Meat-Packing district because I wanted a photogenic spot that wasn't too crowded during a weekday (in winter), so we could have an easy start to the photo session. Since Kate might not have been experienced with photo shoots, I thought this would be the gentlest start. From there we wandered around a few other chosen spots.
Shooting on my own, I brought along a 70-200mm f2.8 and a 24-70mm f2.8 and two speedlights. Even though this winter's day was slightly overcast, giving us soft light, I still didn't want to rely entirely on just the available light …
I brought along my latest purchase: the Lastolite Ezybox speed-lite 8.6″ (B&H) which is a compact softbox. Just 8.6″ square, it folds up small enough to fit inside my Crumpler shoulder bag, along with the 2nd lens and speedlight. At times I held this aloft in my left-hand, and sometimes I had Kate's sister hold the softbox up high. Having the off-camera flash helped immensely a few times. And having it diffused, even in such a small softbox, created a more pleasing light than hard direct flash. So with this softbox in my bag, I felt ready for the shoot.
Here is one of the photographs where Kate's sister held the speedlight and small softbox up for me.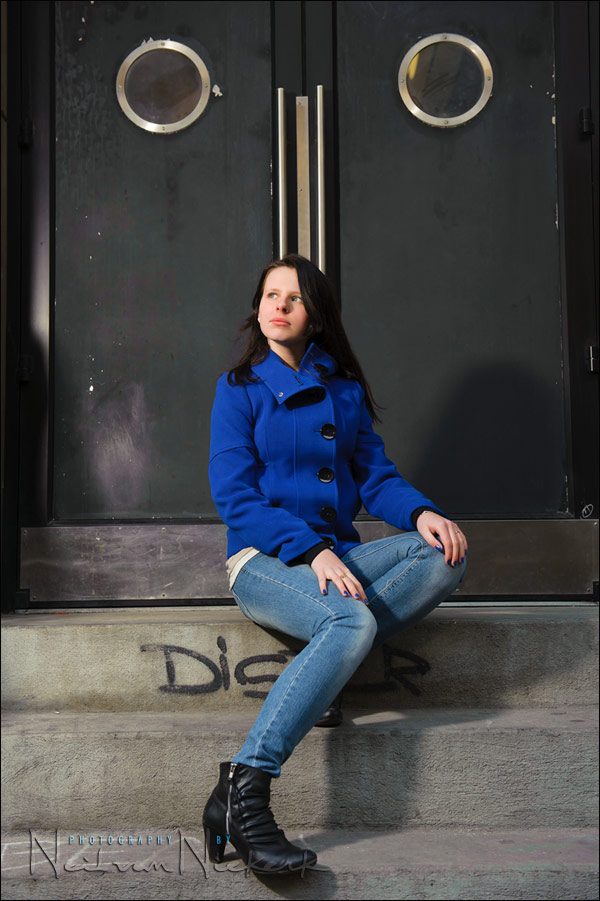 It looks pretty good I think for such a small softbox. The starting image here was this one, where I forgot to set my on-camera flash to Master (to control the Slaved speedlite), and it gave direct flash. Since I had the flash pointed forward and towards the Slave speedlite, the spread of light is uneven.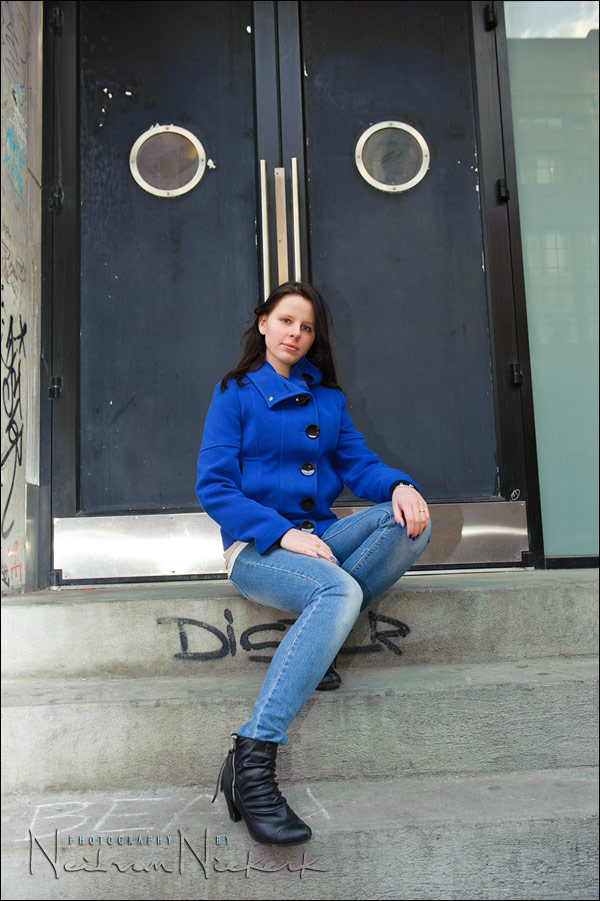 You can see the area to the left is overlit by direct flash. There is also the very noticable side-ways shadow behind Kate. A slight oversight giving amateurish results. A quick check of my preview and I realized my mistake, and switched my on-camera flash to Master. (I have its output disabled, so only the Slave flash adds light to the scene.)
With these shoots, I obviously want to get new images and not just re-tread the same shots. I need to balance this though with the desire for a consistent style, which is why clients hire me – they like what they see on my websites and galleries and blogs. But it still needs to be fresh and original images .. within that style.
There will be those photographs which appear familiar, but then I am also constantly on the look-out for new spots and interesting ways the light may have changed in familiar places. Having shot in the Meat-Packing District often, I know where to start off to kick-start a photo session. Instead of scrabbling around looking for something entirely new, we start in a familiar place to get the rhythm of the shoot going.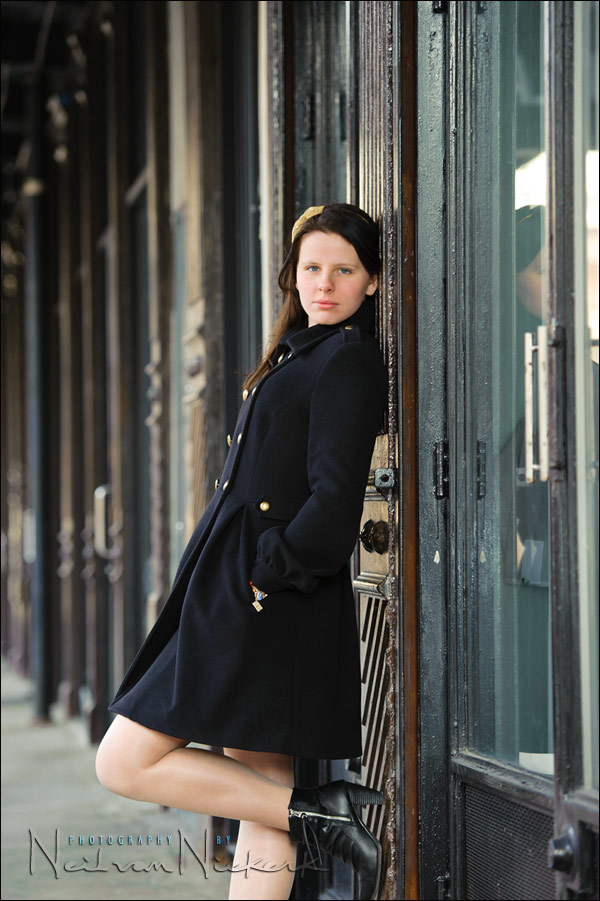 This image was in the same place where I photographed Catherine, a workshop model, before. I knew the light would work there. So this was a 'safe' shot for me at the start of the photo session. Similarly with the next photo of Kate, we were close to a spot where I have photographed another workshop model, Anelisa, before. I knew the direction of light would work in my favor.
These two images, as well as the image right at the top, was shot with available light only. Not even on-camera fill-flash. But the choice isn't random … as described in that first linked article, direction and quality of light is an important consideration.
Another few image with only available light being used.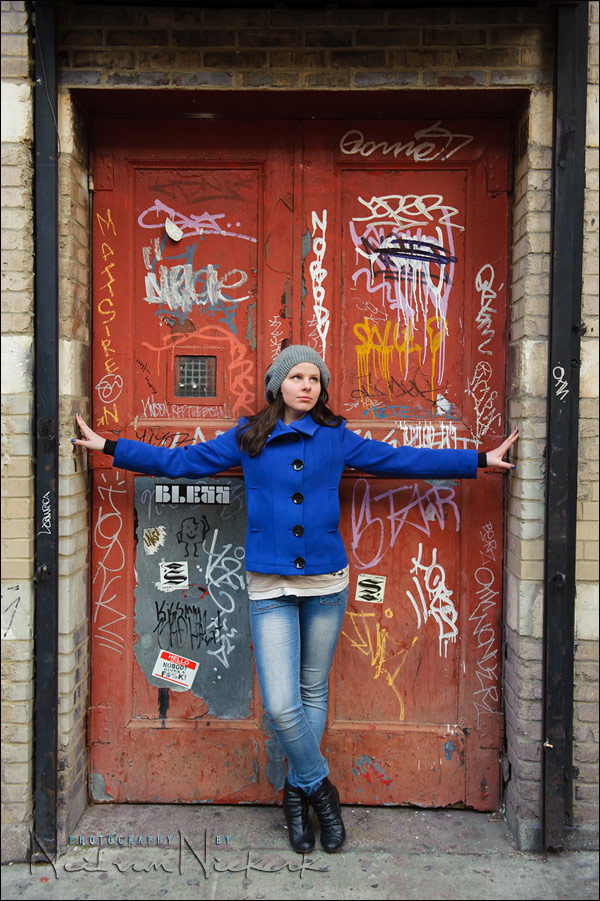 A few photos around well-known New York City landmarks:
Here I handheld the Lastolite 8.6″ Ezybox (B&H) in my left hand.
Slightly clumsy, especially if you're used to the zoom, but the light looks good.
For the next two images, Kate's sister held the softbox up for me. But instead of wirelessly triggering the speedlight, I used the a TTL cord. (In this case the Nikon SC-29 TTL off-camera shoe cord.)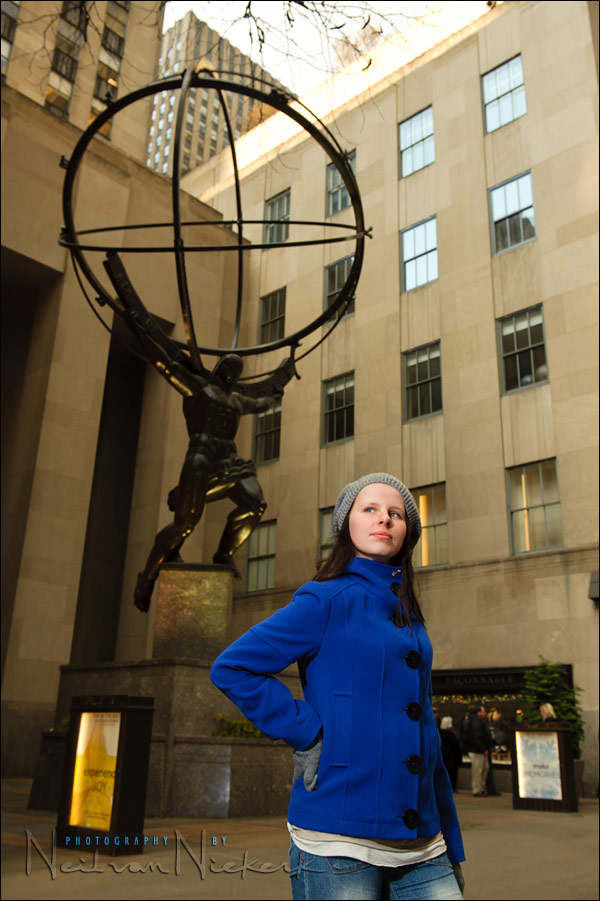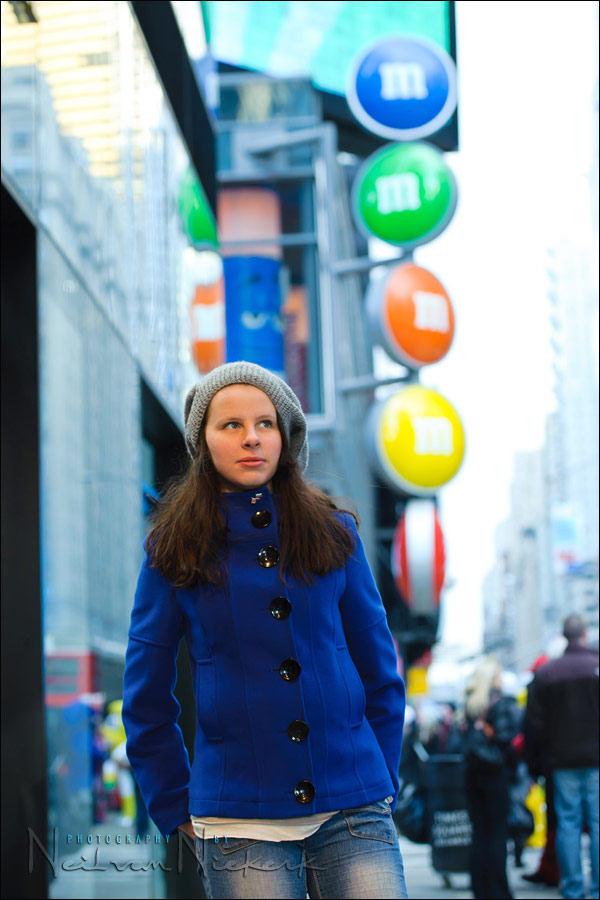 Here I noticed a patch of light, as sunlight reflected off a building. It gave a warm-colored hot spot … perfect to highlight Kate against the out-of-focus background.
And finally, the distinctive stairway in Times Square. (Available light only.)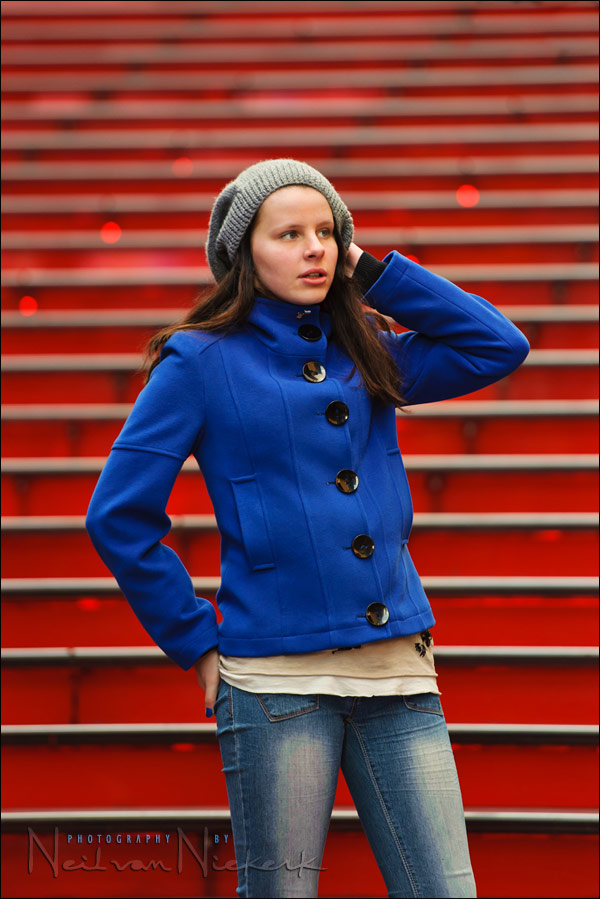 Two days later I met up with Kate and her sister again. We had run out of time on the Thursday shoot, and I felt we had missed out on giving Kate a photo of herself against the Manhattan skyline – a quintessential photo. So we went to Brooklyn for a quick follow-up session. I used an off-camera speedlight in the Lastolite 24×24 Ezybox softbox to get great lighting on Kate and have her pop in the image. With the grey weather and stark skyline, she stood out anyway. But the lighting helped.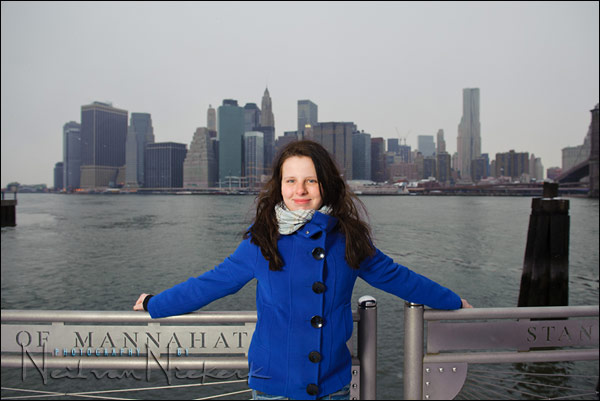 That beaming smile says everything.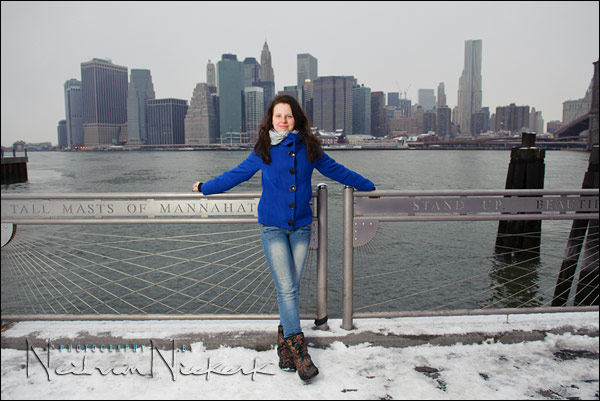 With this overview of this photo session, I wanted to show that even though there is a distinctive style, it helps to mix things up a bit in terms of the lighting. And then look for new and interesting places and light. Different techniques and ideas to all help a photo session flow.
Related links:
– tips on posing people
– direction of light and choice of background
– effective on-location portraits
Equipment used during this photo session:
Nikon D3;   Nikon 24-70mm f2.8 AF-S (B&H);
Nikon 70-200mm f2.8 AF-S II (B&H);
Nikon SB-900 (B&H); Nikon SD-9 battery pack (B&H)
Lastolite Ezybox speed-lite 8.6 x 8.6″ softbox  (B&H)