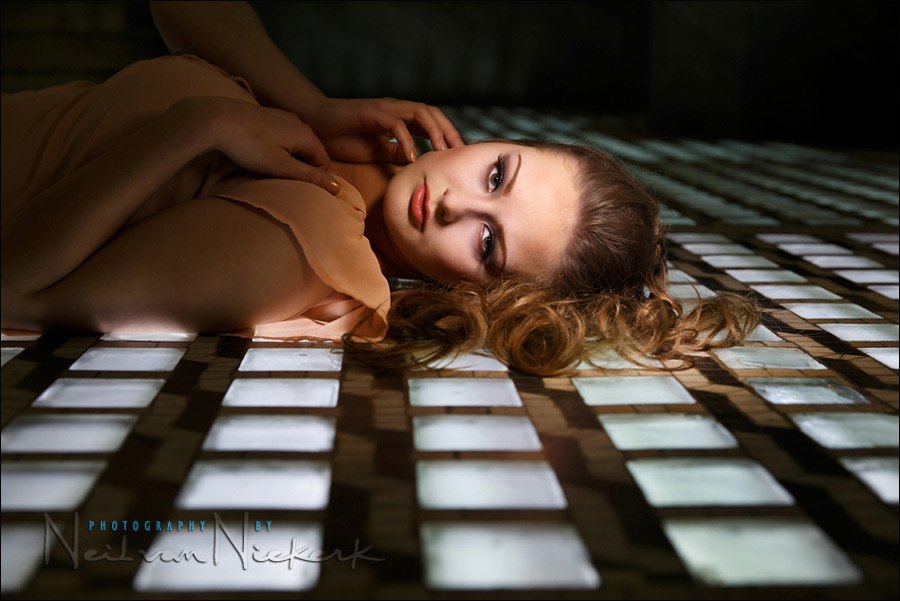 Flash with small softbox – vs – Video light
There are advantages to using a video light for photography, compared to using flash with a softbox or umbrella. The spread of light with a video light tend to be more contained, and hence more dramatic. However, if you use a small softbox with a speedlight, especially if it has a grid, you can get a similar tight spread of light.
With this session we had our model, Madison, laying down on this glass floor of the old Union Station. It is lit from underneath, creating these repetitive pools of light. Just beautiful.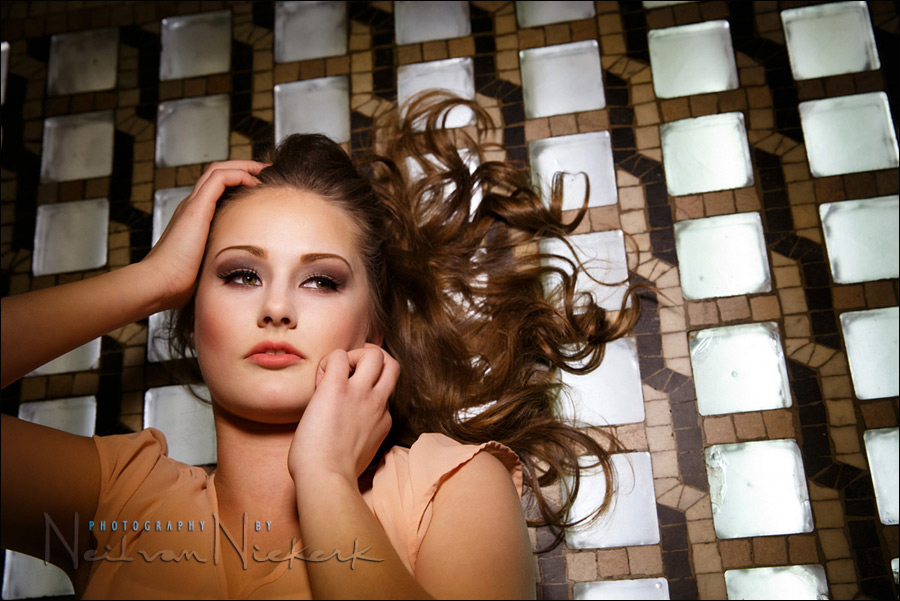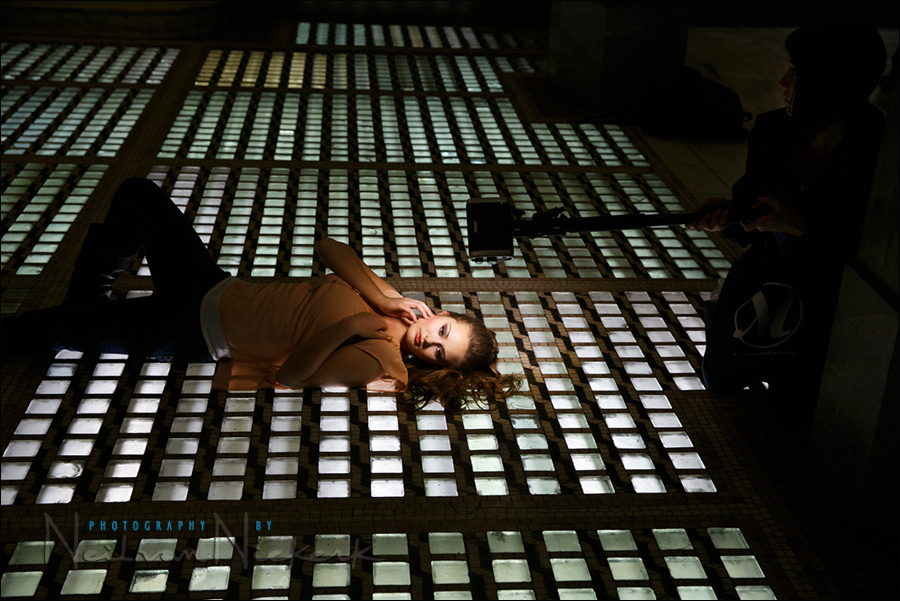 Details & photo gear (or equivalents) used during this session

I love this LED video light because it allows you to continuously change the color balance from Incandescent to Daylight.  This is a really nice feature because you can now more closely match the additional light to the existing ambient light.
Compare the look of the light on her face in the photos above, with the light from a 10″ x 24″ strip box, as shown below.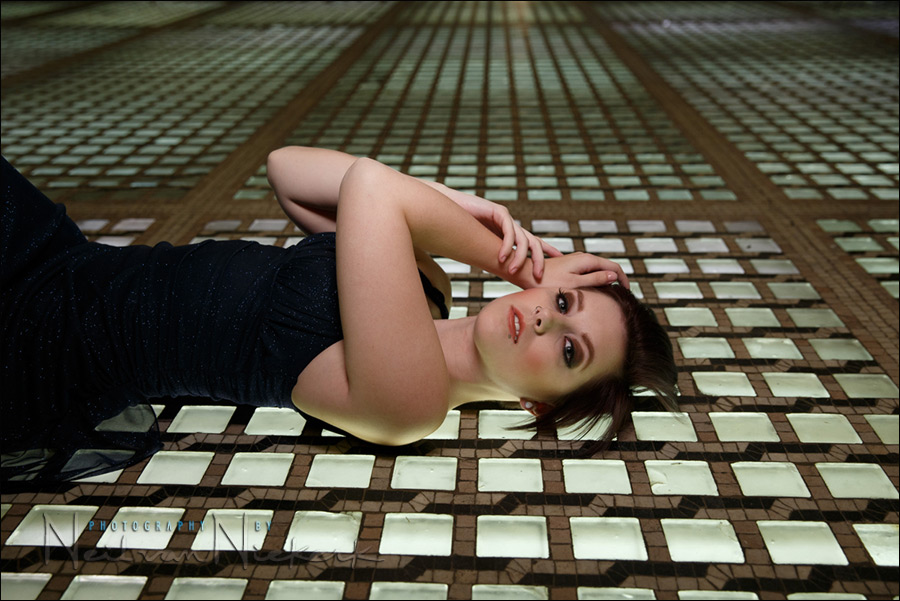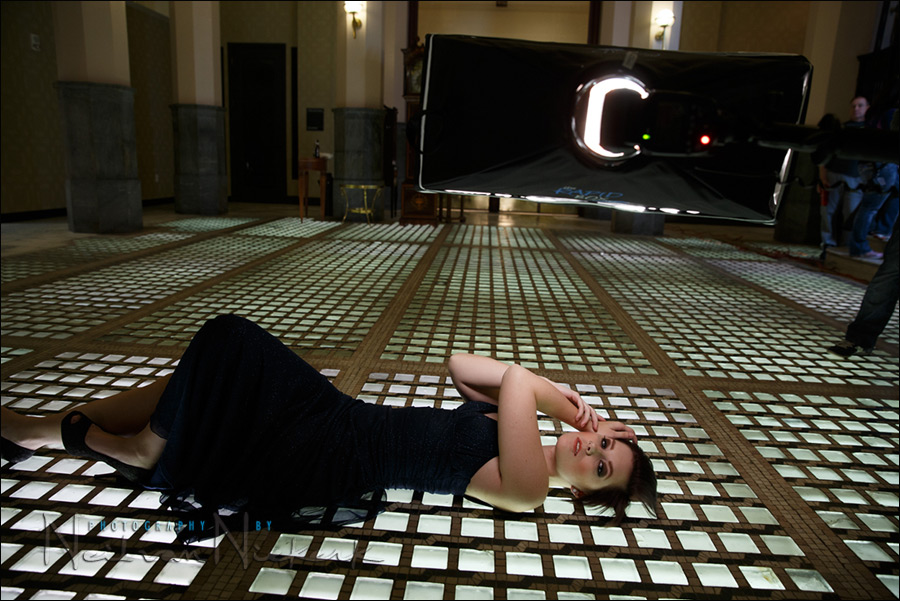 Details & photo gear (or equivalents) used during this session

I used the same camera settings here as the image above – simply to have the same glow of light from the floor below her. Any change to a smaller aperture or lower ISO, would've darkened the lights below.
I really love video light for stills photography, and loved the images we got with Madison (shown at the top) while posing on this floor at the Union Station hotel. I then wanted to see if we could get a similar effect as the video light – with the light contained to a small area – by using a small softbox. I tried out this Westcott Rapid Box Strip 10″ x 24″ (affiliate), without a grid.
By scooping the light away from her, i.e., feathering the light upwards, and working very closely, we were able to get more dramatic light than a larger softbox would've given. So while it isn't as dramatic as the video light, the light from the small softbox was soft, but contained to a small area. In other words, by feathering the light, instead of being pointed directly at our model, we have just the edge of light hit her, effectively creating a smaller light source.
To get the same kind of look as the video light, we would've had to use an even smaller softbox, and preferably with a grid. With that said, there is no wrong / right look here – it really is up to personal preference.
Related articles