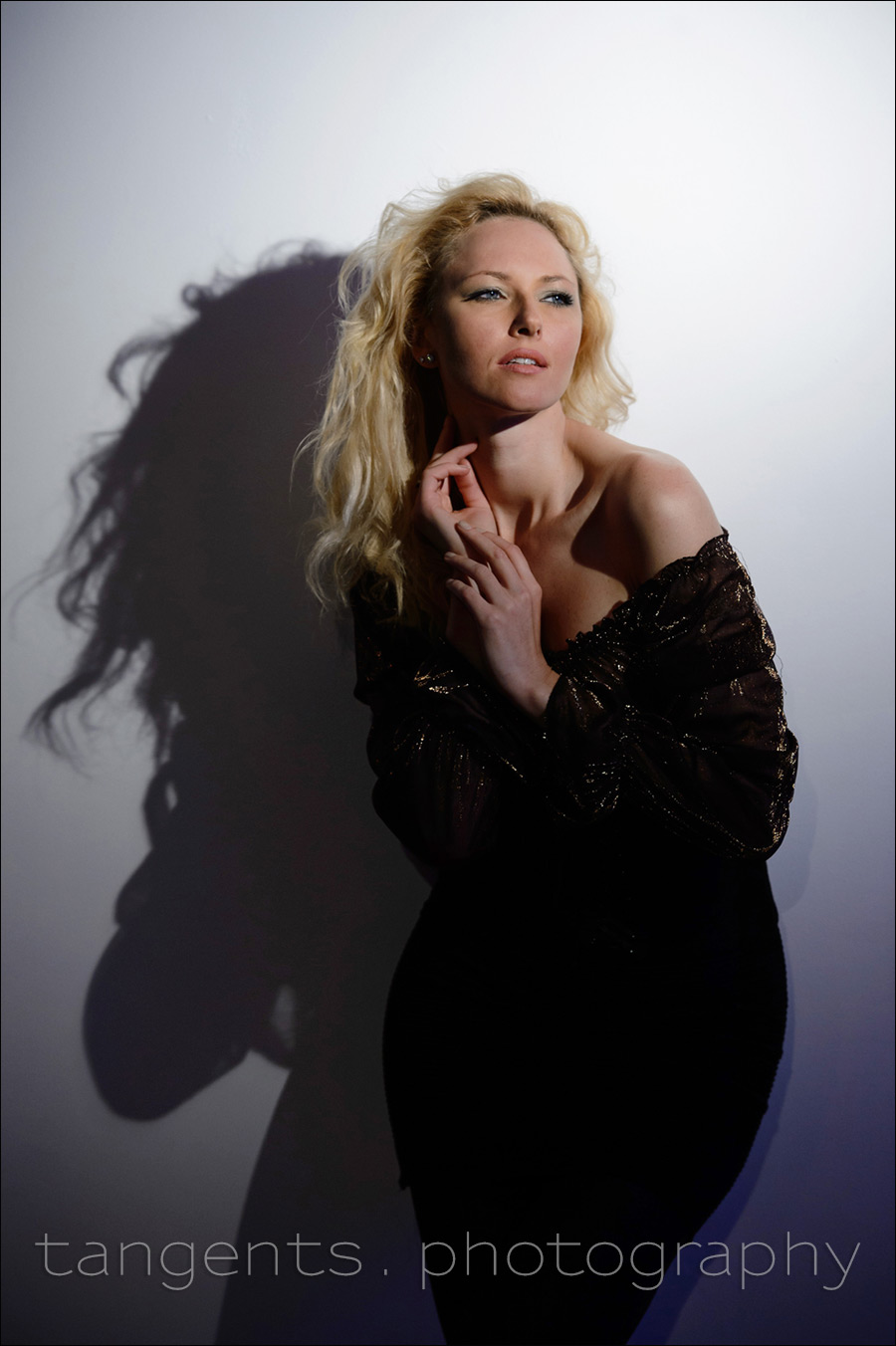 Best LED video light for Photography & Video
The use of video lights is a regular theme on the Tangents blog. Specifically, the best LED video light is a versatile must-have piece of gear in my camera bag. Not only do I use it at weddings, I also use it on location shoots. For example, while photographing the interior of one of the largest hardware stores in Manhattan, I used an LED video light to bring up some detail in the more shadowy areas in the shelves and corners. Easier to just point the hand-held video light than to set up off-camera lighting. Especially because the light is easier to blend on-the-go with the existing light. So, a video light is a necessity for me.
With this article I want to continue this discussion by looking at what we should be considering when buying a video light for photography or video.
The photo above of Aleona, was taken during a workshop, using the Lowel ID-Light (B&H / Amazon). While I like this Incandescent light because of its power, it is quite bulky and you are limited by its fixed Incandescent WB. So I favor it less these days. I now often just use the modeling light of the Profoto B1 as my "video light" when photographing a couple in low light. For example: Romantic wedding portraits with incandescent light.
In terms of an actual video light though, I much more prefer quality-brand LED video lights where you can continuously change the White Balance. No need for gels. And with the batteries in, or directly attached to the unit, there are no cables to make them clumsy to use.
For an LED video light, I now use the Celadon Pro LED video light (Amazon). It is powerful, flicker-free and has variable WB. Better still, it sport a very high CRI – one of the measures we use to determining the quality of the color of a light source.
But before we get to the discussion about the specific considerations when buying a video light, I need to show you this: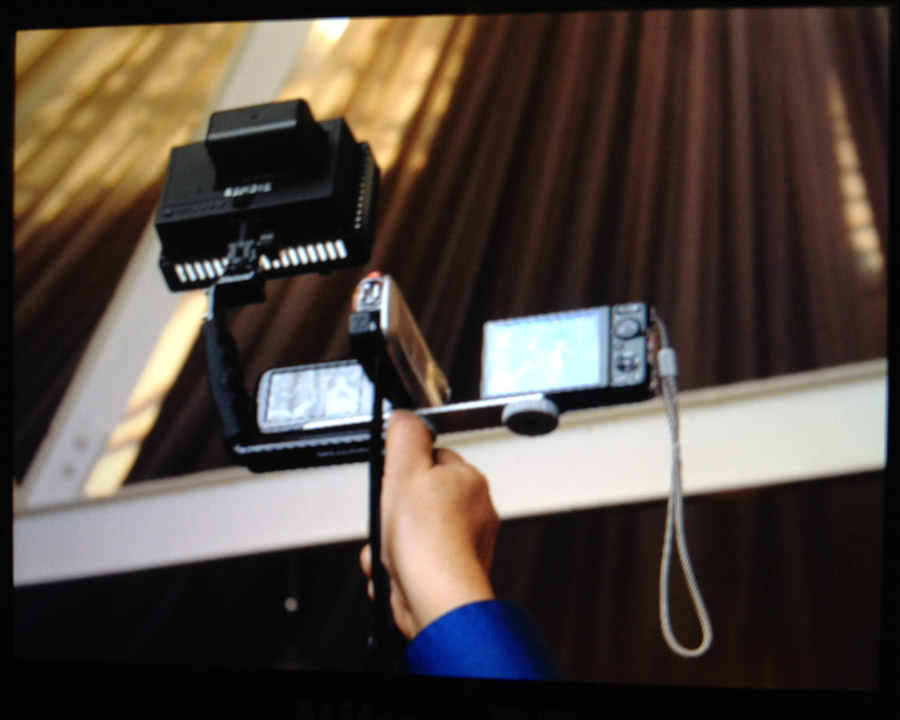 This was the rig that an "Uncle Bob" used at a wedding where I was the photographer. Three cameras recording video, coupled with this cheap Chinese knock-off LED video light. How do I know it was a cheap piece of shit?  Because of the ugly green color cast it gave to any images where I had a slow shutter speed. As you already know, a green tint to skin tones is not good! This limited my shutter speed settings, because I couldn't drag my shutter speed to bring in more ambient – there would be too much green tint to anyone in my photograph if he had his light on them. So I had to drown out more of the ambient light by under-exposing the ambient (by taking my shutter speed higher), and letting my TTL flash dominate the exposure. This article will explain it more clearly if it isn't making sense to you: How do you meter for TTL flash & ambient light?
Unfortunately, I didn't keep the original photograph. All I have now is this back-of-my-camera shot that I took with my iPhone to send to a friend so that he could commiserate with me. However, it will give you a good idea of the rig. But what is missing here is a sense of just how bad the color from this thing was.
All this leads us into a list of things to consider when buying an LED video light for photography … which will also lead us to why I think the Celadon Pro LED video light (Amazon), is one of the best choices currently:
Features to consider when buying an LED video light
The CRI (Color Rendering Index), is a measure of how good the quality of the color is of a light source. You want a CRI of 90 or better (The Celadon has a CRI of 95.) This will mean truer colors in general, and specifically, better skin colors. We want that.
Now there is convincing discussion that the CRI value isn't necessarily the best factor, since it averages the color performances over only 8 samples. It is suggested that CQS (Color Quality Scale) is a better gauge than CRI.  However, currently CRI is the value usually quoted. So a high CRI value is still a valuable indication of the quality of the color.
Variable White Balance / Color Temperature
Having a white balance that can be varied smoothly between Incandescent and Daylight WB settings, make these LED video lights very flexible. You can easily adapt to various scenarios you might be shooting under. The LED lights where you need to put in gels, are more of a pain to use in comparison, and don't allow fine-tuning.
So make sure that you buy an LED light where you can easily adjust the WB setting. Typical settings would be: 3,200 – 5,600K.
This is hugely important if you are going to shoot video – you absolutely want a video light where the specs say it is flicker-free.
Obviously this is an important factor. But don't get to hate yourself for having to fix green skin tones! Get an LED light that has a high CRI, even if it is a little bit more than the cheapest you can find on eBay or Amazon. You want quality light.
Specifications of the Caledron Pro video light
In the photo above, you can see the (included) diffuser that I placed over the LED light. This avoids the multiple shadows that LED lights are prone to show when you use them close to your subject. For larger subjects at a distance this isn't often a problem. But if you do macro photos or detail photos, then the multiple shadows can look strange. The diffuser avoids this.
Because this LED video light is rugged and made of aluminum instead of plastic, it is slightly heavier than smaller units. Just check the spec first to see that it is a weight you'd feel comfortable with having in your camera's hotshoe.
---
Using the Caledron Pro video light
As a first test, I had Anastasiya in and around the studio. The Celadron works beautifully, especially with the diffusion panel on.
For this close-up portrait, I used AlienSkin – Exposure X (Glamor Shot) for skin softening.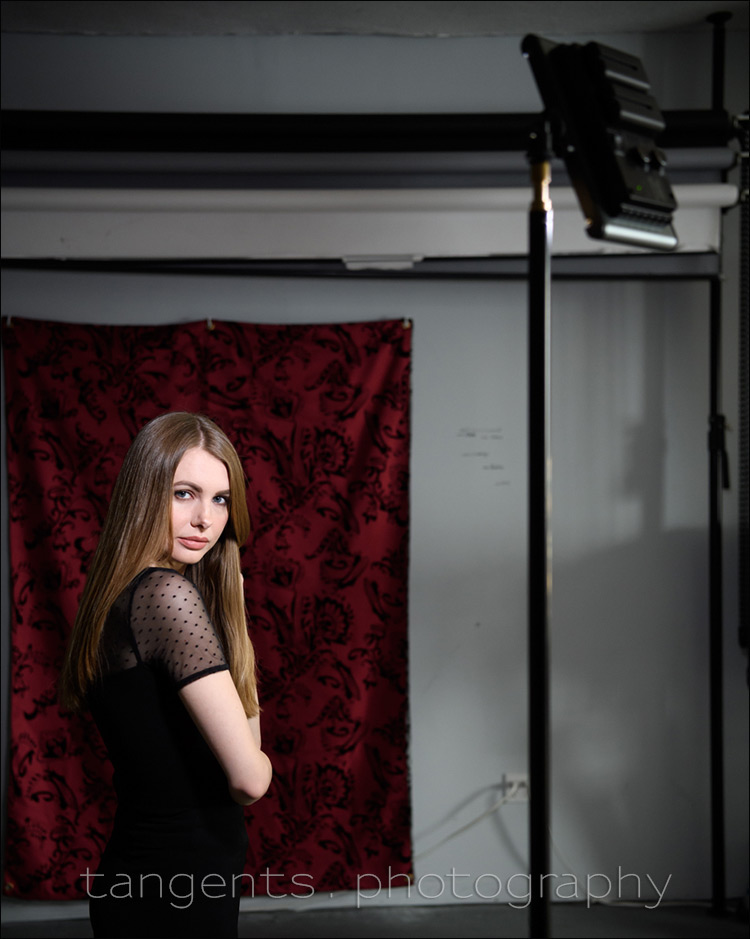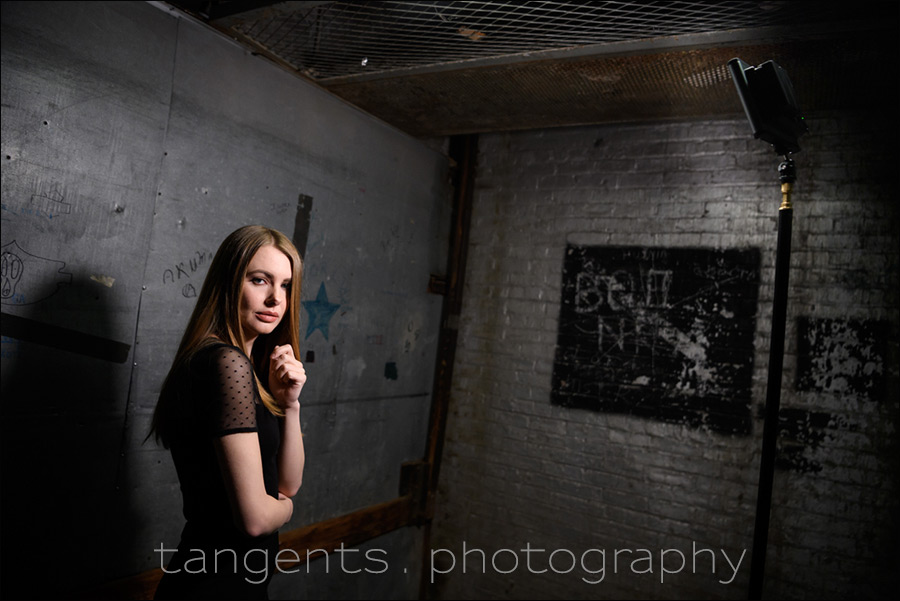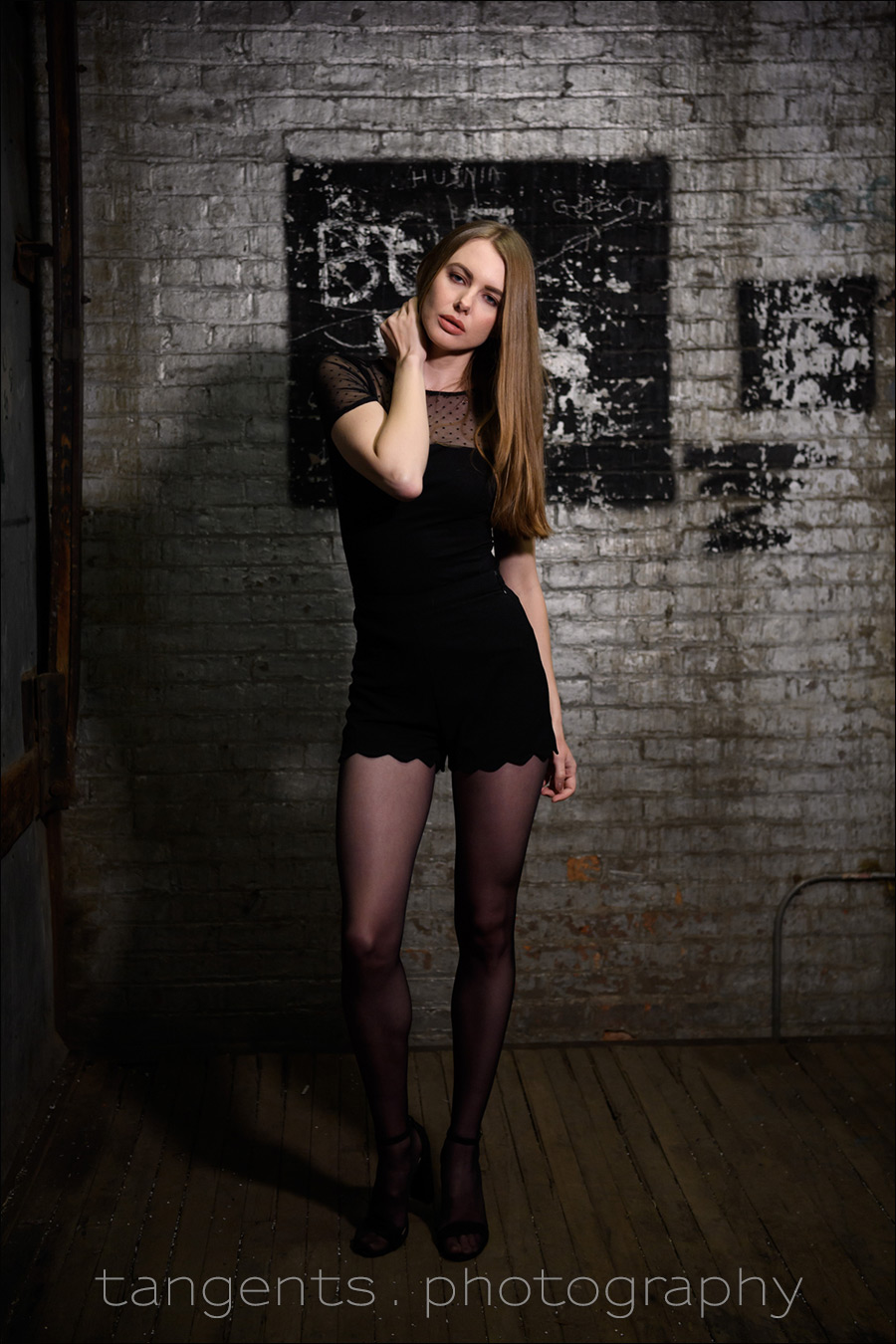 ---
Related articles