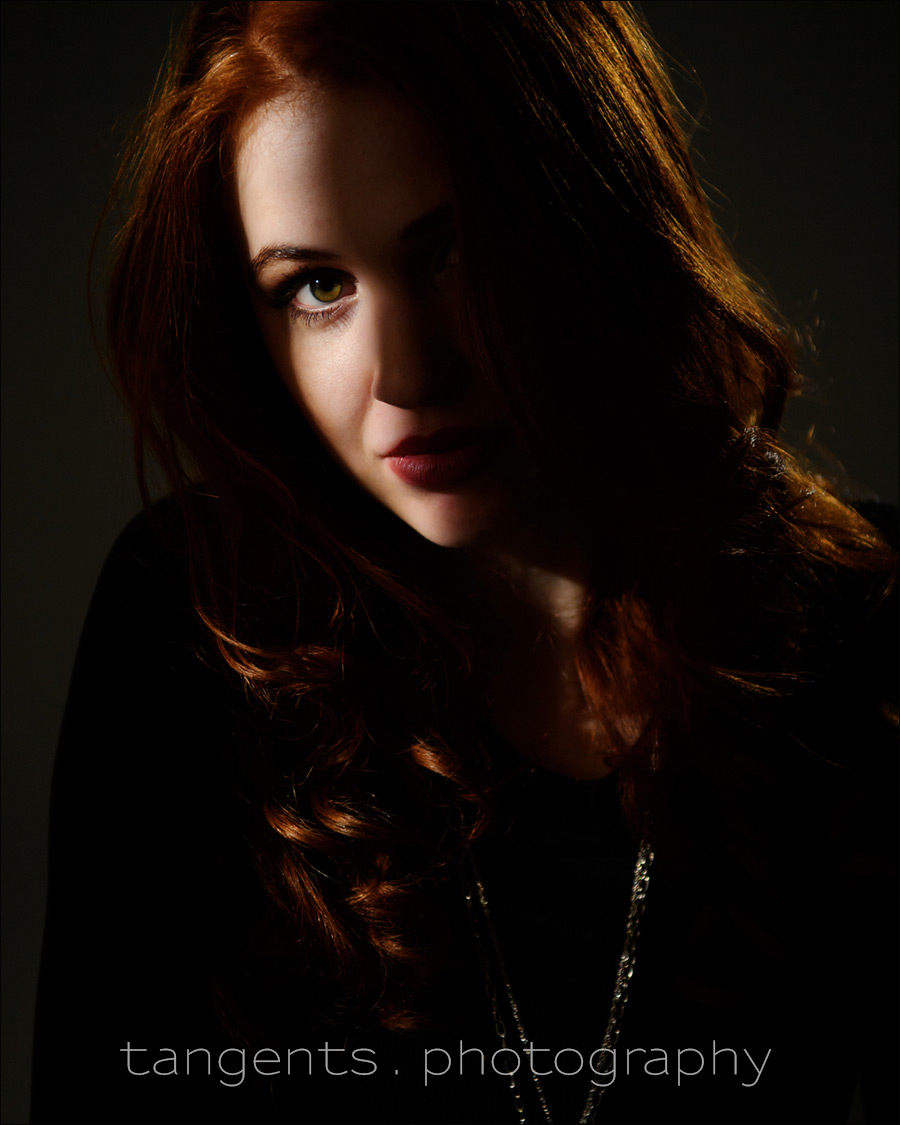 Stella Pro 5000 & 2000 video light review – continuous lighting kit
My friend Kevin, or as his friends call him, Kevin, brought along his new Light & Motion Stella Pro 225  3-Light Kit  (B&H / Amazon) to the studio for us to play with. The Stella Pro 5000 video light is powerful enough that you can use a softbox with it when shooting indoors.  Where continuous lights really shine, is in how they allow you to adjust your lights in a WYSIWYG way.  What you see is what you get – that's just how continuous lights work. That aspect makes video lights ideal when working with contrasty light where your subject's exact positioning and pose are critical, as in the photo above. You can more easily fine-tune a model's pose when you use continuous lighting, compared to flash.
The Stella Pro 225  3-Light Kit (B&H / Amazon), consists of three daylight balanced video lights:
Stella Pro 5000 LED Light – 5000 lumen at max
2 x Stella 2000 LED Lights – 2000 lumen at max
3 x Light Modifier Kits
3 x Light Stands and Rolling Case
The Stella Pro 225  3-Light Kit has everything you need for a 3-point lighting set up! Not only are they powerful, and easy to set up and use – the specification of these video lights are quite impressive. The Stella 2000 and 5000 spLEDs are waterproof to a depth of 100 meters (328 ft), and impact resistant to 1 meter (3.3 ft). Since they are a single-point light source, there is no problem with multiple shadows that you have with multi-dot light sources. Integrated rechargeable Li-ion batteries provide 50-415 minutes (Stella 2000), and90-375 minutes (Stella 5000) of cord-free operation.
What should make portrait photographers happy is that they are flicker-free, and have high ratings of 93 TLCI / 90 CRI. These figures indicate that these lights give a more pure white with less of a discontinuous spectrum. This is especially important if you want to get good skin tones. They also have regulated lumen output – which means that the lights do not fade during use.
We had Alix as our model for the day. (Alix: Instagram / IMDB.) We started out with portraits of her, using a softbox as the main light. But that looked just like a portrait with flash and a softbox. I wanted something more dramatic than that. Here we aimed for a look where there is just a shaft of light shining on our model – lighting that hunts at Hollywood Glamor lighting, but even more dramatic and mysterious.
We aimed the larger Stella video light between two V-flats to give this sliver of light. The other two lights were placed behind-and-to-the-side of Alix to give rim lighting and with that, some separation from the darker background.
The pull-back shots will show the setup more clearly:
Camera settings & photo gear used during this part of the photo session
1/200  @  f/3.5  @  1600 ISO
To add a bit more pizzazz to this photograph, I added a Motion blur filter from the Nik filter set. If you haven't downloaded the Nik filters yet, you should – they are free!
---
1/200  @  f/3.5  @  1600 ISO
For this sequence above, we just had the Stella 5000 as the main light, diffused through a softbox.
To change it up slightly for the next sequence, we added a Fog Machine (affiliate) in the background. To give an other-wordly feel we backlit the smoke with a blue gel and with a speedlight with a Magmod gel kit (affiliate), with one of the patterned grids from the MagMod MagBeam kit (affiliate). This gave slight texture and pattern to the smoke. For those not familiar with the MagMod system – it's a most elegant flash modifier system that works with magnets which clip (and easily unclip).
Oh, that's Kevin in the background. He was actually able to hind behind Alix and didn't even need any photoshopping to remove him in the main photos.
1/200  @  f/3.5  @  1600 ISO
Summary
Kevin explained why he bought this kit and what he loves about it:
Within minutes of opening the kit, you can power the lights on, position them and be shooting. Everything you need for a shoot is included from stands to some basic modifiers. Combined with cameras that have Live View or when shooting tethered, there is no need for test shots as you can see exactly what the light is doing.
The lights are easy to adjust using a "slider" controller on the light itself. They powers can be adjusted in either preset increments by sliding up (to increase power) or down (to lower the power)and releasing it or by pulling the slider up or down and holding it to gradually adjust the power. The Stella Pro 5000 also has screen so you can visually see the output and the time remaining on the battery.
They can be used with the internal battery with run times varying based on the power that you are using. Regardless of power, they last for well over an hour on a full charge. Additionally, you can plug them in and use them for as long as you need.
Since these video lights are LED lights, they don't heat up light the incandescent "hot lights". No heat for the model. No heat on the modifiers. Not really any heat at all other than they eventually get to the point where they will feel warm to the touch. Similar look to high powered hot lights but no heat making your model sweat, need makeup fixes, or become uncomfortable.
Size: the Stella 2000 is about the size of a Profoto B1 battery. Incredible power in a very small package.
Less weight. Less space taken up to pack and transport them. FAA safe to fly with. Durable as there is no bulb that can be broken.
Small light sources can give very harsh shadows when you prefer to have them. However, these are powerful enough that you can put modifiers on them and soften the light as needed.
Color Balance: Consistent between models of Stella's (1000, 2000 and 5000 tested) and also across different powers. Accurate and reliable for consistency
I would say this kit may become a competitor to the Peter Hurley light kit from Westcott (affiliate) for portraiture.
Related articles