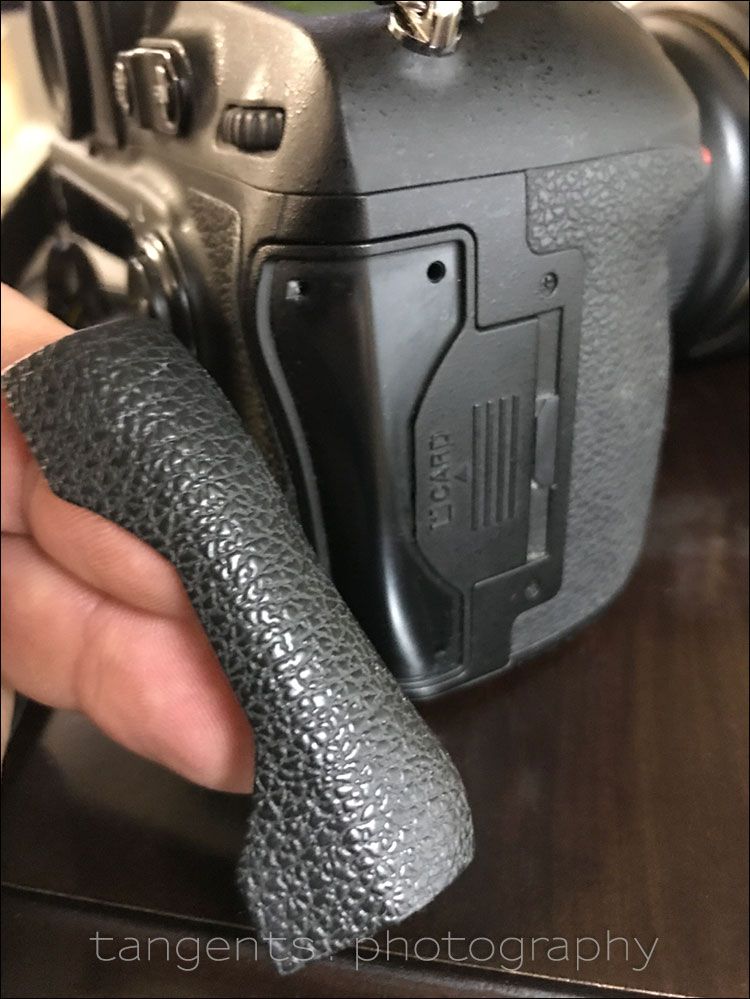 How to fix loose rubber on Nikon cameras
I make no secret of it that I'm not overly thrilled with Canon in general. I was stung badly over the years by their poor quality control. However, I will concede one point to Canon where they are immeasurably better than Nikon – Canon makes a glue that sticks! Not like Nikon where the rubber parts of the camera grip eventually will peel away. It's a Nikon thing. The latest is this rubber peeling loose from the memory card door on my Nikon D810.
I love Nikon, but this is tedious. Catch up with Canon! Do some industrial espionage and figure out the Canon glue recipe!
And you may well ask why not send it away for repair? Because it will cost me more to ship it to Nikon USA and pay for the out-of-warranty repair. Also the spare part that you order from nikonusa is for the rubber … which doesn't include glue or sticky something to hold it to the CF card door. I suppose you could order the entire door, but that's even more spendy. You can buy them on eBay from a Chinese vendor. $38 but it is always a bit dicey buying off-brand stuff from eBay.
Someone gave me this hardy suggestion – to buy 3M double-sided adhesive tape (Amazon) – and stick the rubber down properly again. Better (and less messy) than glue. You cut the shape that you need, and this double-sided tape will hold the rubber securely … for at least a little while.
From 3M's literature on this tape:
Double-sided adhesive tapes or sheets using 3M's 300LSE adhesive are the strongest and most versatile ones commercially available.
The most important advantage of this triple-layer construction is that it allows the sheets to be cut by knife or scissors without the edges along the cut sticking together – a problem commonly found with tapes or sheets that employ only a single layer of 300LSE. The triple-layer construction of 9474LE sheets also increases stability when the two bonded objects are subjected to shear forces.