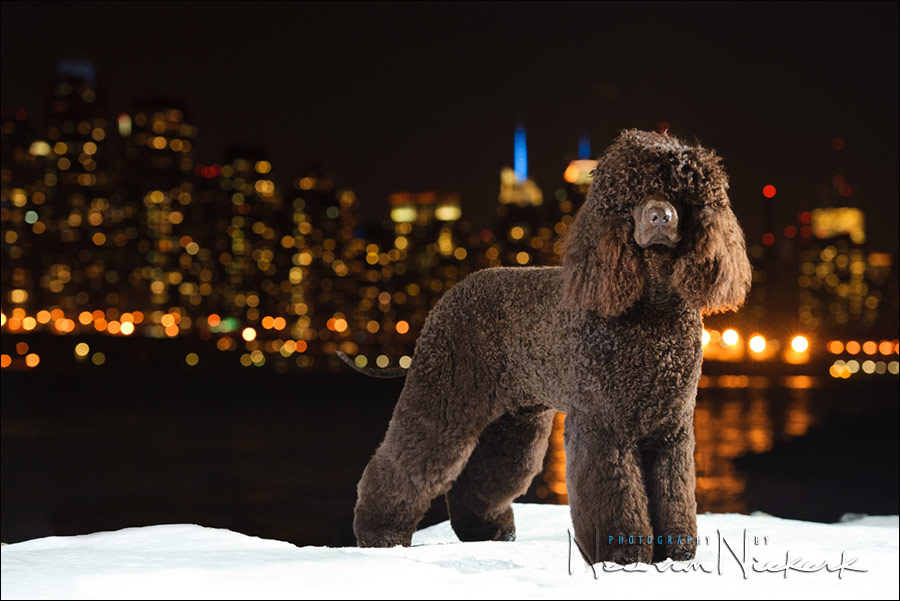 photo session w/ PocketWizard MiniTT1 & FlexTT5 & AC3 ZoneController
My friend Carol Beuchat, who works as a professional dog photographer, is back in New York for this year's Westminster Dog Show. Some of you may remember the portrait we did last year of Chanel, a champion whippet. Carol asked me to help her again with portraits of Keegan, an Irish Water Spaniel, who will be competing at the Westminster Dog Show.
Keegan's owners wanted some photographs with New York as a backdrop. I immediately thought of doing this on the Jersey side, with a grand view of Manhattan across the Hudson. I had just received a set of the brand new PocketWizards which offer wireless TTL control for Nikon cameras.
I specifically wanted to use this as a TTL setup, because I knew we would have to work fast, and I would have to control everything from my camera. The previous night the temperatures in New York had dropped to a bone-chilling 5 degrees Fahrenheit (-15 Celsius), and there just wouldn't be time to run to and from the light setups, and change settings. It had to be done from the camera …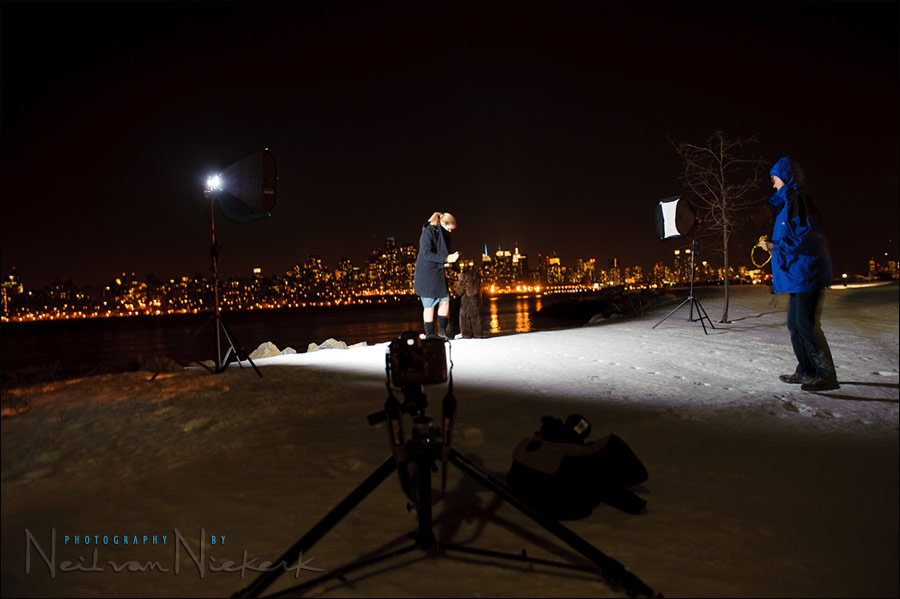 I had the PocketWizard AC3 Zone Controller, and this made it very quick to dial exposure compensation up or down for either of the two lights I would be using.
Here is the pull-back shot as we were setting up Keegan.  I had my 70-200mm f2.8 on a tripod, low on the iced-over ground. I wanted that low perspective of Manhattan across the water.
The two lights were SB-900 speedlights in Lastolite softboxes. The right-hand one was set to 2 stops under compared to the left-hand speedlight. The over-all compensation on my camera was set to -1.7 EV, to compensate for the dark tones of the dog and the background.
There it is … we were able to get a few good photos of Keegan, and we were able to work fast enough and not freeze over completely.
I have to tell you how icy cold it was.  To get to this viewpoint, we had to scale small mountains of iced-over snow which the snow plows had heaped up on the edges of the parking lot. Every time I climbed over these heaps of crunchy ice-snow, there would be moments when my feet would sink into the ice, deeper than my knees. Setting up my lights and the cameras, my hands were frozen over. No fun at all. Except, that it was fun. Working on a photo shoot is always interesting.  And this was a bit of a challenge because of the cold, and having to work fast to keep Keegan's attention.
So how did the new Pocket-Wizards fare?
First of all, I have to say that I didn't spend much time acclimatizing to them. I had been too busy to study the manuals. So this shoot was essentially done with out-of-the-box units, after I had briefly scoured the Quick Guide that came with each set. What really impressed me was how intuitive they were to use. If you're familiar with the way that Nikon's speedlights work with the different channels and groups, then the PocketWizards will instantly make sense. No steep learning curve to get to the essential use of these.  I am sure that careful reading of the manuals will reveal more features and nuances, but they can be used nearly immediately.
This isn't a test report yet, since I still need to do my homework properly, but I thought I would share my initial impressions of them on a first try. I like what I see so far.
Related articles