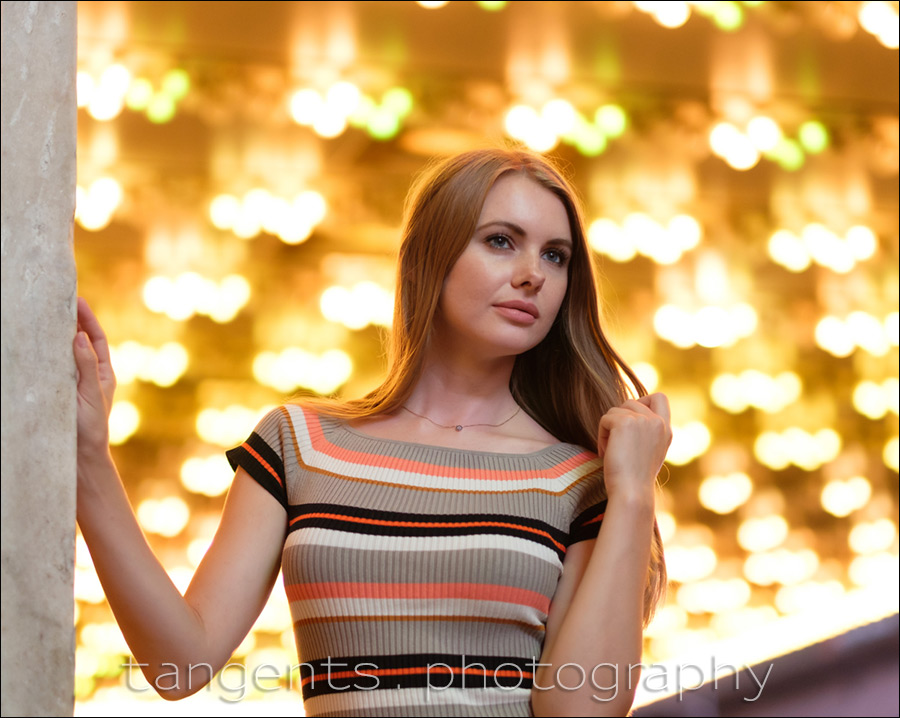 Lens review: Fuji XF 56mm f/1.2 R
For any photographer moving from zooms to using primes as well, with a strong interest in portraits, the 85mm lens is your best choice. If you're a fan of Fuji, then the equivalent focal length would be the 56mm optic. And if you're a fan of Fuji, then you will already know that their lenses are razor-sharp. To test the Fuji XF 56mm f/1.2 R (B&H / Amazon), I photographed one of my favorite models, Anastasiya, using the flood of light from the billboards in Times Square. While not a thorough lens review of the Fuji XF 56mm f/1.2 R, I did use this lens in a way that matches a way I often shoot – using higher ISO settings, and using the camera hand-held. If the results look great with these limitations, then I am sure the lens will perform even better when used with a more rigorous technique.
The camera I used is the little Fuji X-T20 (B&H / Amazon), a great travel camera when you don't want to carry around a larger camera. The 56mm lens actually felt good on this small camera, and not front-heavy or out of proportion.
For this test, I only shot at f/1.2 with the idea that if you buy this lens, it is to be used mostly wide open like that.  So we will look briefly at the sharpness and the bokeh.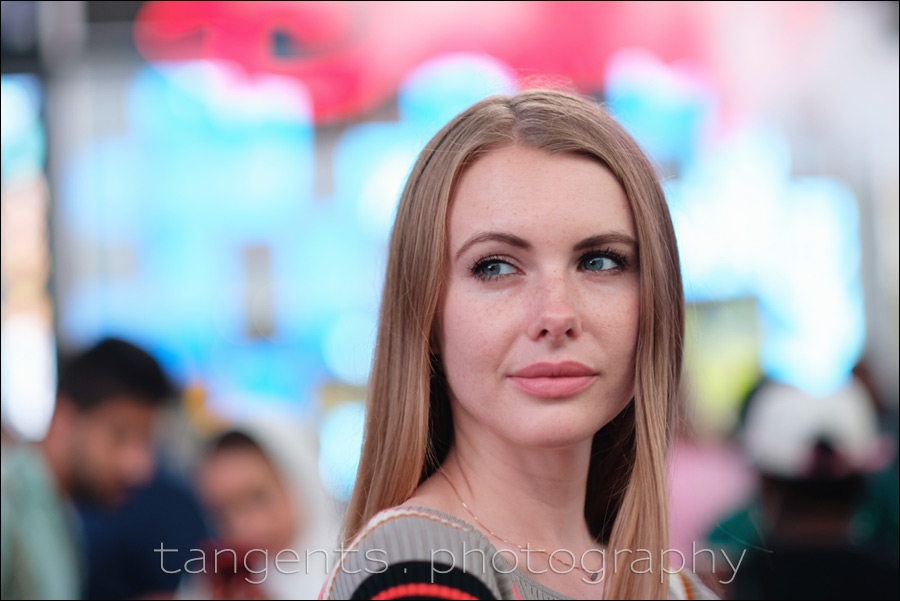 Here is the 100% crop from that frame. Keep in mind that this was shot hand-held, and that there could've been flare from all the lights. Even with those limitations, I love the amount of detail that is visible in her eyelashes. If it looks this good at f/1.2 then it will improve if you stop down just a little bit already.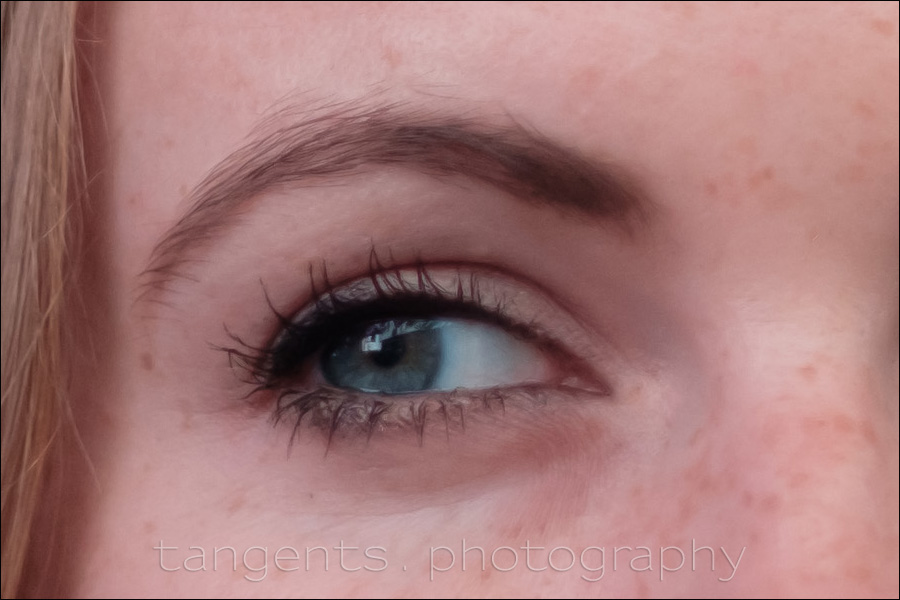 The bokeh of the Fuji XF 56mm f/1.2 R lens
Using this lens at the widest aperture, the depth-of-field will be supremely shallow, giving your photographs a specific look. Now, keep in mind that smooth bokeh and shallow DoF are not quite the same thing – Bokeh vs shallow depth-of-field (DoF). Some lenses have a wiry or harsh look to the background, even when used wide open.  The Mitakon 50mm f/0.95 come to mind. It has a really busy bokeh.
Here are a few examples where you can see how smooth the bokeh is from the Fuji 56mm f/1.2 lens. In this photo below, the two people in the background become a pastel wash of colors! There are no hard or double edges to elements in the background.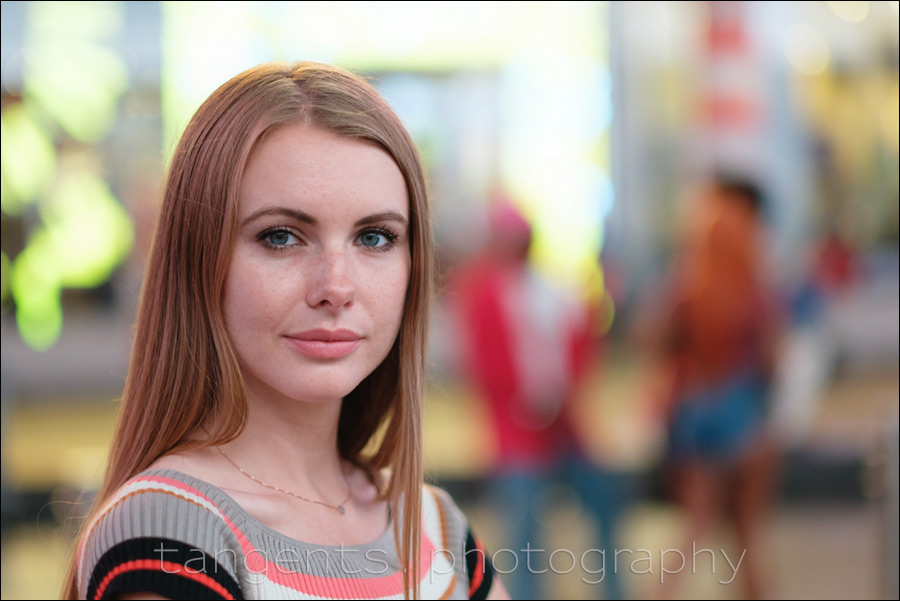 So that you have an idea of where we shot – this is an iPhone photo of the scene in Times Square. It's very busy with so many people and colors, but with a lens like this, it all melts away.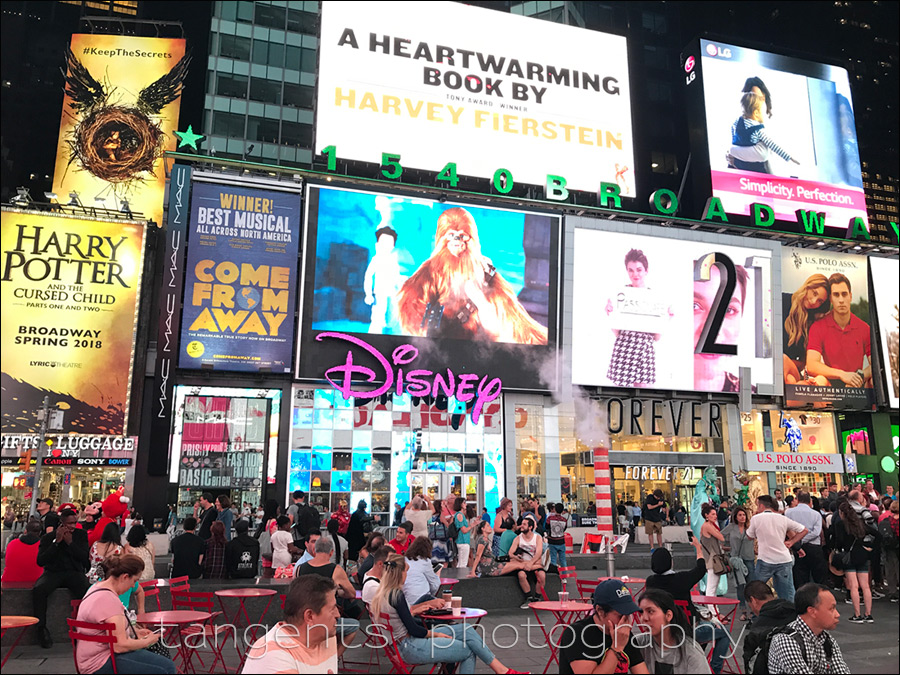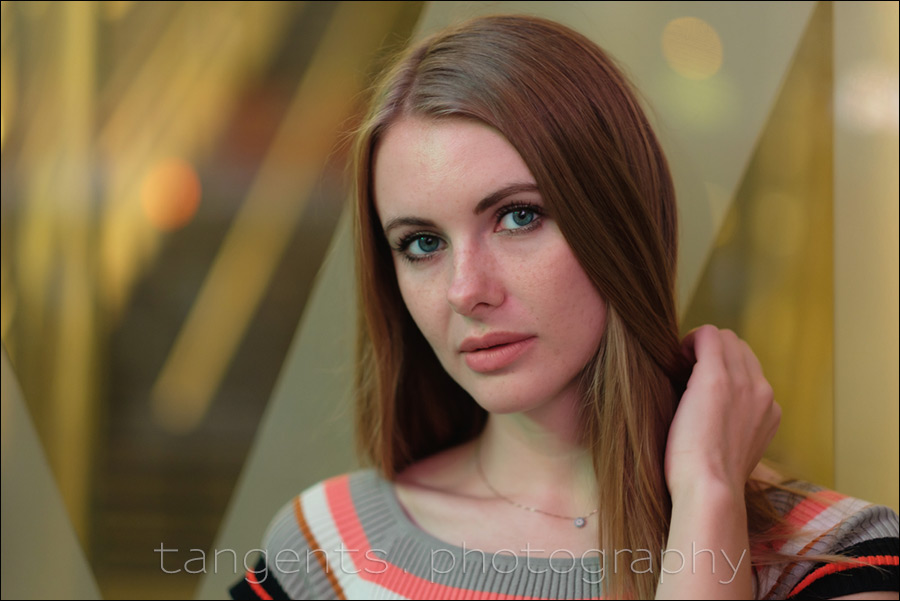 Another example of how you can get a pretty decent portrait with an interesting or complementary background, when you blur it all out. This was shot against the glass door of one of the buildings. The iPhone photo below will give you an exact idea of where we were.
In this way you can melt away the background with an 85mm portrait lens at wide aperture … or in this case, the Fuji 56mm f/1.2 lens.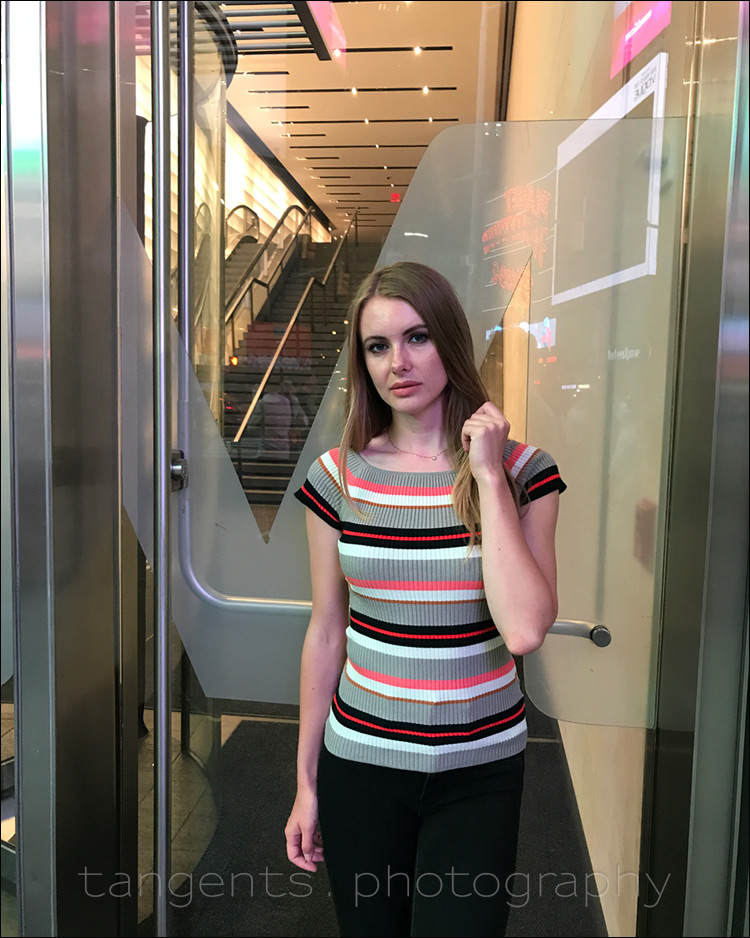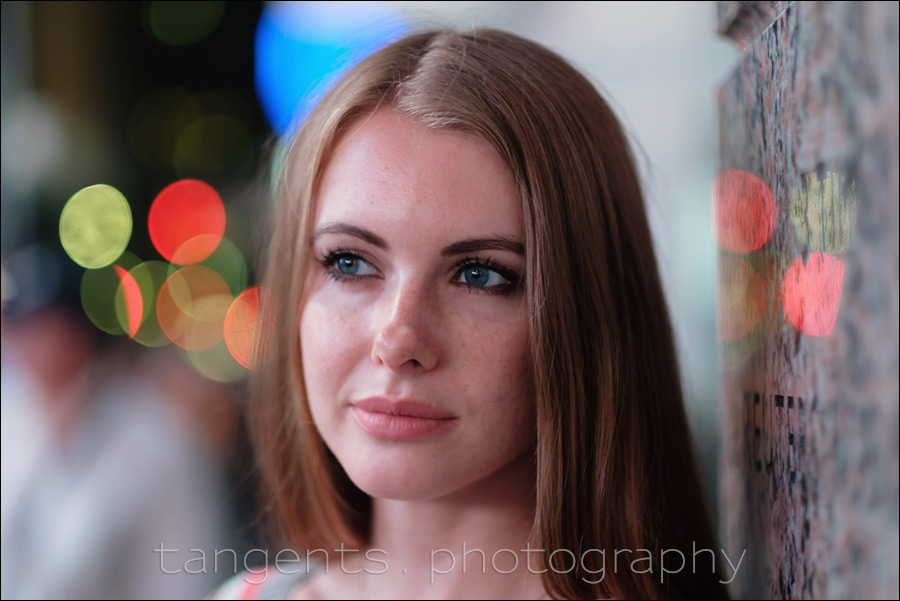 Out of focus high-lights are pleasantly oval, without much of that crazy swirl you'd get with some of the vintage lenses.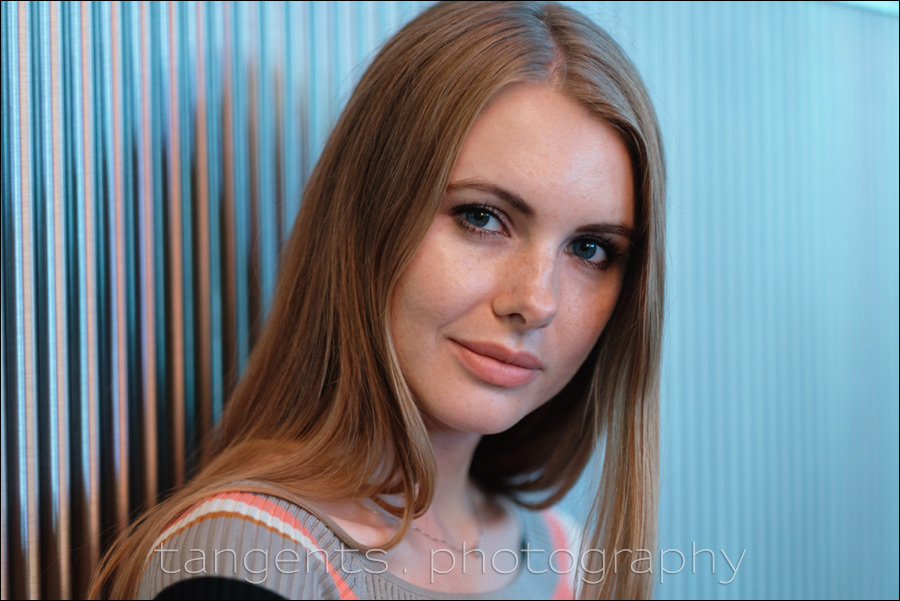 A straight-forward portrait, where the wide aperture lets the background pleasantly blur.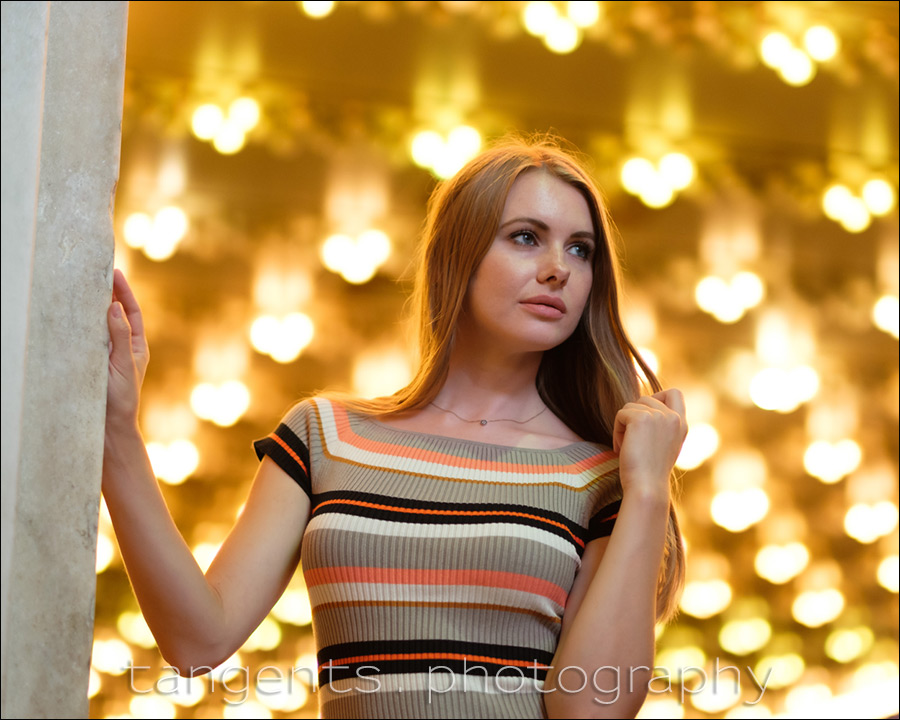 This photo (and the one at the top) was shot against the overhang of the McD's on 42nd Street – a familiar sight to any visitor to Times Square. The mild compression of the short telephoto lens was enough to capture just that part of the overhang as a striking background for a few portraits there.
Summary
if you are expanding your arsenal of Fuji lenses, the Fuji 56mm f/1.2 R (B&H / Amazon) should be high on your list of must-have lenses. Hopefully the few examples shown here are convincing enough of how easy it is to get striking portraits, especially with a wide aperture.
Related articles