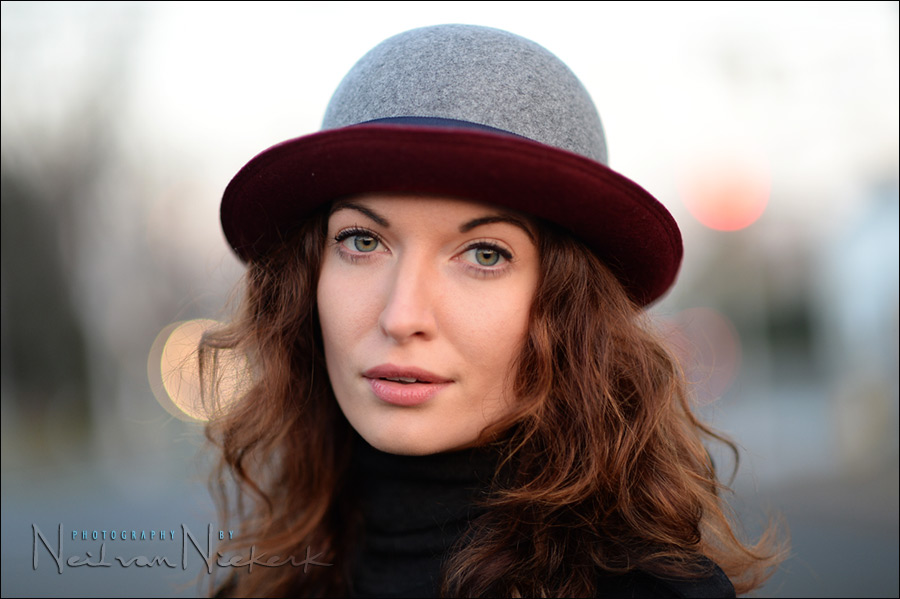 85mm – The best lens that could change your portrait photography
If that hat seems familiar, yes,  Elle was the model in the series of photographs for the Nikon Df review article. For some of the sequences of photos that we shot, I used the 85mm lens, wide open. This had the effect of just melting the background. You can pretty much shoot anywhere, and make the background look good and non-intrusive.
While a 70-200mm f/2.8 lens can be even more effective in controlling the background, the shorter focal length, an 85mm lens can make this somewhat easier in some respects. Specifically, it's a smaller lens and less intrusive when you photograph portraits. It's less "threatening" to the person you're photographing, and easier to carry around.
Just how well can you blur the background when shooting wide open with an 85mm prime lens? Compare the photo above with the pull-back shot, taken with an iPhone from the same spot …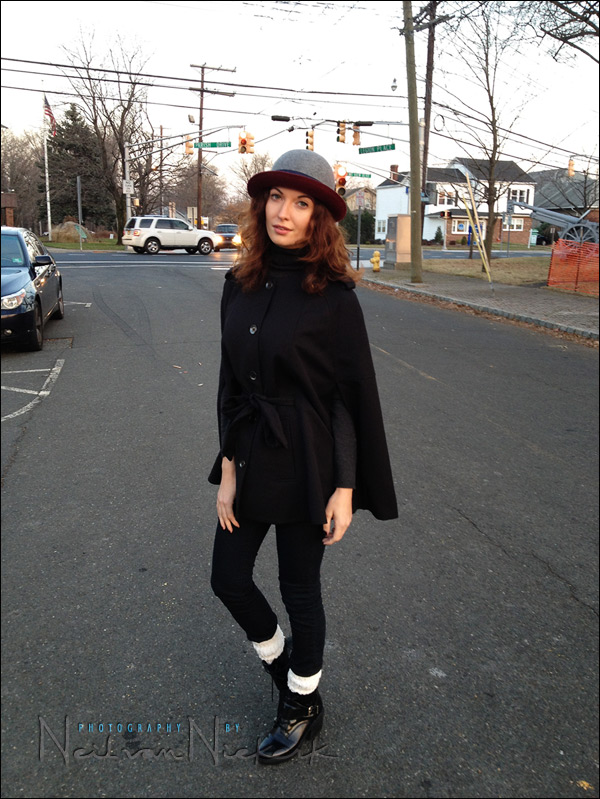 The pull-back shot should tell you the entire story of just how the 85mm lens works its magic! That's exactly where we stood for the shot above. I was using the traffic lights to create some pleasant colored effects in the background. Yes, you really can shoot pretty much anywhere when you use a wide open aperture, whether f/1.8 or f/1.4 or f/1.2
We just used available light here. No flash. With the slowly setting sun, we had lovely soft light falling on Elle.
camera settings: 1/400 @ f/1.4 @ 400 ISO
Nikon Df (affiliate);  Nikon AF-S 85mm f/1.4G (affiliate)
More examples of portraits taken with an 85mm lens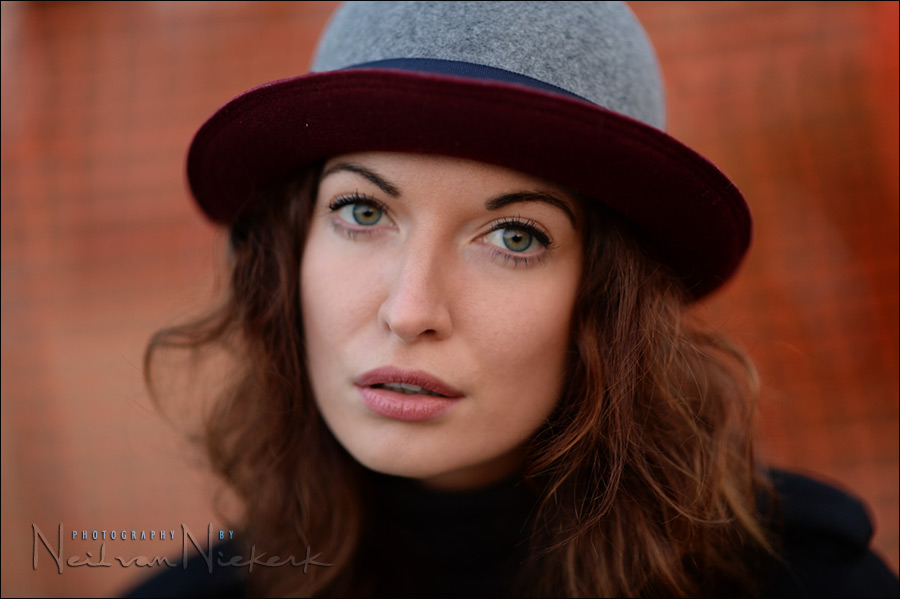 The pull-back shot below will explain the background here. That orange safety netting. With the super-shallow DoF, the netting merely becomes an interesting background, and not an ugly intrusive background. (Excuse the image softness in the pull-back shot. Somehow, I didn't keep the camera still for this one.)
camera settings: 1/500 @ f/1.4 @ 400 ISO
Nikon Df (affiliate);  Nikon AF-S 85mm f/1.4G (affiliate)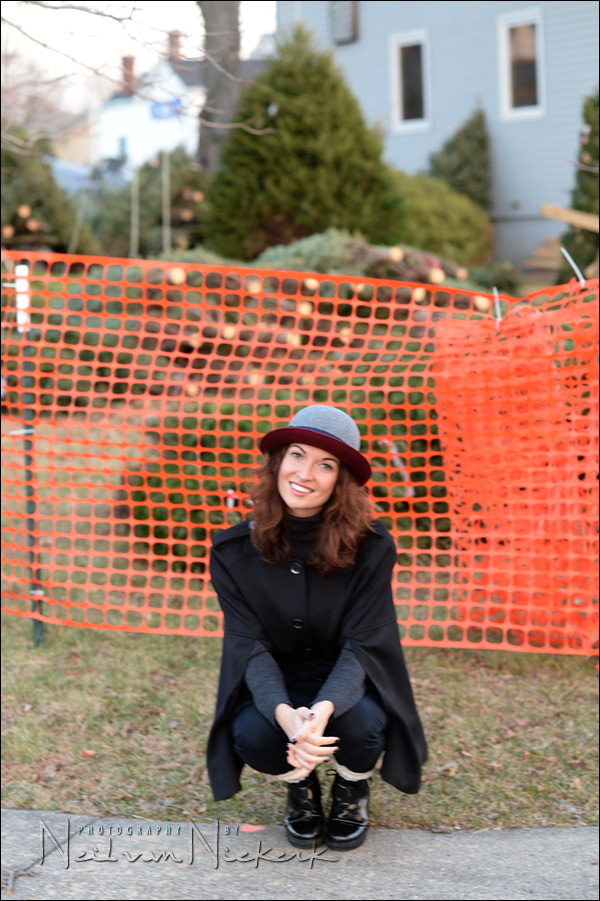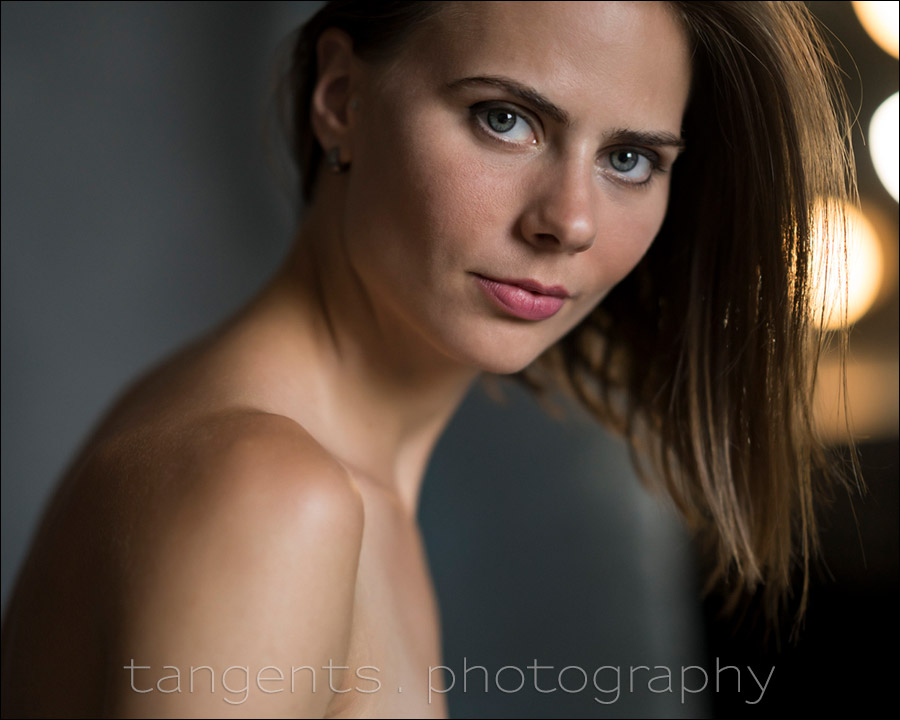 An available light portrait in the studio, using the window light as main light. More details about the setup are described here: Direction of light – Using available light in the studio.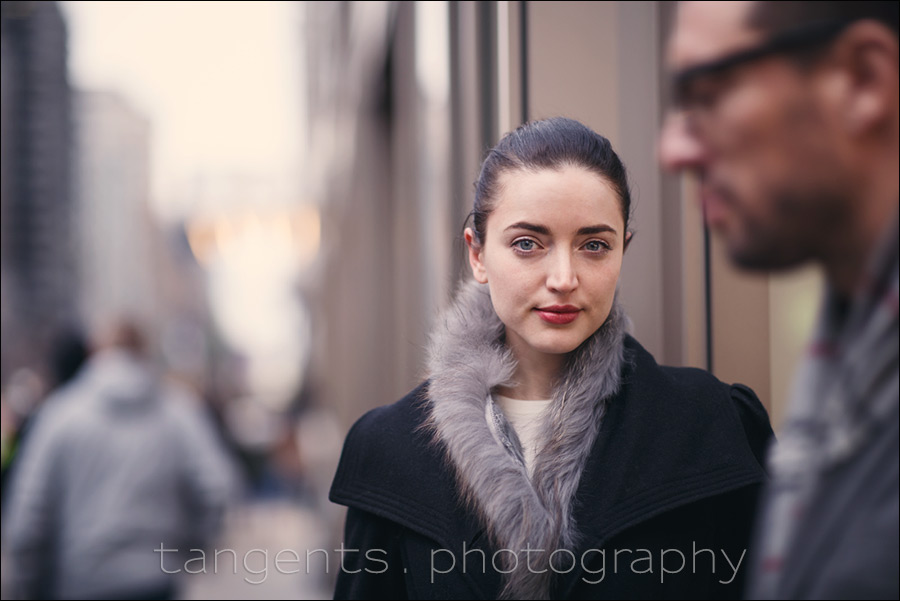 Even though this was a posed shot of Anelisa, the passerby added an interesting incongruous element while shooting out on the street. Again, because an 85mm lens is relatively compact as a portrait lens, it is ideal for this kind of photography out on the street.  And then of course, there is the dreamy bokeh.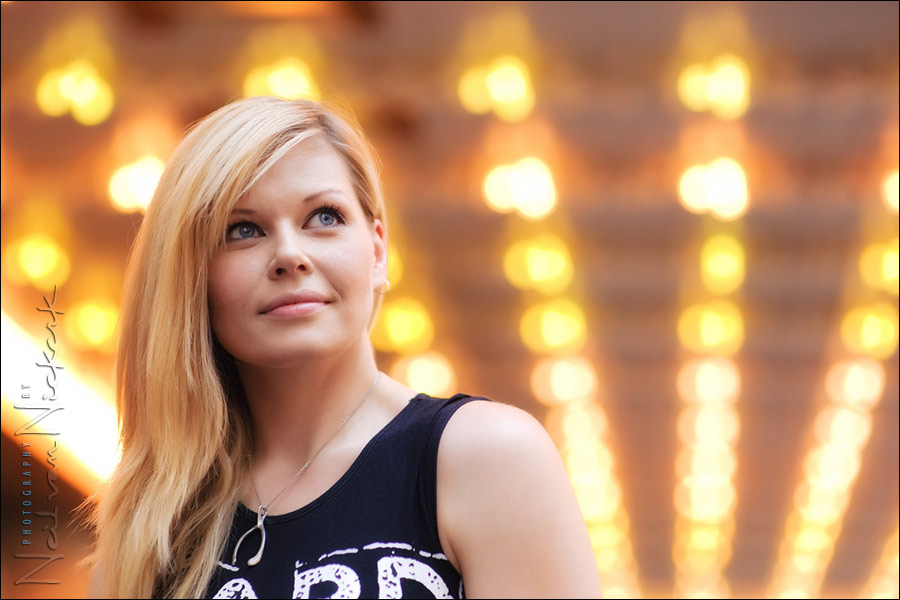 Because an 85mm lens is such a compact portrait lens, it is also ideal for informal portraits.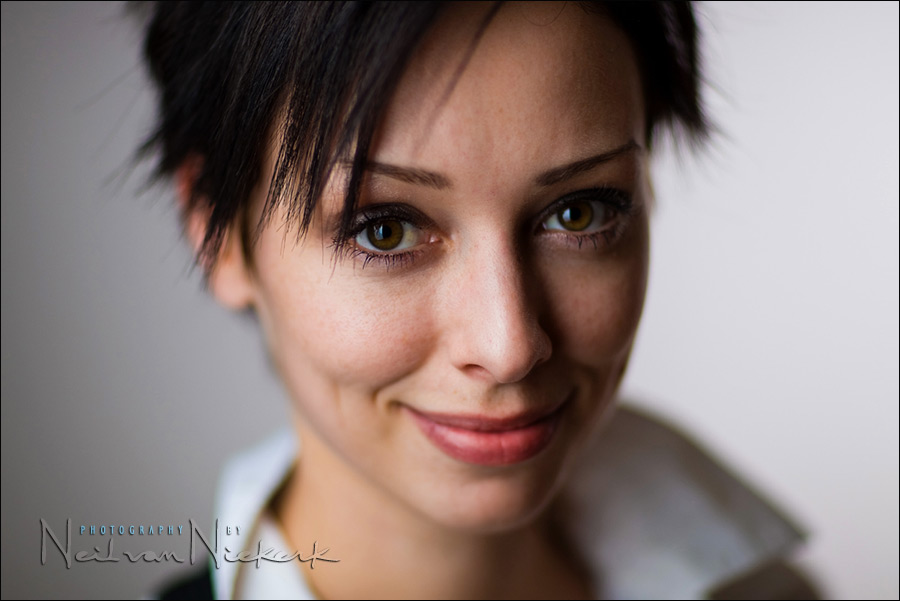 This example is from the article on portrait lighting setup in limited space / home studio. The model's eyes are half the impact with this photo. The way the super-sharper areas gently slide into the pleasantly soft areas, really helps accentuate those sharply focused areas, and draw your attention in.

Recommended 85mm lenses
The faster lenses are a bit more spendy than the f/1.8 optics, but the change in depth-of-field is incremental. You'd get a similar shallow depth-of-field effect at f/1.8 so if your budget is limited, f/1.8 lenses are excellent choices too.
85mm on a Full-frame camera vs. 50mm on a Crop sensor
Photographers with crop-sensor cameras will of course wonder if a 50mm f/1.4 will give similar results. Since the crop will force a different perspective for the same composition, effectively giving that longer focal length's field of view, you'd get a similar effect with shallow depth-of-field.
While I think every photographer should have a 50mm lens in their bag somewhere, the 85mm on a crop sensor camera will be even more awesome in giving that shallow DoF, with the longer focal length giving a more pleasant perspective for close-up portraits.
---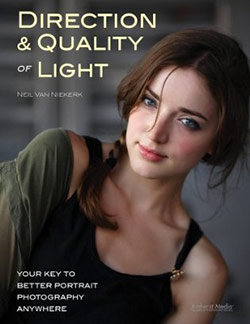 Direction & Quality of Light
I wanted to distill the essence of what we, as photographers, work with – light! Before we can truly grasp on-camera flash and off-camera flash, and really, any kind of photography, we have to be aware of the direction and quality of light. We need to observe the light that we have, and then decide how best to use it, or enhance it.
With this book, I try my best to share those "aha!" moments with you, and I do believe this book can make a difference to your photography.
The book is available on Amazon USA and Amazon UK, or can be ordered through Barnes & Nobles and other bookstores. The book is also available on the Apple iBook Store, as well as Amazon Kindle.
---
Summary
The 85mm prime might seem like an overlap lens if you already have a 70-200mm zoom, and to an extent it is, but the 85mm is so much easier to work with. It is lighter and smaller. The 85mm also allows a more direct way of working with your subject, without the massive lens getting between you and your subject.
Even in studio setups, this lens can help by lending its specific qualities to your images with its very shallow DoF.
If you currently only have a kit lens or a zoom with a slow max aperture, and you're longing for a lens that gives this kind of selectively focused impact, then the 85mm prime is your best choice as a step up. Careful use of this lens will really help elevate your portrait photography.
Reviews of 85mm lenses
Related articles