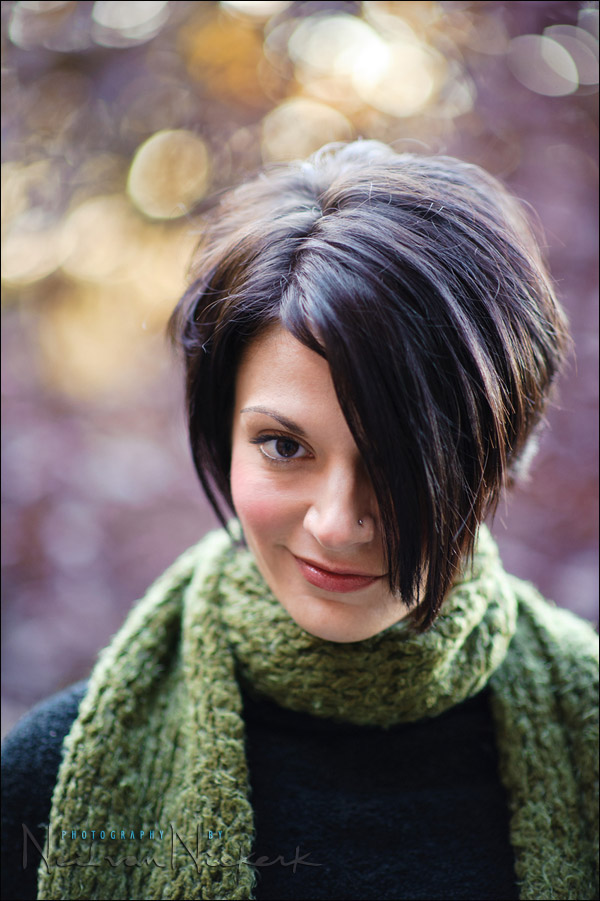 review: Nikon AF-S 85mm f/1.4 G
Itching to try out the Nikon 85mm f1.4G (B&H /Amazon) during a photo session, I had Jessica model for me. During this short photo session, I used the new 85mm f1.4G and the classic 85mm f1.4D side-by-side. As you can see in the photo above,  the lens' extremely shallow depth of field and superb bokeh, give backgrounds that just melt away.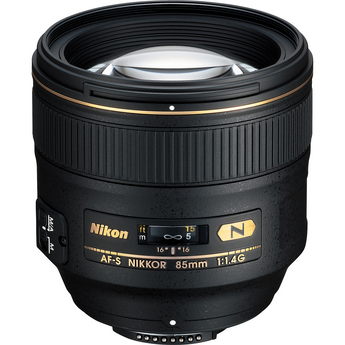 My first impression already is that lens is even better than I anticipated …
1.)  Focus speed
I expected the new Nikon 85mm f1.4G (affiliate), to focus faster, and it is! In using this lens on the D3, it felt like the lens was suddenly just in focus at the touch of the focus button. And it is quiet. Very impressive. If you're used to the f1.4D buzzing sound as it focuses .. especially when it hunts a bit, then this new lens will be a real treat for you. It really is much much faster. This alone would've made it an automatic upgrade for me.
2.)  Focus accuracy
Better yet, while I frequently enough got miss-focused shots with the f1.4D during use on shoot, it would appear with this initial test that the f1.4G nails focus at f1.4 more often.
Focusing on a Jessica's eyes during various simple portraits of her, the f1.4G nailed it more often than the f1.4D in comparison. The f1.4G nailed it pretty much every time. It is difficult making a qualitative assessment here, working hand-held with an f1.4 optic. If either you or your subject moves even slightly, the plane of focus shifts. Despite that, the f1.4G definitely appeared more confident. The focus was accurate and just *there*. So this is a big improvement.
3.)  Sharpness at f/1.4
I honestly couldn't tell a difference. For properly focused shots, you could count eye-lashes on photos taken with either lens. Stopped down to f2.0 and then to f2.8 made a difference to the sharpness on both lenses. However this type of lens was meant to be used wide open, or close to wide open.
4.)  Contrast and control of flare
Here is the other Big News! Look at these two photos … taken about 30 seconds apart on two different D3 bodies. No filters. The exact same camera settings, and exact same RAW settings in processing.
First, the Nikon 85mm f1.4G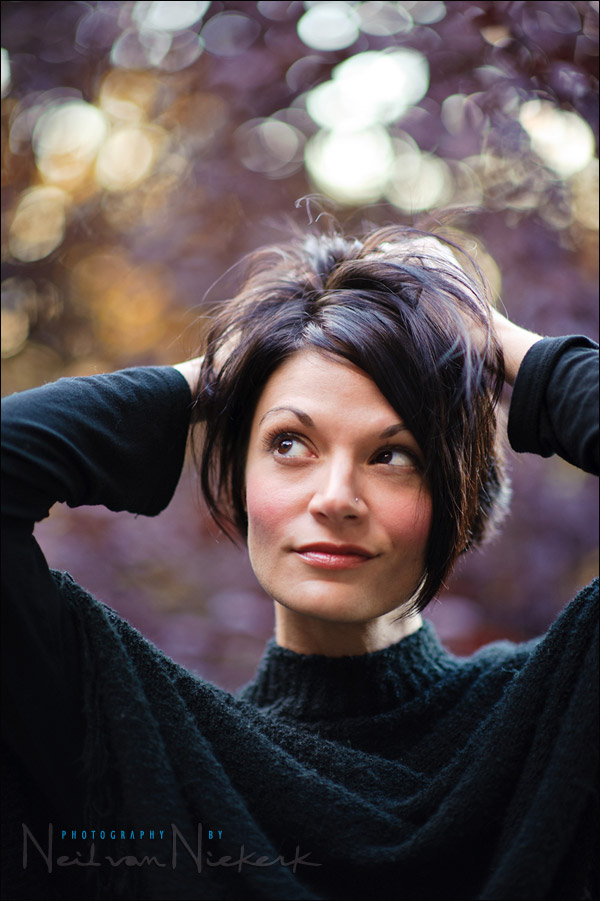 Then, in comparison, the 85mm f1.4D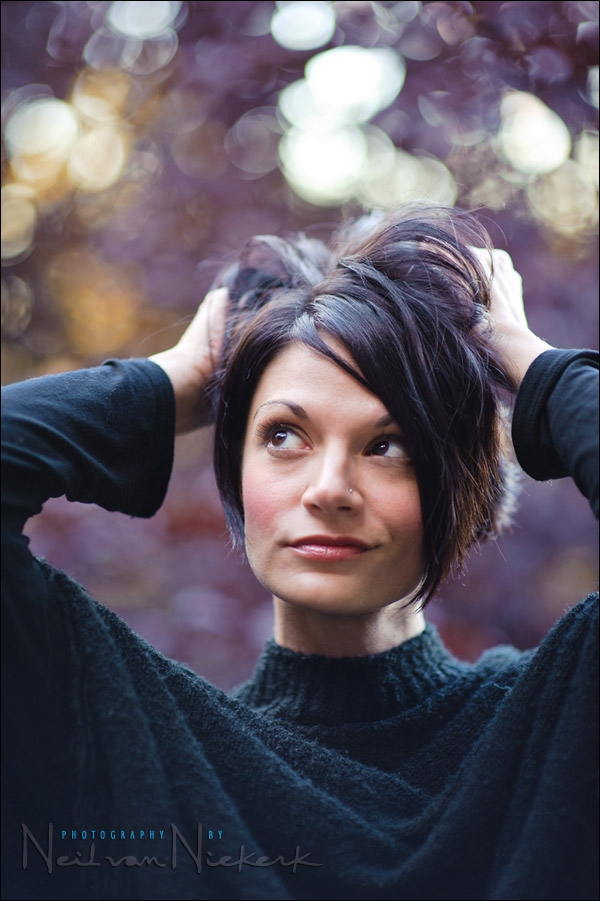 Notice how the flare from the background washed out the contrast, as you can see in her black sweater. Now, the image at the top is noticeably warmer. I did subsequent tests, and the f1.4G is indeed slightly warmer than the f1.4D comparing the two lenses on two identical camera bodies, cross-swapping the lenses. But the difference in warmth of the images wasn't to the extent shown here. So I am assuming what we see in these photographs is entirely due to the flare from the blue-ish / purple-ish tree leaves.
5.)  Bokeh
I can't see a difference in the bokeh in these shots or other test shots. I photographed railings and grid-like iron-work .. things which very quickly show up a lens when it has harsh bokeh. But to my eye, these two lenses had the same great bokeh.
Summary
Final initial assessment of the Nikon 85mm f1.4G (affiliate)
– focus speed is greatly improved,
– focus accuracy is improved,
– and the new lens handles flare like a champ.
If you would like to purchase this lens, it is available from these affiliate links:
– Nikon 85mm f1.4G  –  (B&H  / Amazon)
The f/1.8G lens might be a more affordable alternative. It too is stellar.
– Nikon 85mm f/1.8G  –  (B&H  / Amazon)