The need for fast prime lenses in your camera bag
Photographing events like weddings, and in this case, Bar / bat mitzvahs, I bring a big roller case – the Think Tank Logistics Manager 30 (B&H  / Amazon) – with several cameras and lenses. At the moment I straddle Nikon and Sony. As much as I love the Sony A9's eye focus capabilities there are some situations where the Nikon D5 is the beast that I can rely on. It so rarely doesn't deliver with precision. I bring a range of lenses – a mix of f/2.8 zooms, and several fast primes. (I have a self-imposed rule that I should try and use every lens at any event I am photographing.) This helps with forcing a bit of creativity. The zoom lenses cover the obvious range from 16-35mm; 24-70mm; 70-200mm. I rely on these for the majority of any event. But there are instances where a fast prime is essential.
Something I like to do during Bar / Bat Mitzvahs, is to photograph the reaction of the guest of honor during the highlight reel / slideshow of their life's events. This is Maya at her recent Bat Mitzvah party. Her reactions were priceless!
I used the light reflected off the screen. I don't want to use flash here because it would be super-intrusive, especially in the low light when a slideshow or video is being shown. It really has to be available light only. And for this situation then, a fast short tele prime lens is essential.
All shot with the Sony A9 camera (B&H / Amazon), and the magnificent Sony FE 85mm f/1.4 GM (B&H / Amazon). The seemingly tighter shot at the bottom is a vertical crop of a horizontal image.
I had the 135m f/1.8 with me as well – an ideal lens when I need to shoot across a bit more distance. But in my position here, wedged on the floor against one of the couches in the event space, the 85mm lens was just right for these candid portraits.
My camera settings were:  f/1.4 @ 3200 ISO @ (approximately) 1/125th. My settings are usually fairly fixed, and I correct the exposure and crazy WB during post. Moments where my subject is too dark because of a photo being projected on the screen that is mostly dark, then I just wait for when the screen lights up again. I shoot a lot, and then select a few of the best images. In the end, I had more than 20 good reaction images to pick from, of which I gave 12 to my client. This is a time that aperture priority would work really well, but my habit is to shoot manual exposure mode only.  Available light only – no flash.
I have to mention the superb eye focus ability of the Sony A9 here – it gave me critically sharp images for nearly every photo. That bit of stunning technology – eye focus – feels like cheating at times in how it makes it so much easier to get razor sharp images focused on your subject's eyes.
Another thing that I really like about the Sony A9, is that the viewfinder doesn't black out when you take a photo with the electronic shutter. More here: Electronic / silent shutter of the Sony A9 vs Sony A7iii + A7Riii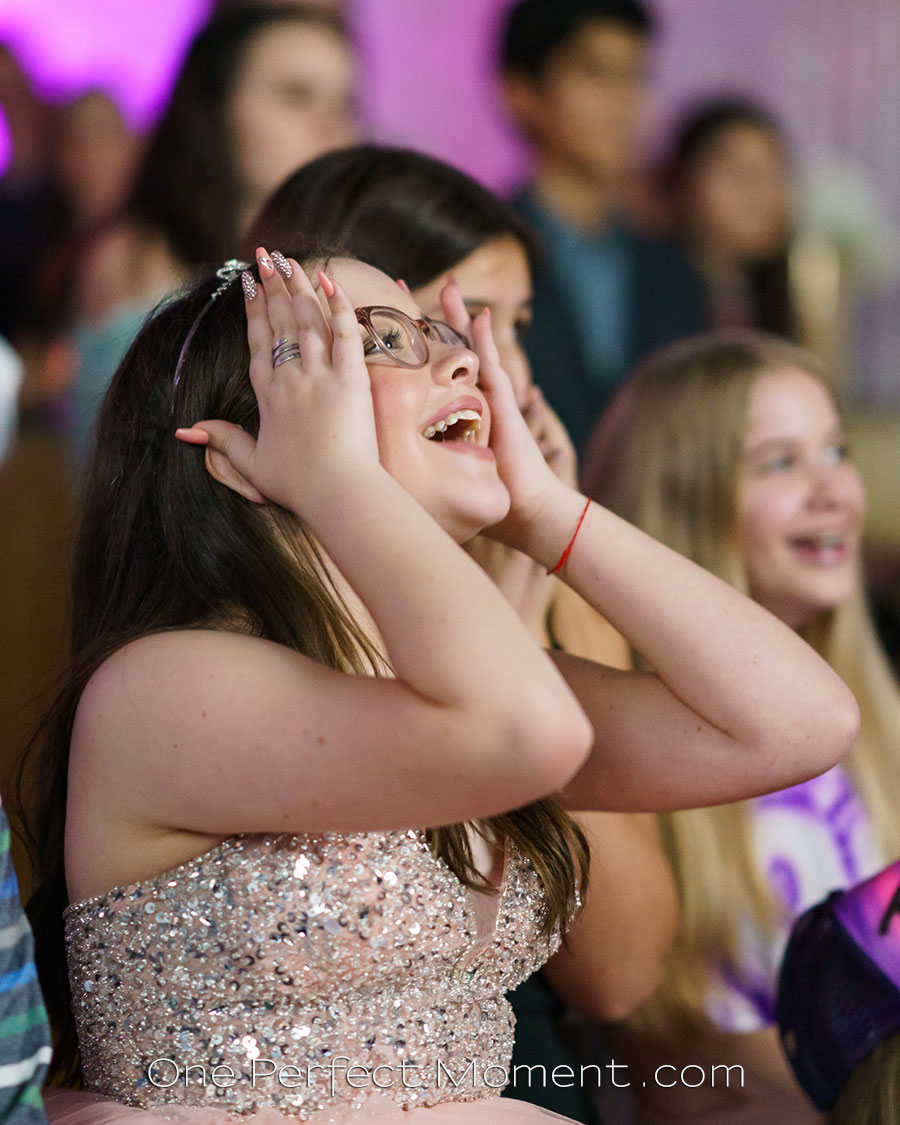 Camera settings for these photos
 f/1.4 @ 3200 ISO and mostly 1/125th  … available light
---

Related articles