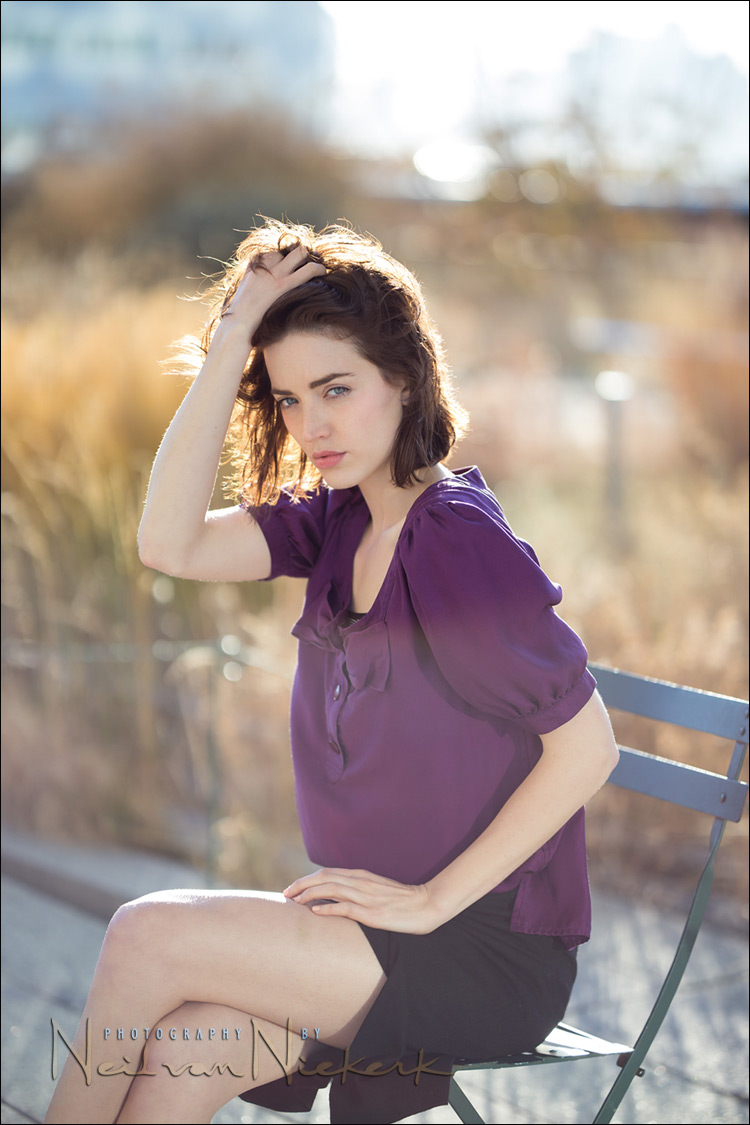 review: Zeiss Otus 85mm f/1.4  vs  Canon and Nikon
Even when taking photography only slightly seriously, you'll have come up against the legendary name, Zeiss. Renowned for innovations in optical designs that helped shape the history of photography, the Zeiss brand name is also synonymous with precision engineered lenses and impeccable attention to build quality. With all that behind them, Zeiss has released a new range called Otus. The first lens is a Zeiss Otus 55mm f/1.4 (affiliate) which Zeiss describes with phrases such as "the absolute measure of perfection" and "unrivaled performance". Knowing Zeiss, this won't be hyperbole, but a straight-forward assessment.
With their 55m lens described as the best standard lens available, I was really curious about the new 85mm Otus lens released. Really, the description on Zeiss' website of the Zeiss Otus 85mm f/1.4  (B&H / Amazon), will send a tingle down the spine of any gear-head / aficionado. For example: "The optical correction of the Otus 1.4/85 completely eliminates almost all possible forms of aberration."
Now, those of you who regularly follow the Tangents blog, will know that I have a fondness for the 85mm optics – the best lens to change your portrait photography. So when I had the opportunity to try out a loaner copy of "the best short tele lens in the world", I was very curious to see how this lens would perform.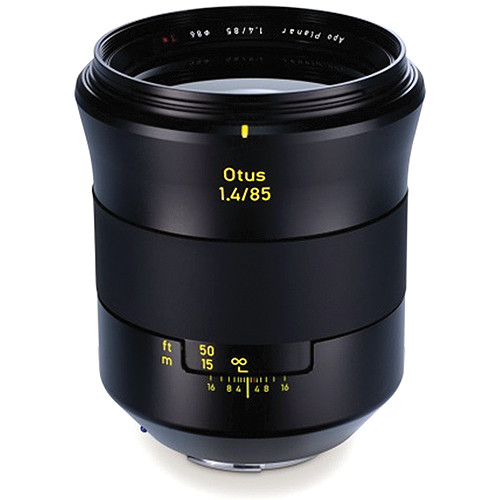 – Zeiss Otus 85mm f/1.4 (for Canon)  (B&H / Amazon)
– Zeiss Otus 85mm f/1.4 (for Nikon)  (B&H / Amazon)
Taking this lens out of the box is an event in itself. It's built like a tank. A luxury tank. It is heavy and feels and looks like a top-quality lens. There's no doubting when you hold this in your hand.
To make it more interesting, I decided to compare it with two of its closest competitors, the Canon 85mm f/1.2L II (affiliate), and the Nikon AF-S 85mm f/1.4G (affiliate). I used the Zeiss Otus on a Canon 6D (affiliate), along with the Canon 85mm lens. The Nikon lens was on the Nikon D750 (affiliate). With the cameras having similar resolution, it would be a fairly equal comparison.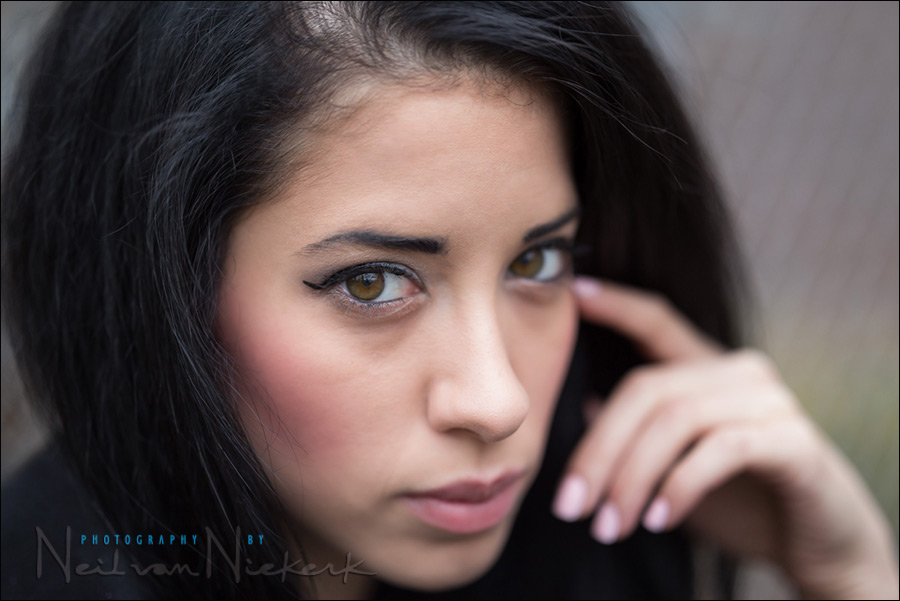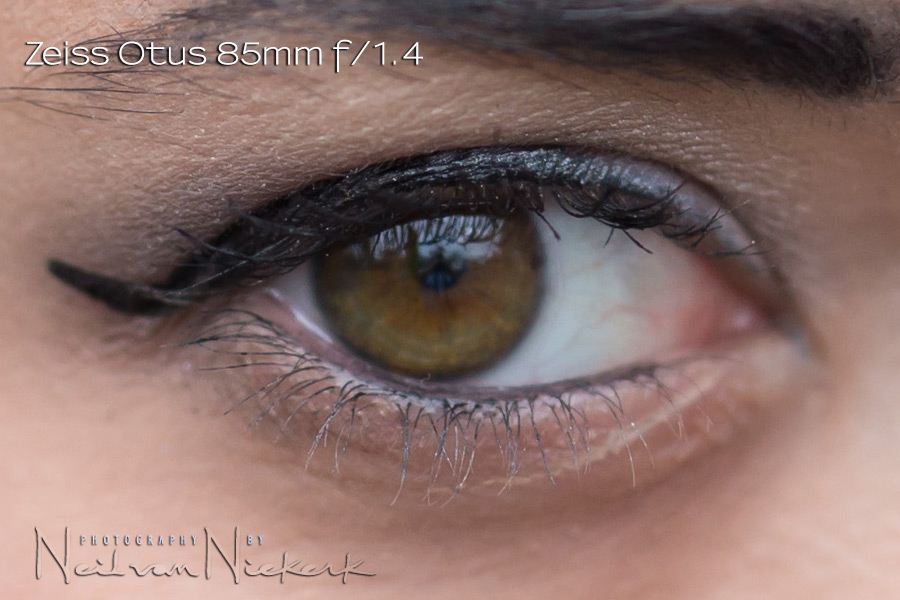 With the first opportunity already to shoot with this lens, I took some close-up portraits of Melanie. The resolution and sharpness is immediately impressive. This photo, shot at f/1.4 shows the count-the-eyelashes sharpness that you'd expect from such a lens.
Table-top photos I shot of various items at close range, showed incredible edge-to-edge sharpness. None of the optical softness and even smearing you'd often see to the edges of lenses used wide open when working near the closest focusing distance.
For me as a photographer who loves portraits the most, this kind of resolution is incredible. While the argument can be made that lenses like these are "too sharp", I can always soften the image in post-processing. But it is more than just sharpness, it is the lack of color fringing when shooting wide open. It's also the lack of optical smearing. Things that aren't fixable. I much prefer dealing with images which are crisp and show minimal optical aberrations – then I can take the images where I want in post-processing, instead of being limited by what is captured.
Oh, with the rest of the review, expect more close-up portraits of a model, and the 100% close-up crops of her eye.
Bokeh of the Zeiss Otus 85mm f/1.4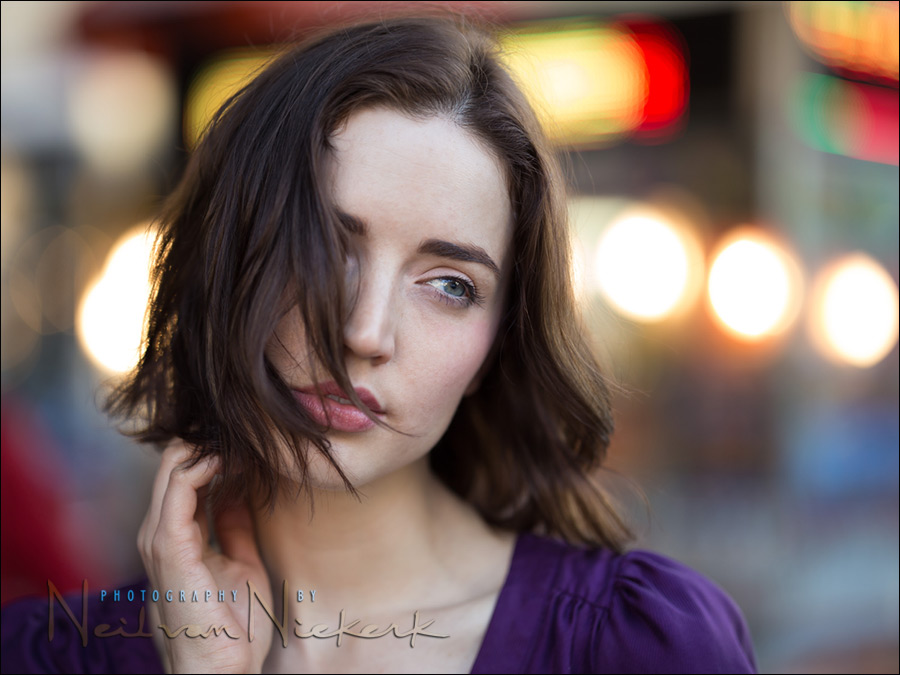 The bokeh is smooth. Especially the highlights shown there are smooth. The slight jagged edge you see there is from a neon display in the background, and wouldn't be indicative at all of this lens' bokeh. This was shot at f/1.4 as were all the other images in this review.
If you are curious what the background was in this main image, here's the pull-back shot to show the New York street food cart with its lights. (I shot this with my Fuji X100s)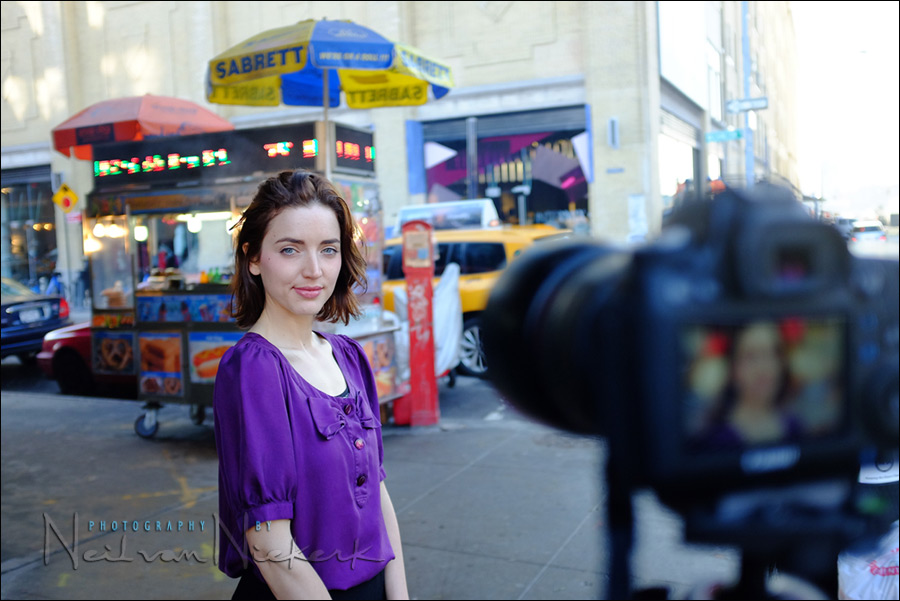 Again, the accompanying 100% crop to show the incredible amount of detail … and of course, the razor-thin shallow depth-of-field. This was one in a longer sequence of test images that I shot of Anelisa, who regular followers of the Tangents blog will know well. You may also have seen Anelisa in my books on photography technique.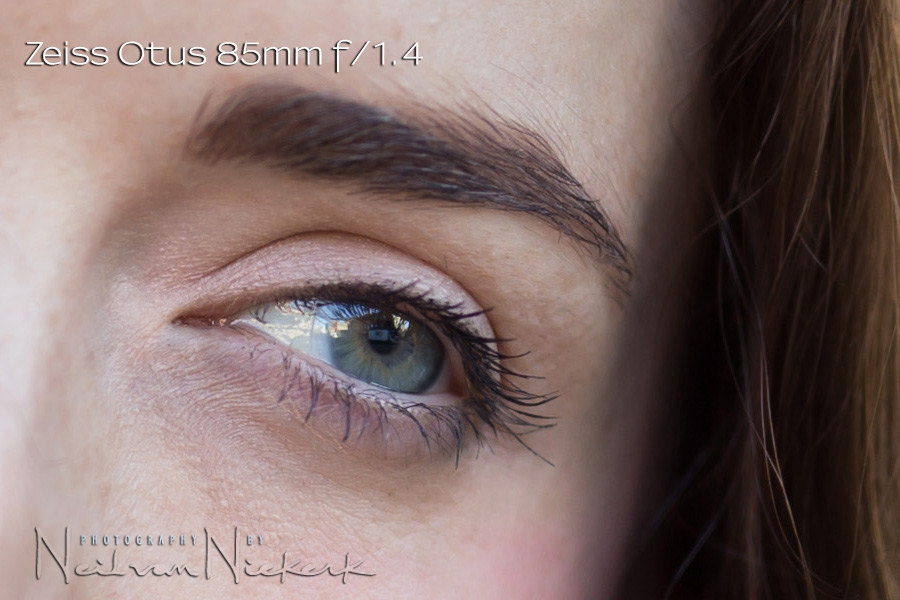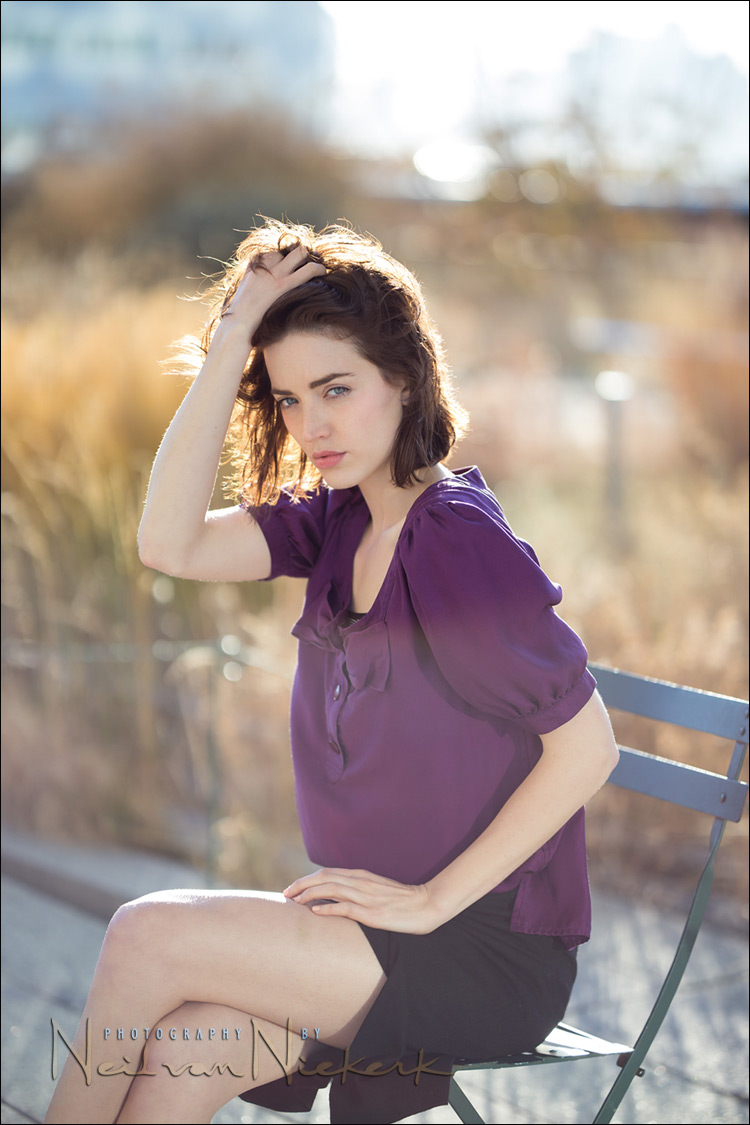 Here is the image at the top again. This was tough to shoot, since I opted to not use the tripod here, and shoot hand-held using the Live-View mode to focus. I lost a fair amount of images to slight movement by either myself or Anelisa, our model here. The strong back-lighting didn't help either. (And yes, I do have a Zacuto finder … in my studio.)
The images that worked looked great. A crispness, even with the strong back-lighting and slight amount of flare. Really, the flare exhibited by the Otus lens was much lower than I would normally have expected.
About the lighting here: I used sun glaring off surrounding buildings to light Anelisa. Or, in other words, I looked around for interesting light and angles and a background that would be complementary. This is very similar to the scenarios described in these two related articles:
– using interesting available light & white balance options  (model: Olena)
– observing and using the available light  (model: Anelisa)
As you can see, the bokeh of this lens is exemplary. Smooth. No jittery high-lights or weird oval shapes.

Manual focus
The Zeiss Otus 85mm f/1.4 (B&H / Amazon), is a manual-focus lens. No AF. Without the aid of split-image focusing screens like you'd find in film cameras, it is nearly impossible to manually focus this lens by eye at full aperture. (or any other wide aperture lens) at full aperture (continue)
With further testing, I worked with a tripod, and use Live-View to focus. It does mean this lens isn't for action photography. It just seems more suited to a methodical and precise technique in shooting.
So if you need speedier lenses to work with – lenses that offer AF – then the Zeiss Otus isn't for you.
In using the Canon 85mm f/1.2 II and the Nikon 85mm f/1.4G in live-view mode as well to ensure precise focusing, the long throw in the Otus' focusing made a huge difference. The Canon especially was difficult to focus manually with precision, since the slightest nudge on the focusing ring affected focus. The Zeiss Otus on the other hand, has an unusually luxurious feel to the focus ring, and a long throw to the focus. All the better to manually focus with.
A disappointing side-note about the Nikon D750 and Nikon 85mm f/1.4G … working at such close focusing distances, the AF wasn't accurate. It would miss focus slightly, when I knew my Nikon D4 would've nailed focus with precision with the same lens. So I had to use Live-View and manual focus with the D750 and Nikon 85mm f/1.4 for this test.
Specifications and optical description of the Zeiss Otus 85mm f/1.4
From the spec sheet:
A portrait-length lens with no optical compromises, this lens seeks to deliver notable performance in any situation.
Based on the Planar design, this apochromat incorporates one aspherical element and six elements made from anomalous partial dispersion glass in order to effectively suppress chromatic and spherical aberrations throughout the focus and aperture ranges.
Additionally, a floating element design is also employed and a Zeiss T* anti-reflective coating has been applied to individual lens elements for consistent sharpness and image clarity. As a high-precision tool, the Otus 85mm f/1.4 also features a refined physical construction to endure use in trying conditions.
The longer-than-normal focal length pairs well with the fast f/1.4 maximum aperture to enable precise control over focus position for shallow depth of field applications.
Accentuating the range of control, this manual focus lens is complemented by haptic design elements, including a long rotational focus throw, rubberized focus ring, and an all-metal lens barrel with high-visibility yellow scale markings.
One aspherical element and six elements made from anomalous partial dispersion glass help to suppress chromatic aberrations for greater clarity and color accuracy around subject edges, regardless of the aperture setting in use.
Based on the Planar optical concept, this apochromatic lens virtually eliminates both chromatic and spherical aberrations in order to reduce color fringing and color artifacts in front of and behind the plane of focus.
A floating element design places variable air gaps between select lens groups to realize consistent performance throughout the focusing range, from 2.6′ to infinity.
Zeiss T* anti-reflective coatings have been applied to each lens surface to help minimize reflections in order to provide greater image clarity, contrast and color fidelity.
Rounded nine-blade diaphragm contributes to a pleasing out-of-focus quality.
The sophisticated optical system is housed within an all-metal lens barrel, which is built with the narrowest of design tolerances for refined precision and durability.
Zeiss Otus 85mm f/1.4  –  vs  –  Canon 85mm f/1.2 II and Nikon 85mm f/1.4G
A few basic comparisons between these three lenses:
Bokeh:
The bokeh of these three lenses at f/1.4 looked fairly similar. No real differences that I could see over numerous test images. All three lenses had bokeh that was smooth. Not a hint of harshness. Just as you'd expect. So for me, there was little to choose here.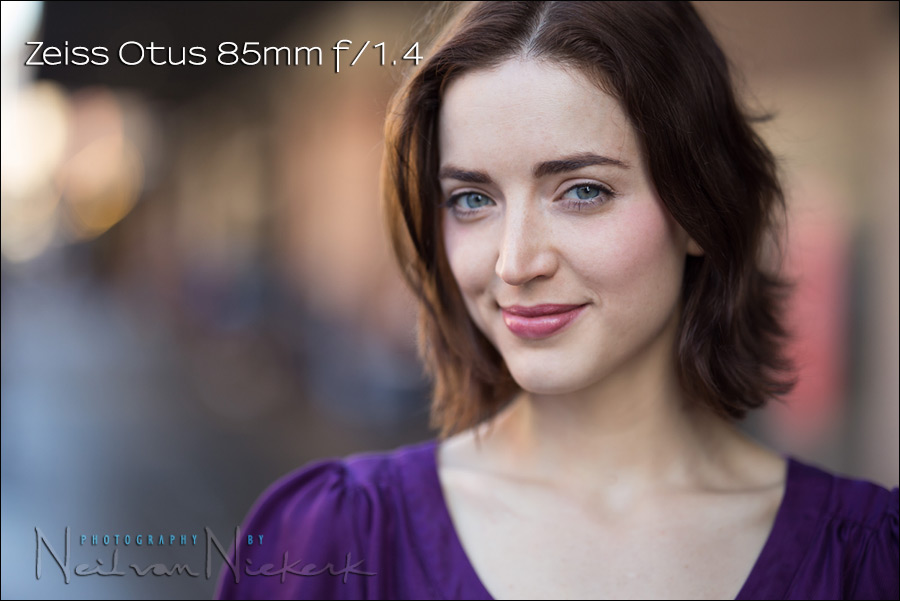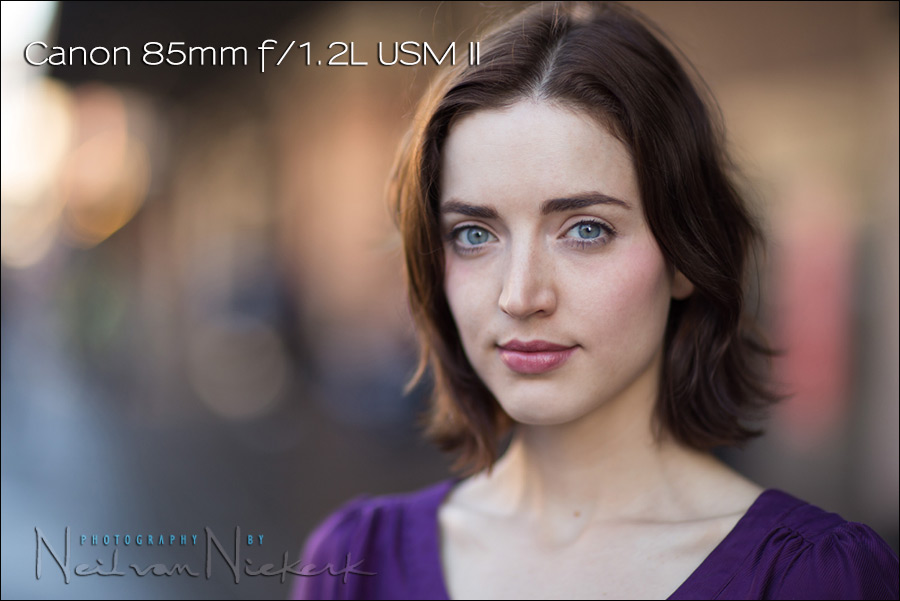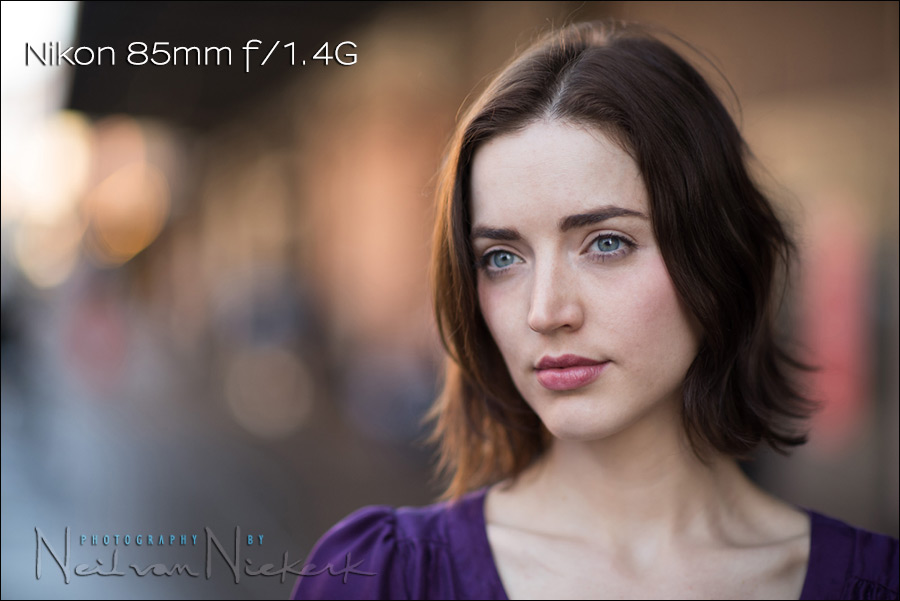 Sharpness:
I only tested these lenses at f/1.4 since testing the smaller apertures just seemed superfluous at this level.
The Zeiss Otus is sharper in the center than either lens. The Nikon and Canon show slight amounts of a hazy kind of softness at f/1.4 … nothing that has bothered me. I accept that these lenses will exhibit that when used wide open. However, the Zeiss appears clean of that. Whether this is a difference that would be important to you, is a personal preference.
Here are the 100% crops of the images above. They are typical of the results I got with various tests.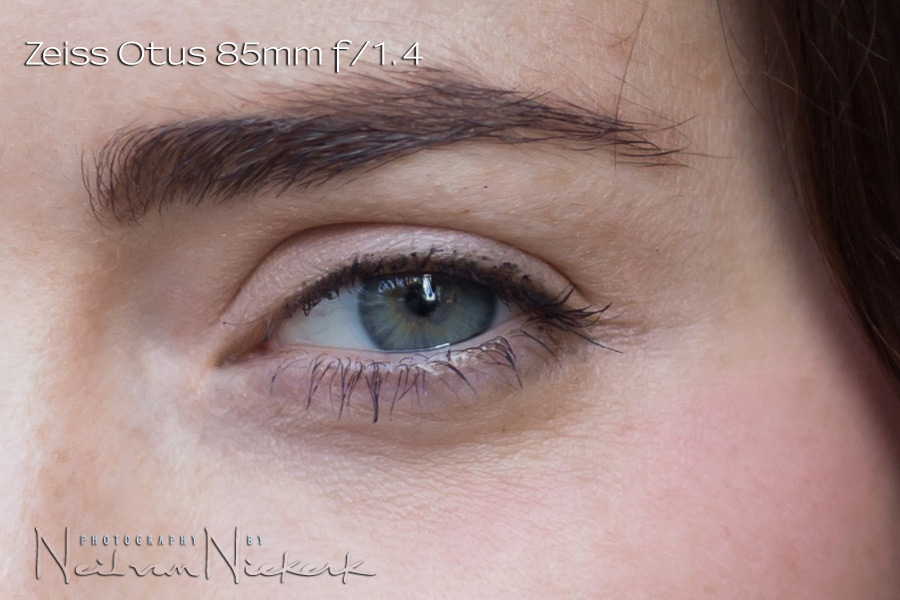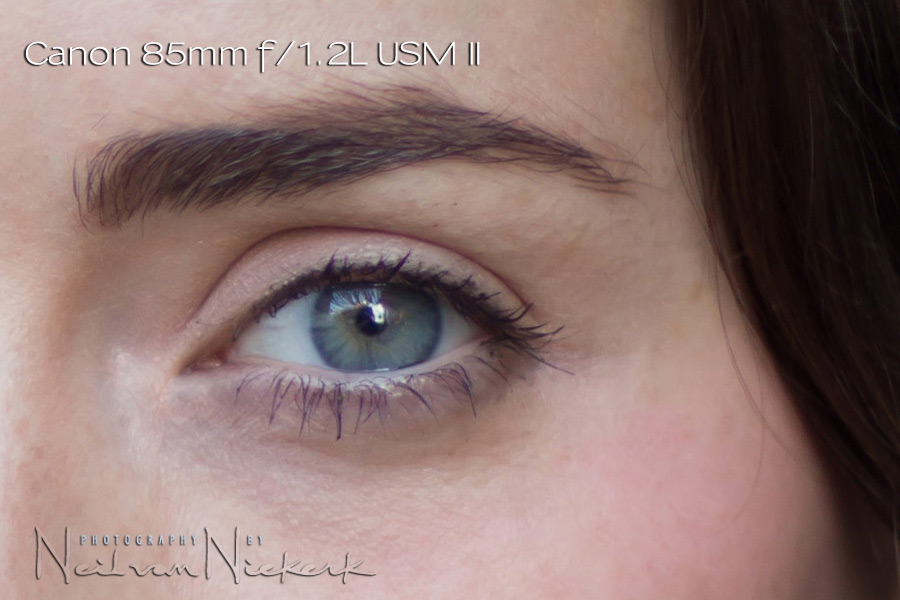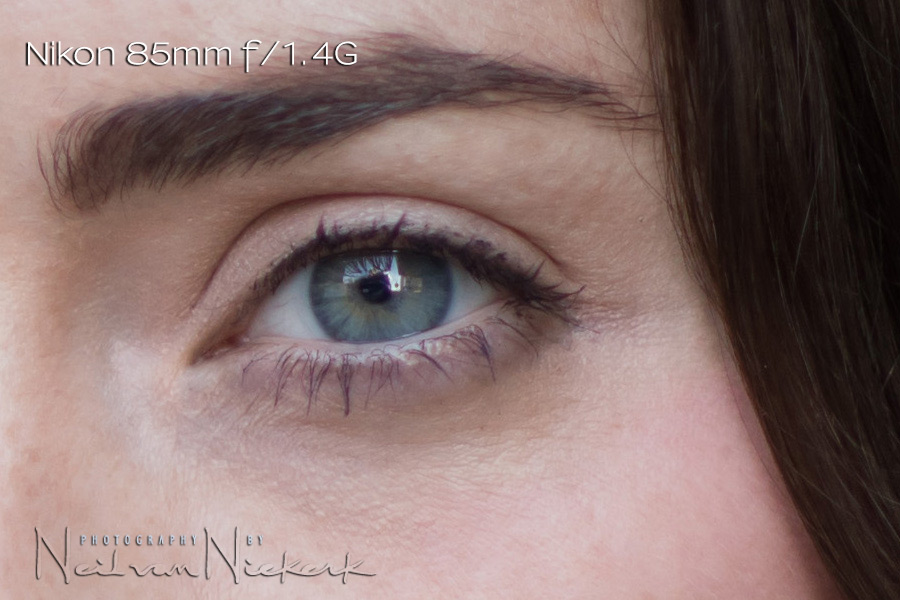 Edge-to-edge sharpness
This is where the Zeiss Otus excelled – edge-to-edge sharpness at f/1.4
I photographed this building facade as a test. Perhaps not ideal since there isn't enough contrasty texture to closely discern detail. But it should give an indication of the differences between these three lenses.  (It's surprisingly tough to get a flat surface to photograph that is really flat and equidistant to all corners to you.)
The Zeiss is sharp. Very sharp. Even to the edges at f/1.4
The Nikon lags ever so slightly behind on the edges, but I was surprised at how well it compared.
The Canon 85mm lens was noticeably softer at the edges, but not by much.
Ultimately, I don't think there are many opportunities in your lifetime where the edge sharpness at f/1.4 is going to be a crucial matter. Still, the Zeiss performs as advertised. It is better, even here.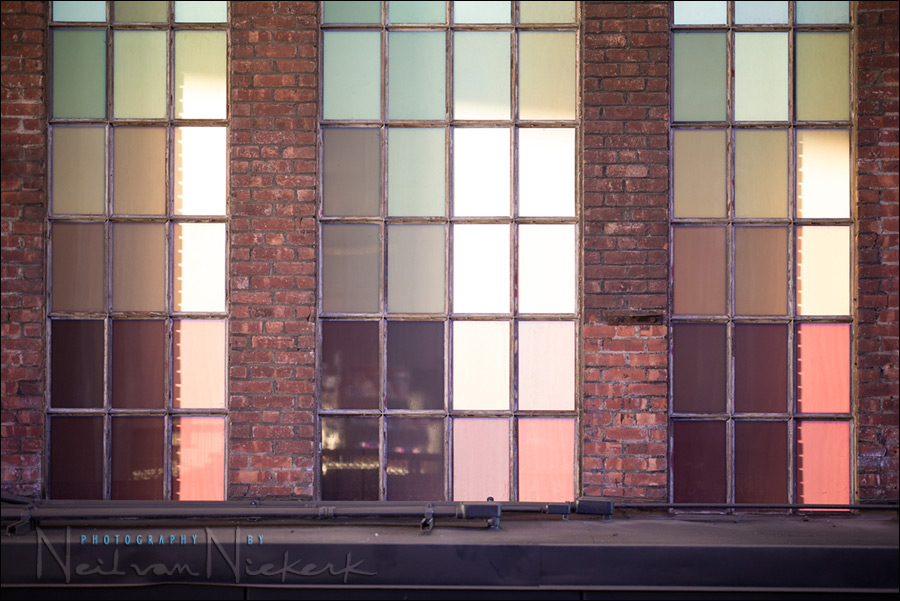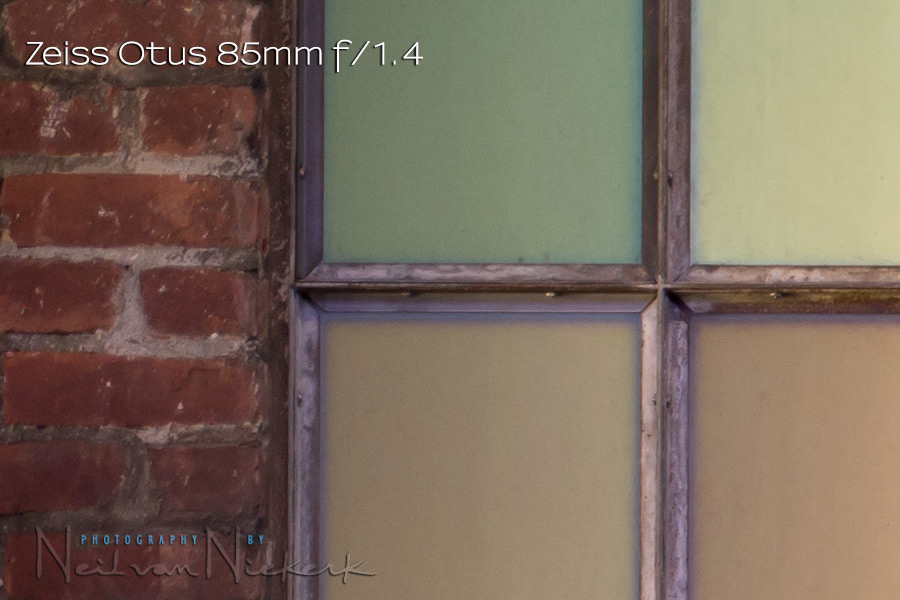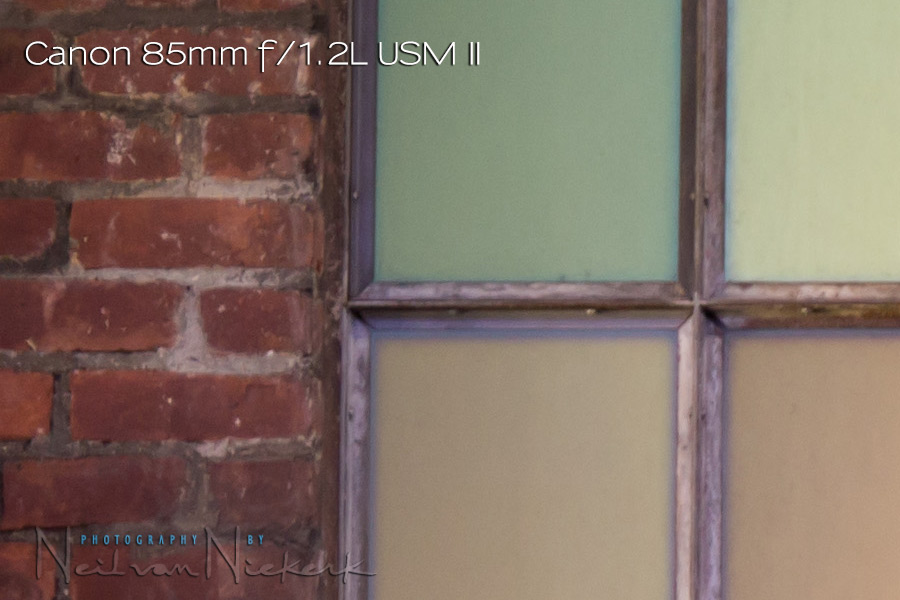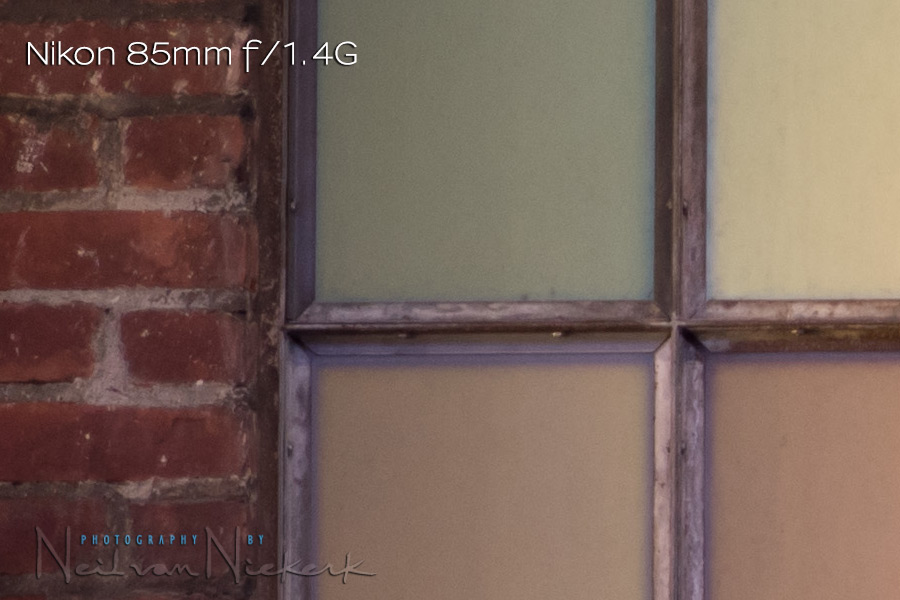 Summary
In a way I'm conflicted about the Zeiss Otus 85mm f/1.4 lens. You truly have to hold and handle this lens to completely realize the craftsmanship that went into making this lens. It is solid and just exudes quality.
Optically, it is superb. I would say that Zeiss don't exaggerate their description of this lens. It really is that good.
Do I want this lens? Oh yeah … if given to me, I'd treasure it. Use it and treasure it. However, for my kind of work, this isn't a practical lens. I need a lens that I can shoot faster with. But for anyone who expects the very best, and shoots subjects where a methodical approach is best, (such as landscapes or architecture), this lens comes highly recommended.
For any photography where speed of use is important, then either the Canon 85mm f/1.2L II, or the Nikon 85mm f/1.4G is the lens you want. They perform exceptionally well, as you'd expect. For Canon shooters, right now, I would say the Canon 85mm f/1.4 IS lens is the one you want. Here is the review: Canon EF 85mm f/1.4L IS lens.
And a final note to Nikon shooters who eye the Canon 85mm f/1.2 longingly … you're being silly. The Nikon optic is at least a match for the Canon lens.
Related articles