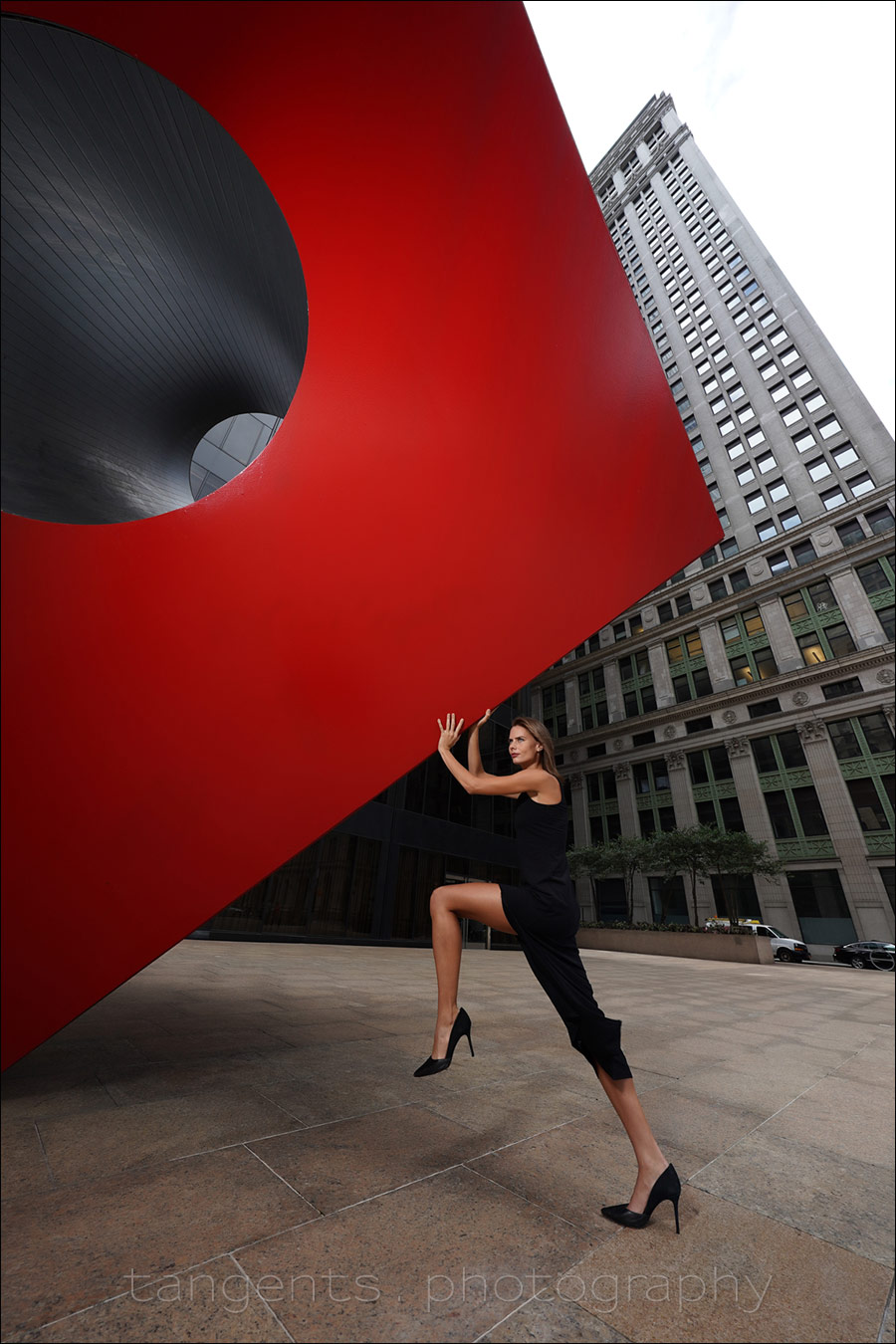 Lens review: Sony FE 12-24mm f/2.8 GM
Sony recently released the Sony FE 12-24mm f/2.8 GM  (B&H) lens, as a wider aperture companion to the highly regarded Sony FE 12-24mm f/4 G  (B&H) which has been available for a while now. While ultra-wide zooms in the 16-35mm range is common-place now, lens makers have been pushing the boundaries with even wider focal lengths. Ultra-wide lenses, and specifically ultra-wide zooms are of particular interest to landscape photographers and architectural photographers.
The rectilinear look creates optical distortion to items towards the edges of the frame, stretching things. This can be used to great effect … or can be disconcerting for some. For this review, I decided to work with Rozalinda Uhl (Instagram) using some of the bold architecture in lower Manhattan – the Red Cube, and around The Oculus. Perfect settings for this interesting cityscape.
All the images here of Rozalinda were taken at 12mm, specifically to show the results you get at this crazy focal length! The moment I took the photograph at the top, I had that quiet wow! feeling inside, knowing everything had come together spectacularly in the frame. Other photos where the composition was carefully controlled, looked just as stunning to my eye. This lens has lots of interesting possibilities!
Here is the pullback shot to show the off-camera lighting used to make the image pop even more: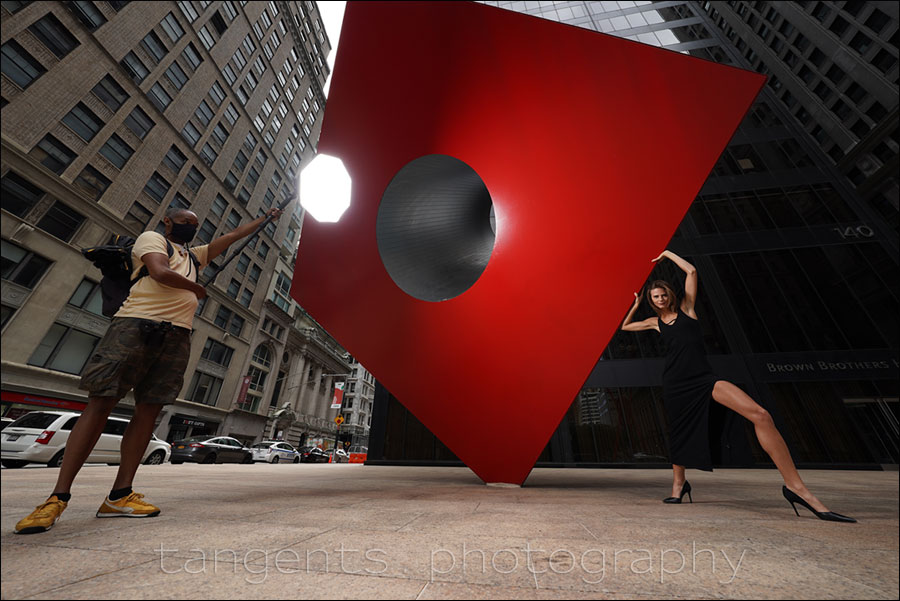 Camera settings and camera gear used for the photos at the Red Cube
1/250  @  f/5.6  @  200ISO
---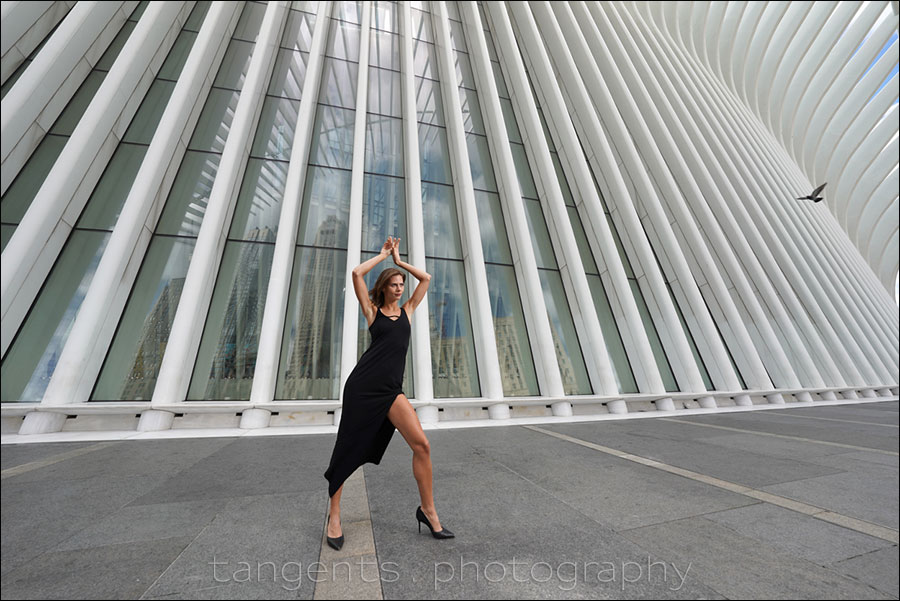 Camera settings and camera gear used for the photos at The Oculus
1/250  @  f/5.6  @  100ISO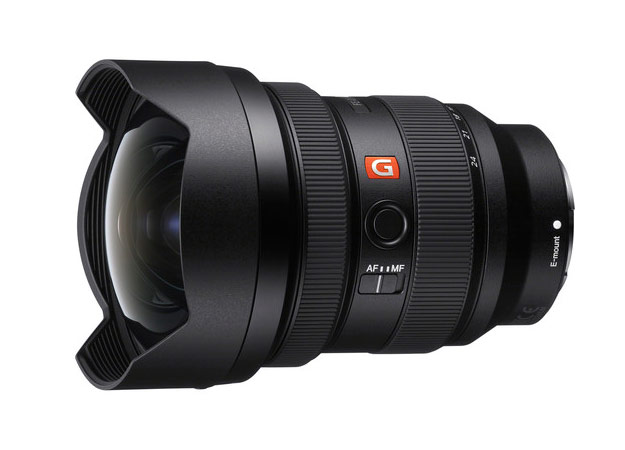 Features and specifications of the Sony 12-24mm f/2.8 GM
As part of Sony's esteemed G Master series, this lens is designed to achieve notably high resolution and sharpness through the correction of a wide variety of spherical and chromatic aberrations. Additionally, these lenses feature robust and intuitive-to-handle physical designs to benefit both photography and cine applications.
Featuring a constant f/2.8 maximum aperture, this lens is ideal for working in available lighting conditions and controlling depth of field to isolate subject matter.
Its advanced optical design includes a series of XA, aspherical, Super ED, and ED elements, which combine to reduce a variety of aberrations and distortions for a high degree of sharpness, accurate rendering, and notable color accuracy. An updated Nano AR Coating II has also been applied, which suppresses flare and ghosting for greater contrast when working in bright and backlit conditions.
Complementing the optics is an XD Linear Motor system that uses four separate focusing motors to deliver especially quiet, precise, and quick autofocus performance. A floating focus design is employed, too, that aids in maintaining consistent results throughout the focusing range, from 11″ to infinity.
The lens also sports a dust- and moisture-sealed design and fluorine-coated front lens element to support shooting in inclement conditions and there is a built-in petal-shaped lens hood to block stray light and physically protect the front element.
Other options with ultra-wide zoom lenses
Before we consider what other options we have with ultra-wide zoom lenses, we need to look at what those extra 4mm mean between the 12mm and 16mm focal range. When we look at longer lenses, then such a difference is negligible, but when we work in the realm of very short / ultra-wide focal lengths, it makes a difference.
Have a look at just this one set of comparison images to see how much wider 12mm is than 16mm. Not only can you capture a wider scene, you can also dramatically alter your perspective with the 12mm lens if you fill your viewfinder with the same sized scene, compared to 16mm.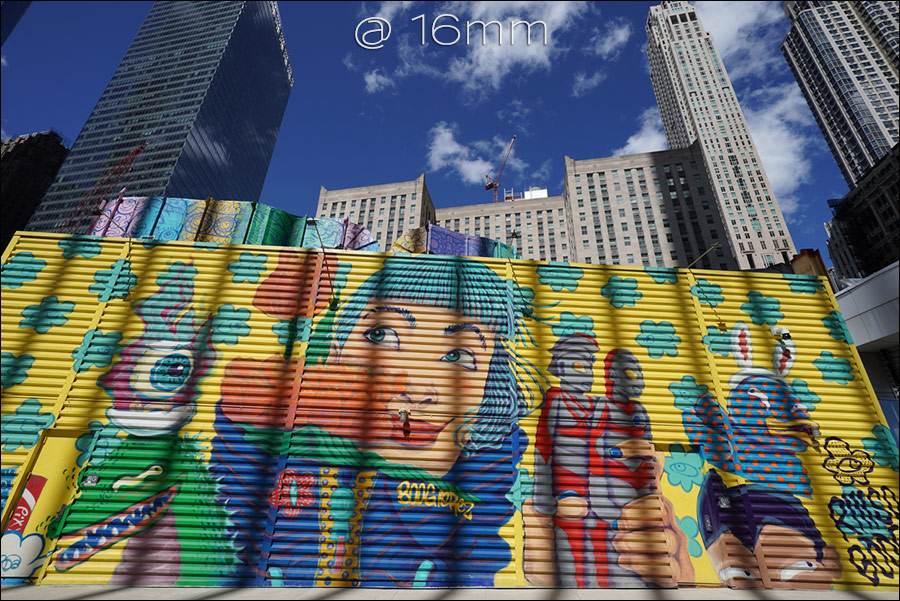 So yes, 12mm does make a significant difference. Whether it is what you need, and whether it is worth the cost for you  — and the loss of the longer end of the zoom's range, would depend on your needs.
Here are the Sony ultra-wide zooms on offer. Obviously, the wider the lens, the price goes up. And as the aperture goes wider, the price also kicks up considerably.
Edge-to-edge sharpness
Over the years I have been disappointed and surprised by how specific lenses performed when you consider edge-to-edge sharpness. It was the impressive Nikon 14-24mm f/2.8 that swayed me to jump back to Nikon from Canon when Canon's 16-35mm f/2.8 V2 consistently disappointed over several copies of the lens. So edge-to-edge sharpness at the widest range, shot wide open, is one of the criteria that I immediately consider when looking at lenses …. and specifically ultra-wide lenses.
Verdict? The Sony 12-24mm f/2.8 GM is stellar! Here is the scene, and then 100% crops of the left-hand and right-hand sides, of a series of test images I shot. I'm impressed.
A 100% crop of an area on the left-hand side of the frame, at 12mm @ f/2.8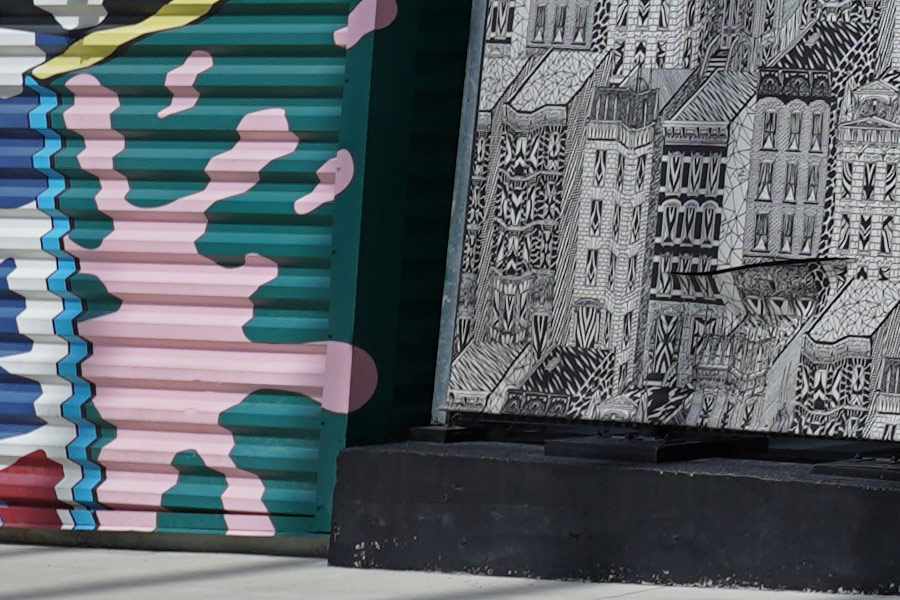 A 100% crop of an area on the right-hand side of the frame, at 12mm @ f/2.8
---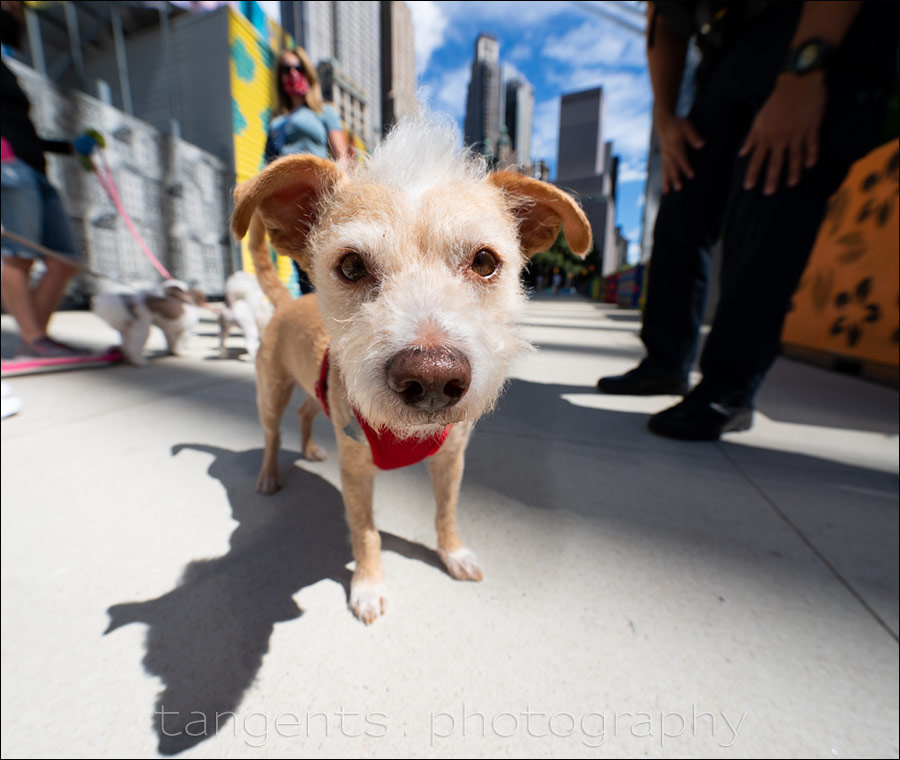 And then finally, while sauntering around this area of New York, I chanced upon this doggo sporting a mohawk! This was shot at 12mm, with the camera held low to the ground, with the screen tilted up so I could more or less see the composition in the bright light … and putting my faith in the eye-focus of the Sony A9 to nail it. (This image was cropped for a 5×4 aspect ratio to post here.)
1/400  @  f/5.6  @  100 ISO — aperture priority.
Summary
I already have (and love) my Sony FE 16-35mm f/2.8 GM  (B&H) and didn't expect to be so impressed with this Sony FE 12-24mm f/2.8 GM  (B&H) as much as I was, but the extreme wide-angle focal lengths are fun to play with. I couldn't find anything about this lens that I didn't love … aside from perhaps the hefty price. Optically, the lens is a stellar performer. Focusing is fast. Barrel distortion is very well controlled. Sharpness is very impressive. I love it.
Related articles
---