How to mount multiple flashes / speedlites
Quite often, a single speedlight just isn't enough. You need more! You might need a smaller aperture than the single speedlight would provide (even at full power), or you might be battling very bright ambient light. High-Speed Flash Sync doesn't help you in that case. Then you need to add another speedlight.
The mount / bracket that I settled on is the  RPS Light Bar with Four Accessory Shoes RS-3102 (affiliate). It is a bit unwieldy, especially when you have 4 speedlights mounted. But when you need it, you need it. It is this bracket that I use when I'm shooting family groups with speedlights, as described in this article: wedding photography: positioning your flash for the formals.
I've used this setup for some of the photography workshops that I've presented, where I need to simultaneously have Canon and Nikon speedlights. I have also at times mounted both PocketWizard and RadioPopper triggers. This bracket allows me the flexibility to choose my setup, and to do multiple setups with different systems.
Now, the reason why I settled on this device, is that none of the other devices that I've seen, have enough space for either the PocketWizard TT5 units, or the Radio Poppers.
While these are all ingenious solutions to the problem, they just don't have enough space around for the base of the radio trigger, whether the RadioPopper or PocketWizard. Others that I've seen that do allow for this, just don't seem as sturdily built.
The  RPS Light Bar with Four Accessory Shoes RS-3102 (affiliate) is quite sturdy, as you might see in this detail image of the hot-shoe mount: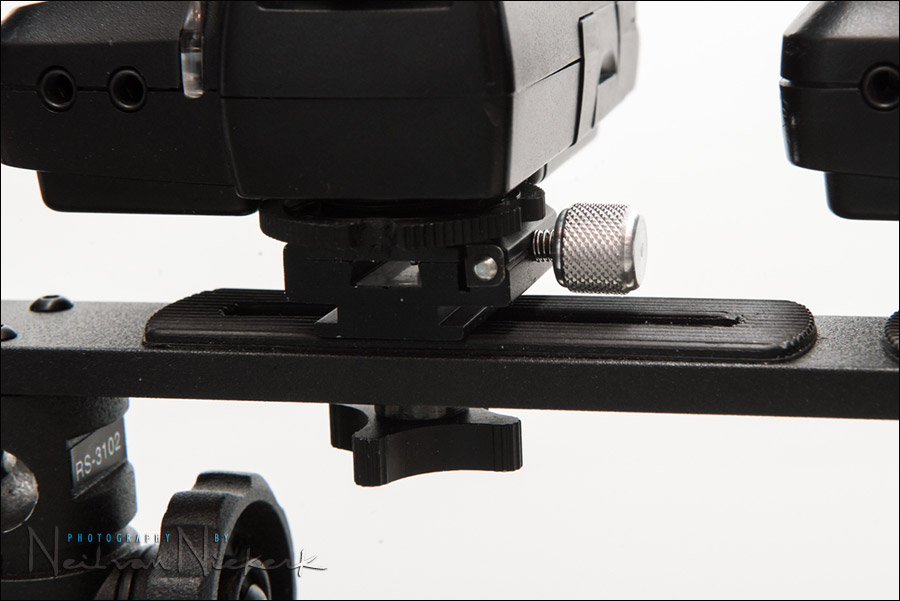 Each flash's foot is locked into place with a screw, and each base can be shifted horizontally, or angled any way you want on the horizontal plane.
Now, most of us have at least 2 speedlights. Probably more. Then this device makes sense as an additional purpose. But if you were looking for a setup with a lot of power, by the time you add the cost of the four speedlights and battery packs and radio triggers, it becomes quite an expensive rig. Then you're better off buying one of the larger more powerful setups such as the Profoto B1 flash (affiliate). You could equally well decide on the Elinchrom Quadra sets or an AlienBee setup with a battery. There are numerous options which would give you a lot of juice … and be less expensive than four speedlights.
For all that, I do think a device such as this should be in your camera bag. Just in case.