For the last in the series of photo sessions with the Modern Gypsies on this day, we ended up here … launching two girls in costume, onto the East River inside a giant ball. It really did make sense. And you may ask yourself, how did we get here?  Letting the days go by … No, really, how did we get here?
For this still un-named part of the Modern Gypsies' act, Michael Saab, envisioned something intriguing.  The two violinists would enter a party or event, both playing violin while walking inside this giant ball.  The violins would actually be miked up.
Photographing this proved challenging.  Two girls in costume inside a giant ball while playing violin, just seemed too mundane to photograph as is.  So Michael came up with the idea of launching them inside the ball, onto the East River, whereupon they would then play their violins for the photographs.  The idea, while intriguing, just seemed too dangerous .. so we opted for a few portraits of Emily and Irene … and then do the photos of them sans violins inside the ball out on the water.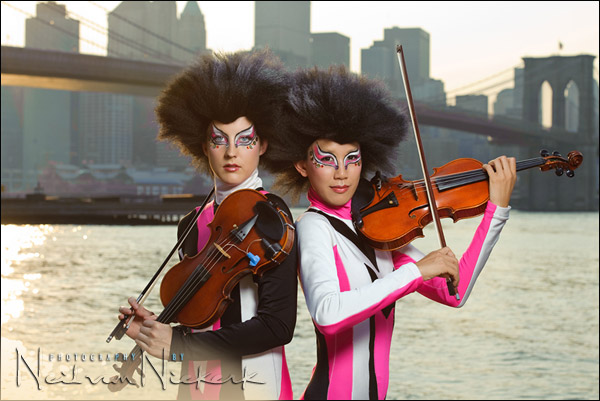 Shot with the 70-200mm f2.8 using off-camera flash in a softbox.
This bendy photograph was obviously taken with a fish-eye.  I didn't quite like the effect …
… so I settled on more dynamic portraits using the 14-24mm lens around the 20 to 24mm range.
Finally the time had come to take this to the water.  Michael sealed the girls inside the ball.  (There's enough air in there for at least 10 minutes.)  The ball was inflated with a leaf-blower.
And there you have it. Something quite spectacular and unique.
(I cloned out the handles and safety rope in Photoshop for this photograph and the one at the top.  I also removed the hot-spot from the off-camera flash for these two images.)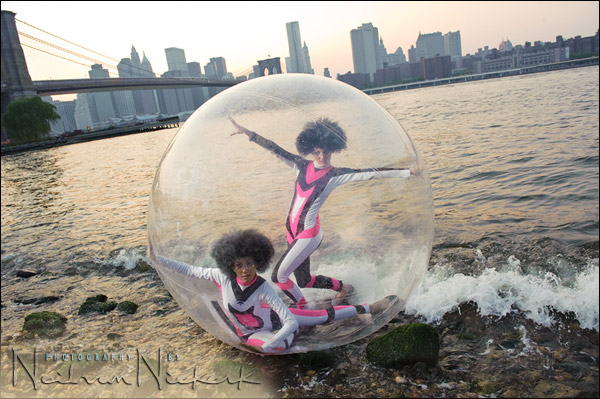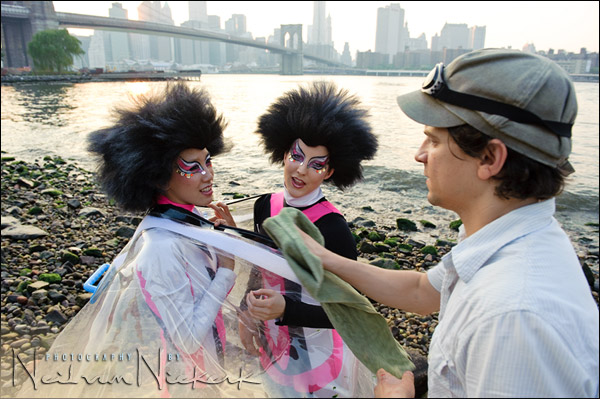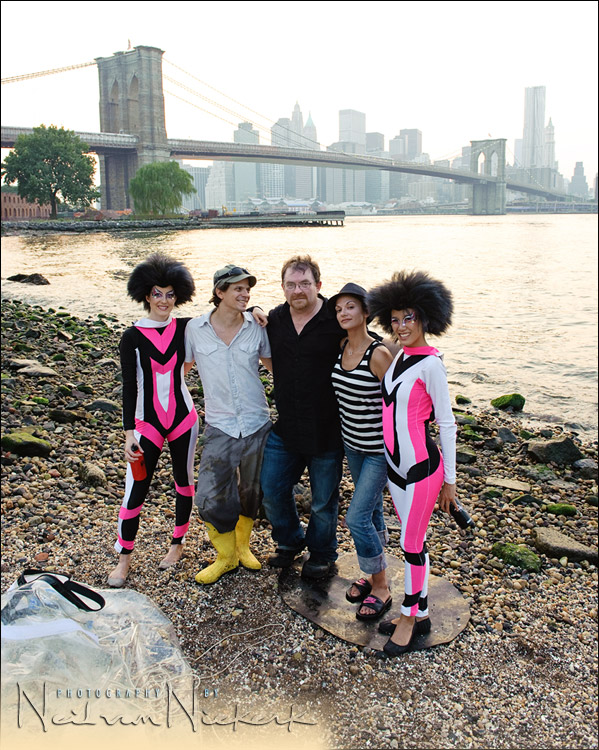 From left to right:
Emily, Michael Saab, myself, Jessica-with-the-tood,  Irene.
A few technical details about the photographs:
For this photograph, I was shooting with wireless TTL flash.  The on-camera Master speedlight had its output disabled, just controlling the Slaved speedlight.  Jessica was holding up the softbox to my left. The softbox was the Lastolite Ezybox setup again.
settings: 1/250 @ f5.6 @ 100 ISO .. the lens was the 24-70mm f2.8 … off-camera TTL flash.
For this next image, I had the Slaved flash set to full manual output, since I wanted the most out of the speedlight to match the super-bright background. The softbox was held up to my right-hand side.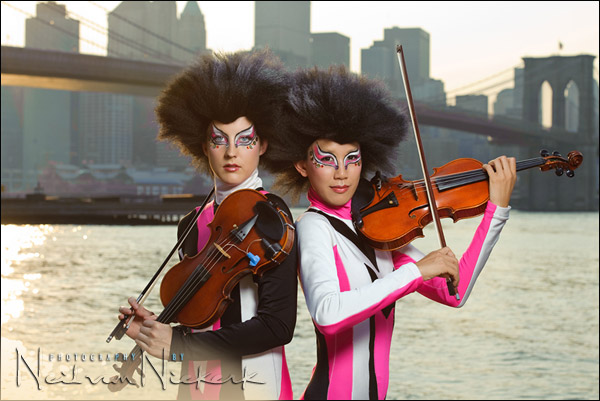 settings:  1/250 @ f7.1 @ 100 ISO .. the lens was the 70-200mm f2.8 since I wanted the compression in perspective against the Manhattan skyline.
Just in case you're wondering – for the images where Jessica was helping to launch the ball, I held up the softbox on the monopod with my left hand, while shooting with my right-hand.
More articles on off-camera flash …
Equipment used during this photo session:
Nikon D3;  Nikon 14-24mm f2.8 AF-S (B&H);
Nikon 24-70mm f2.8 AF-S (B&H); Nikon 70-200mm f2.8 AF-S II (B&H);
Nikon SB-900 (B&H);  Nikon SD-9 battery pack (B&H)
Lastolite EZYBOX 24×24 softbox (B&H)