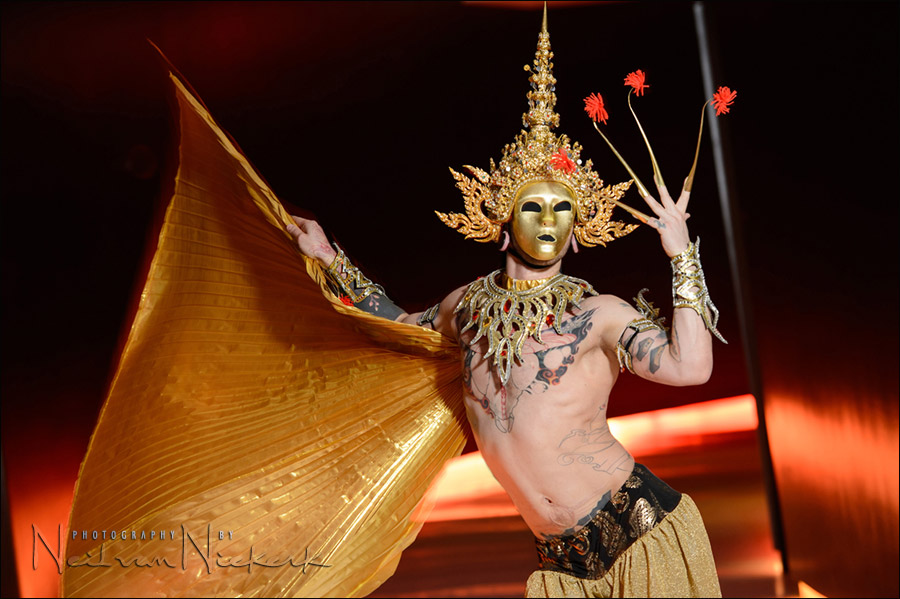 photo shoot & off-camera flash – making the background count
I got a call from Michael Saab of the Modern Gypsies to let me know that they were performing in a night-club in Manhattan, and would I be interested in doing some promotional photos for them? Of course! Other photo sessions with the Modern Gypsies were all energizing experiences. (The Modern Gypsies also featured in my book, off-camera flash.) Working with creative people always fuels the creative spark.
At the night-club, I looked around for interesting areas I could shoot some portraits. I felt this curving passage-way could be a complementary background for this one outfit. But it took a few test-shots and adjustments to get where I wanted to be …
This curving hallway looked like it might work as an interesting background. But it was dark, so I would have to add some light to it.
Here is the pull-back shot to reveal the lighting set-up:
Two light-stands. The one behind has a bare speedlight to give a bit of a rim-light. (I zoomed it to 85mm so that it didn't spread too wide and light up so much of the walls.)
The 2nd speedlight was in a small softbox – the Lastolite 8.6″ Ezybox for speed lights (affiliate). Since I needed to contain the light in that passage-way I didn't want to use a larger softbox, and especially not an umbrella, since that would spread the light too wide. The smaller softbox was better suited.
equipment (or equivalents) used during this photo session:
camera settings:
1/20 @ f3.5 @ 800 ISO  .., manual flash.
The slower shutter speed, and wide-ish aperture helped bring in the ambient light – that red lighting along the sides of the passage.
To get my lighting setup to work, and make sure it all came together, I asked Irene to stand in the spot I had picked. Some readers of the Tangents blog might remember her as Bird Girl.
The vertical test shot quickly revealed that the main light – even with the small sofbox – would light up the floor too much. I would have to shoot this as horizontal portraits.
This horizontal test shot with the 24-70mm at 70mm, also told me that I would have to stand back much further with the 70-200mm f/2.8 zoom, and compress the perspective.
A comparison photo without the flashes being triggered to show how much ambient light appeared in the final images.
I also had to do dual portraits like this next image.
But f/3.5 would not be enough depth-of-field, so I dialed my aperture to f/5.6 to give more DoF. Since the change in aperture would affect the manual flash output, I quickly dialed in the extra 1.3 stops of light via the PocketWizard AC3 Zone Controller  on the TT5 unit on my camera. I dropped the shutter speed slightly to help compensate for the ambient light now being under-exposed by the same 1.3 stops.
camera settings:
1/15 @ f5.6 @ 800 ISO … Manual Flash
summary
This sequence of photographs came together because of the background. Controlling how much the light from the speedlights spread, helped. But mostly, being able to control *how* my background appears, depended on the longer focal length of the 70-200mm f/2.8 zoom. Understanding how a longer focal length helps to compress perspective, and thereby giving you much tighter control over what becomes your background, is essential for any photographer.
With this, the 70-200mm f/2.8 zoom is an indispensable part of my gear, and helps shape my style of photography.
Both the Nikon and Canon lenses are stellar.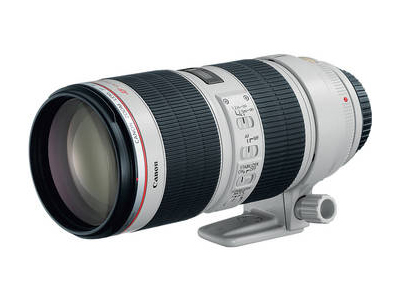 Canon EF 70-200mm f/2.8L IS II
  (Amazon)
Nikon 70-200mm f2.8G VR II
  (Amazon)