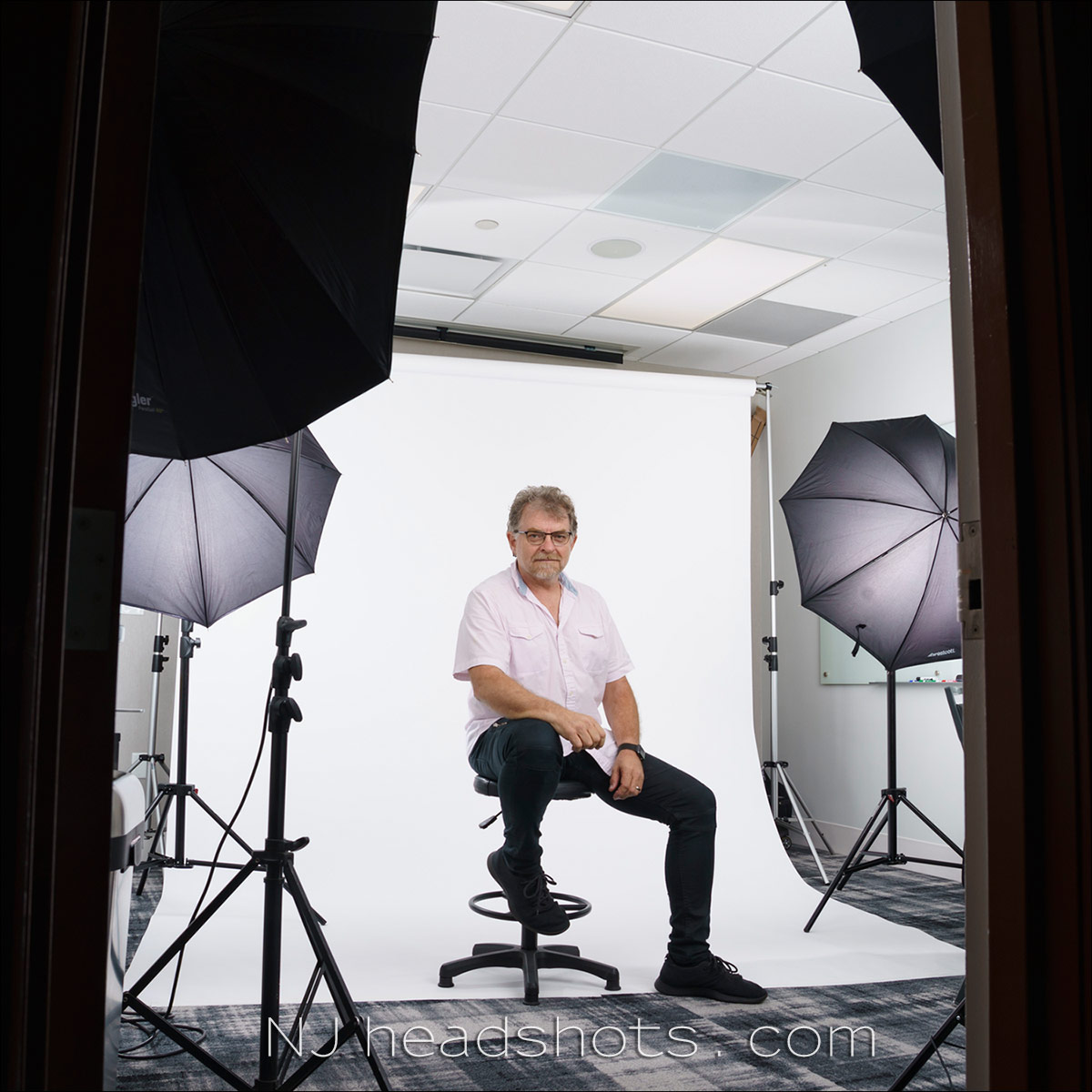 Photographing headshots in a small space
This headshots photo session for a large corporate client, started off as a bit of a challenge — they wanted half-length seated portraits against a white background. Because the room they put me in was a bit too tight, I set everything up at an angle, so that I could shoot from outside the door to get a proper working distance. I would have had enough room here if I only had to do tight headshots, but the client wanted half-length seated shots, and the space was too small for that if I wanted an even background.
I wanted to avoid the need for any avoidable Photoshop work. I had to photograph 40+ headshots that day, so I want to keep Photoshop to a minimum. Even though Photoshop's Content-Aware Fill Tool is fantastic, I really wanted files out of the camera as close to correct as I could. Therefore I dragged in a roll of 9ft-wide paper roll, and lighting stands.
Lighting setup for this photo session
I used 4 lights, as can be seen in the photo above. Two lights on the background, and two lights for my subject.
The two lights on the background were two Profoto B1 flashes  (B&H / Amazon). They had a 45″ umbrella each to help spread the light.
The two main lights on my subject were  Profoto D1 Air 500Ws studio flashes (affiliate) that I ran off AC power.
The main light to camera-right is the Westcott 7-ft Parabolic Umbrella – white (B&H / Amazon). You can see the corner of the main light (the 7-ft parabolic umbrella) in the top right-hand corner of this frame. This large umbrella just floods the entire place with light, helping to avoid specific shadows on the background – although the two background lights would remove most of any shadow. Here is a review: Westcott 7-ft Parabolic Umbrella.
Because the space I had for the fill-light to camera-left was so cramped, I used the narrow Angler Parsail 60″ Umbrellas (affiliate). It is a superb umbrella that helps me in a pinch. Here is the review: Best photo umbrella for a home-studio & indoor headshots
About the photo session workflow
For this headshot session, I rented a the Nikon D850 (B&H / Amazon). The client requested seated portraits as the headshots, but I also wanted to be ready for requests afterwards for a tighter, more usual headshot. The extreme megapixel count of the Nikon D850 still gave me an easy 12-16 megapixels on a tighter crop of everyone.
I had to photograph around 40 people intermittently during the say as the group took breaks or had lunch.  Then it is a 5 minutes per person crunch. And then I sit and wait for an hour or two to the next break time.
I shot everything hand-held. I don't do tripods for headshots.
It is essential to shoot tethered to a computer. This helps client to pick a favorite photo, and also change anything they want in how they present themselves. This 99% avoids anyone being unhappy  a week later when you send the photographs over.
The computer I used here was a MacBook Air, but I brought a 26" Apple Cinema display along to give an impressively large image which helps in the selection process which had to be fast.
I use Nikon Camera Control Pro as the tethering software, and I use Bridge to preview the RAW files.
I shoot, go through the images … star rate them and pick the subject's favorite shot. Then I rename, and move the images to a folder of their name. Next!
Related articles