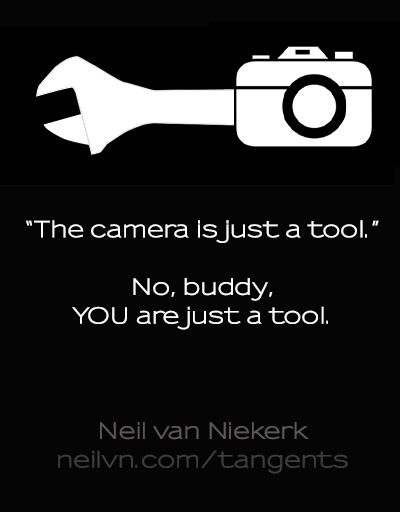 Photography clichés
Some sayings in photography are thrown out there so often that they've achieved a life of their own, and become truisms that are summarily accepted and then perpetuated.
Here they are – the 10 most annoying platitudes in photography …
The phrase clichés in photography, implies visual clichés. But tastes differ too widely, and I wouldn't want to be the Style Police and dictate to other photographers which subjects and approaches are deemed cool. Besides, I think the world could always use more photos of pretty girls sitting on train tracks.
So here they are – things that make me grind my teeth:
1.   "You have to know the rules to break the rules."
2.   "The camera is only a tool."  /  "It's the photographer, not the camera."
3.   "Zoom with your feet."
4.   The absolutism of either / or  debates.
5.   Slippery reasoning in order to rationalize something.
6.  "Fake it until you make it"  /  "But everyone started somewhere"
7.   The superiority of film because of some mystical qualities
8.   B&W = art
9.   Ambient light purists
10. "Don't worry how it looks now, just fix it in Photoshop later"
And here's why those verbal clichés in photography need to go:
  1.  "You have to know the rules to break the rules"
Apparently there are sets of pre-ordained rules of photographic composition which need to be adhered to .. and when you know enough, or are daring enough, you can break them. But it seems first we have to learn these rules.
What I kick against here is that in using specific rules of composition in the first place, we become technicians, constructing images with a specific prescribed balance to them .. instead of an artistic approach where we intuitively and spontaneously react to the subject and what we see.
2.  "The camera is only a tool."  /  "It's the photographer, not the camera."
There are variations on these themes – an odd way to rationalize that better quality equipment doesn't matter at all. The reasoning is often on the lines of: "A Great Photographer with crappy camera will produce better work than a total noob with a pro camera." This skewed rationalization completely overlooks the truth that the same Great Photographer with a pro camera will have a clear advantage over if he had used lesser gear. That would be the more truthful comparison.
A better camera, better lenses, better speedlight, etc … will all allow you in becoming a better photographer, and achieving better images. To grow as a photographer, it definitely helps if your equipment isn't a limitation. As such, I strongly believe you should use the best gear that you can afford. And I can already hear the internal dialogue here … so, no, I didn't say that a more expensive camera will make someone a better photographer. Let me try this again. Better equipment will enable you, and not limit you.
As someone pointed out to me, even though the saying is that "the best camera is the one you actually have in your hands", you might still wish you had the REALLY good camera.
3.  "Zoom with your feet"
The prime lenses-only brigade often throw this out there as a reason why they don't need zoom lenses. But let's get this straight once and for all – there is no such thing as "zooming with your feet".
– If you move, your perspective changes. And with a wide-angle lens, your apparent perspective changes dramatically .. sometimes by just moving a few inches left / right or to the front / back.
– If you zoom in or out, or change lenses, and don't change your position, then your perspective stays the same.
Besides, it isn't always possible to move forwards and backwards to frame a shot. If I photograph a group of people, and my back is against the wall, then there really is nowhere for my feet to go. I have to be able to use a shorter focal length, whether by changing lenses or zooming. In this case, "hold it, hold it!" while you change lenses, just isn't as practical as a zoom. And on that topic …
4.  Either / or debates
Aaah yes, the either / or arguments.  Silly arguments debating two ends of any spectrum, when the answer is some common-sense place in-between the two extremes.  For example:
primes  vs  zooms
– the answer is:  Use primes and zooms. Use what is necessary and appropriate to the job on hand.
technical expertise  vs  artistic vision
  – the answer is:  You need both the technical expertise and artistic sensibility to be a strong photographer.
And if you want to explain away that your artistic vision is all that's necessary, keep in mind that your competition has both the expertise and artistic sensibility. Time to catch up, and shake off the self-imposed limitation.
5.  Slippery reasoning in order to rationalize something
This comes in various flavors. Here's an example:
Someone will defend using a slow zoom as opposed to using a faster lens, whether zoom or prime. They reason away the slow aperture by saying they could always crank up the ISO.  (As if they have a higher ceiling than the photographer using a faster lens.)
Now where this doesn't make sense is that there will be situations where someone with a faster lens will still have headroom, but the photographer with the slow zoom will have cranked his ISO to the max and have nowhere else to go …. except the next step … by explaining how they could get away with shooting at a slower shutter speed.
See, you just can't pin some people down .. there's always a side-step to logic as they try and avoid the inevitable and unavoidably clear truth in this case … a fast lens is faster than a slow lens.
6.  "Fake it until you make it"  /  "But everyone started somewhere"
These two are variations on the same theme, and something you often see as defensive arguments to rationalize why a complete noob should think nothing of it to use a professional assignment or shoot (such as a wedding) as a time to learn about photography. Sure, we all constantly learn and grow as photographers over time, but really, 3 days before your first wedding is not the time to ask on a forum what settings you should use. Lack of experience shouldn't be glossed over with the trite comments.
7.  The superiority of film because of some mystical qualities
A few years back you might still have had a viable argument about which is better, digital or film. Right now, there is a clear answer … which means that photographers who love film (for whatever reason), now have to rely on the mystical, the ephemeral in an attempt to explain why film is superior. We now hear how film is … oh, just more organic than digital. Or cinematic. Or has that indefinable quality or mystique that digital somehow just doesn't have.
Seriously, if you like film, knock yourself out, just don't go all New Age on me trying to justify it. And no, film doesn't have more dynamic range than digital.
PS … I don't miss the smell of fixer either.
8.  B&W = art
If you prefer B&W, again, knock yourself out – just don't try and push it as being more pure than color. Or more true. Or conveying more emotion. Or something. Or being art. I mean … Art.
9.  Ambient light purists
Oh, for me, this is an obvious choice for this list. "I'm an available light photographer" .. thrown out there with a superior air as if they look down on someone who understands how to use additional lighting, whether flash, video lights or reflectors. I've said it before … our style should be borne from choices we make, not from our limitations. Use what you need to use to improve a scenario.
10. "don't worry how it looks now, just fix it in Photoshop later"
Here I simply want to quote Zack Arias .. "If you find yourself saying I'll fix it in Photoshop, stop and slap yourself in the face, because you're being lazy"
Related articles