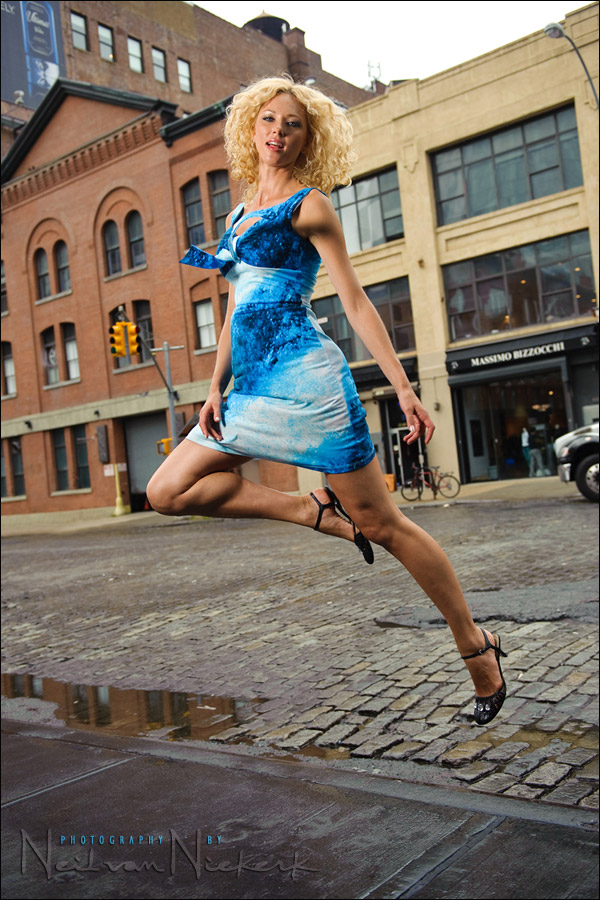 recap: photography workshop – Jersey City & Manhattan (2010)
As a recap of the two-day long flash photography workshop, here are some images to show you some of the areas we photographed, and used as a backdrop. In the photo above, Aleona iscaught in mid-air during the recent flash photography workshop. As part of an explanation of High-Speed Flash Sync, she patiently vaulted into the air numerous times for everyone who attended the 2nd day of the workshop.  As before, the 2nd day is the on-location fun practical segment of the workshop which takes place in Manhattan.
The first day of the workshop still takes place in Jersey City at a hotel where we have a grand view of Manhattan …
A few more images from the workshop in progress: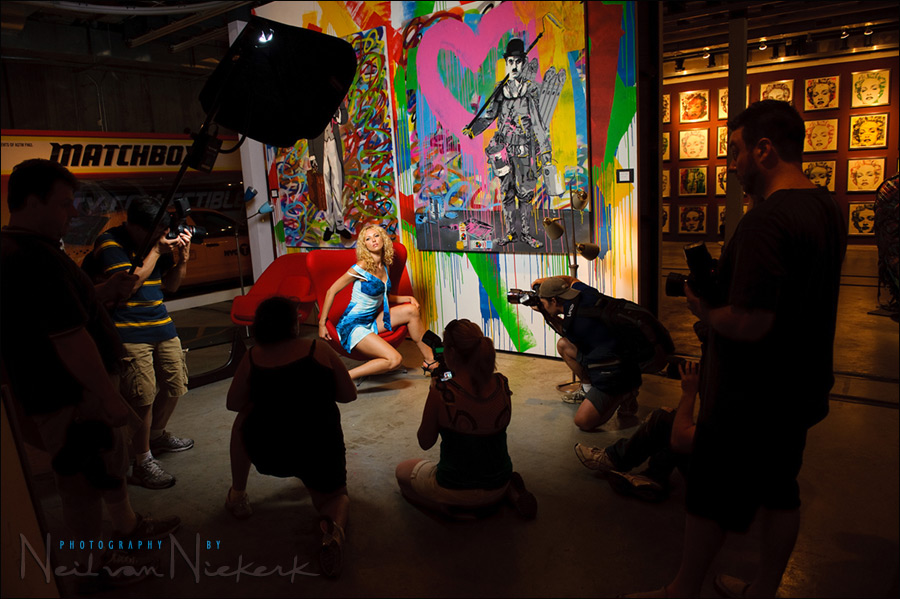 Just before lunchtime on the 2nd day, we had a massive rainstorm, so we continued under the awnings for a while until we finally broke for lunch at a nearby Thai restaurant.  And yes, I did stand in the middle of the road in the rain to get this shot.  I switched the transceivers to the same channel so I could fire both the flashes at the same time.  A thank you to the group for cooperating for the shot.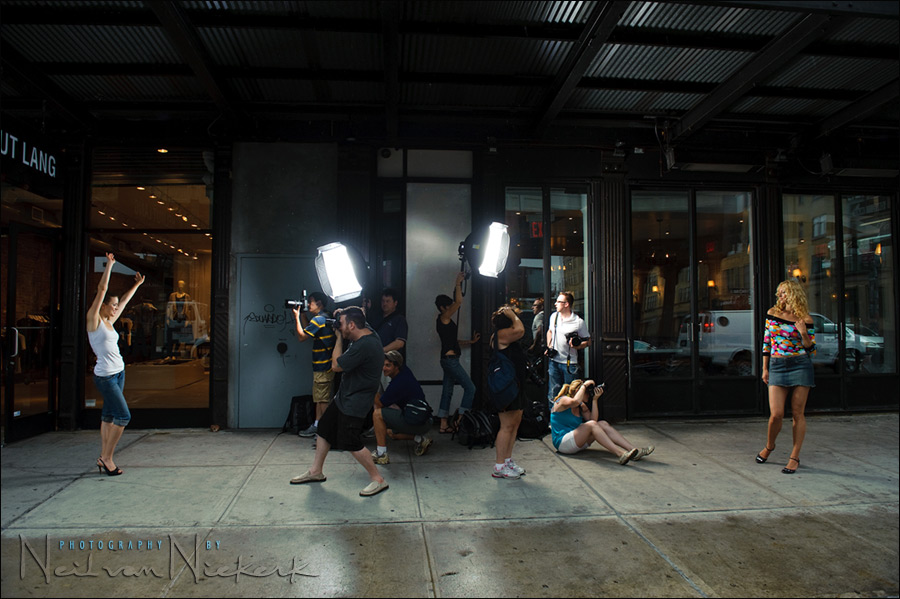 I want to thank everyone who attended. It was really nice meeting everyone, and I hope the workshop was a huge benefit to your photography.  A big thank you to our four models, Aleona, Anelisa, Catherine and Sana.
Finally, a few more images from the workshop, and technical details, (including the image at the top):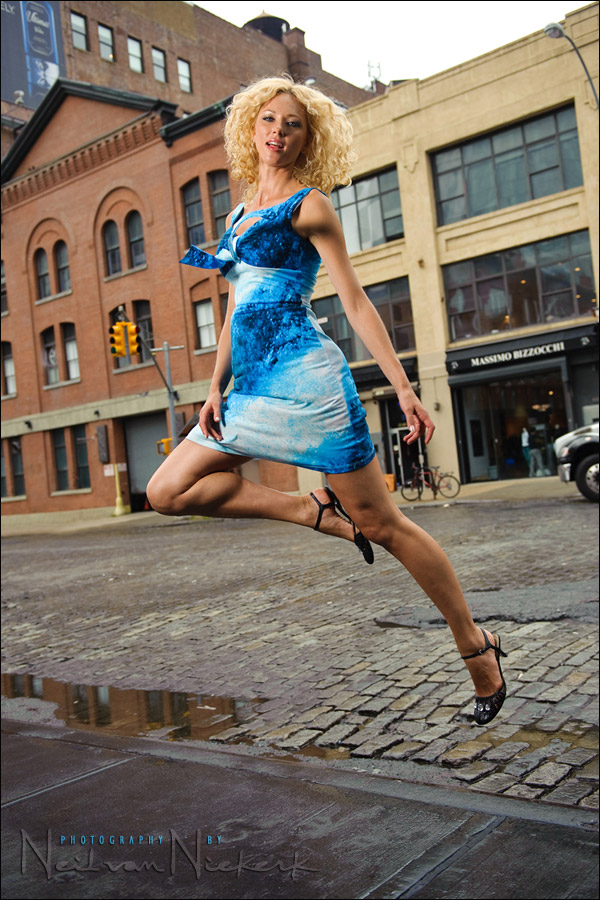 settings:  1/2000 @ f3.2 @ 400 ISO;
Manual flash at full power from a Slaved speedlight, controlled wirelessly  with the on-camera flash set to Master.
The speedlight was still mounted on the softbox, but we had removed the two baffles to ensure enough light reached her from the flash.  Going to HSS kills at least half the power from your flash, so you have to adjust for that.  The easiest is usually to move the flash closer.  Or add more speedlights.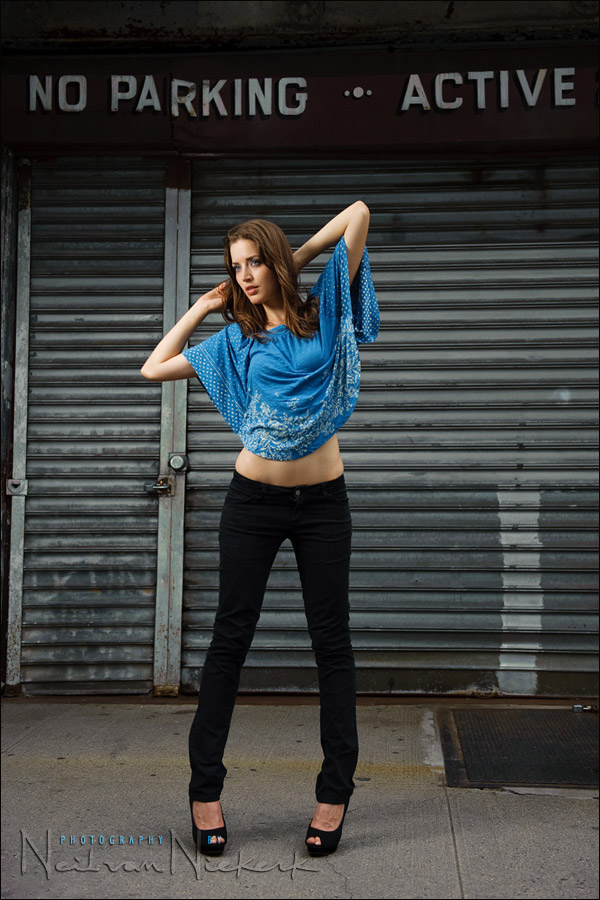 settings:  1/200 @ f3.5 @ 200 ISO; TTL flash at -0.7 FEC.
The Slaved flash was in a softbox, fired by the on-camera flash set to Master.
The Master flash's output was disabled.
settings:  1/125 @ f2.2 @ 800 ISO;
on-camera TTL flash (+0.7 FEC), bounced off the outside wall of the hotel to our right.
Photography workshops