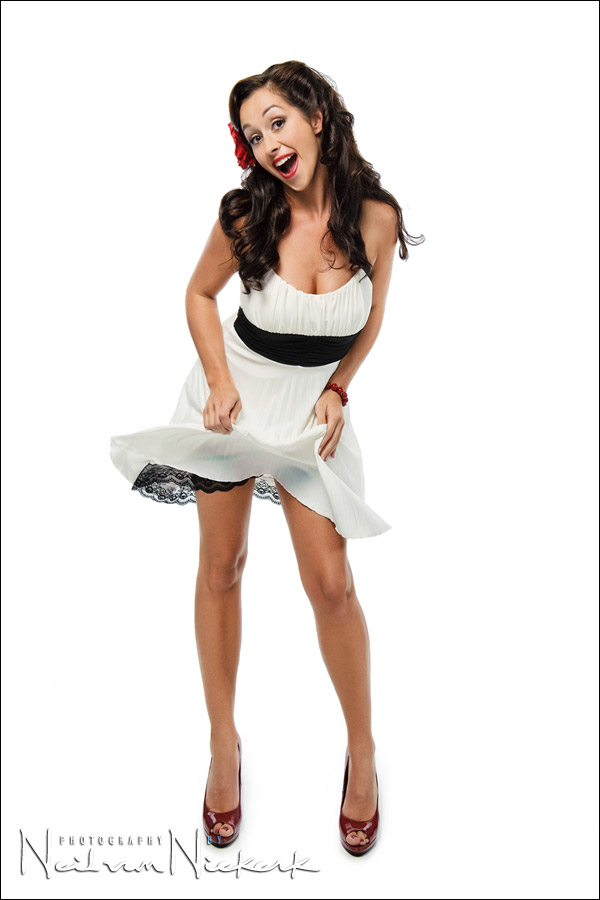 pin-up photography – white on white
I had the great pleasure last night of attending a meeting by the Hudson Valley Click – a lighting and photography group in the Hudson Valley area of NY. The motive behind their meetings and photo shoots is to bring photographers, models, makeup artists, hairstylists and fashion designers together on monthly themed events. All designed for learning and portfolio building.
My friend Peter Salo invited me to the 50's style pin-up photography session that was held last night in Sandy O'Shea's studio.  (Sandy, thanks for allowing us to create havoc.)  There were four models, and there were make-up artists and hair stylists.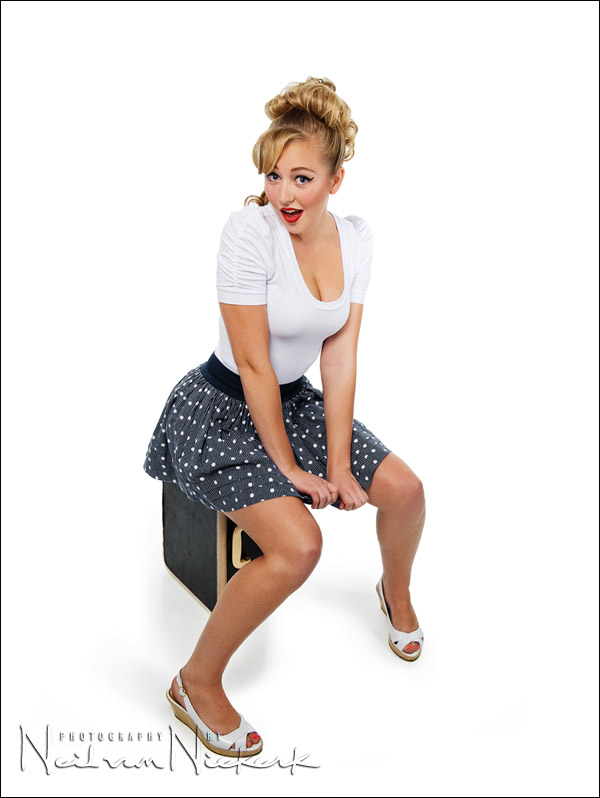 Along with the photos of two of the models shown here, there is also this pull-back shot of how I set up the lighting for these images …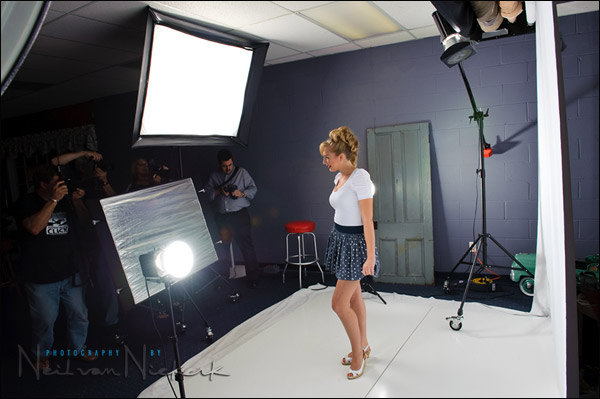 The lighting was quite similar to how I had set up the lighting for the recent pinup photo sessions with my assistant Jessica .. except for the addition of the reflector in front of the photographer.  The idea here was to create as even light as possible on our models, with the 3×4 softbox above the photographer. Two Alien Bee units pushed light onto the white background. They were feathered out slightly so that there wasn't any direct light on the model.  That's it … three lights and a reflector.  The softbox is a Larson softbox I think, but I can't remember what the main flash unit was.
camera settings: 1/160 @ f10 @ 200 ISO
lens: 24-70mm f2.8
The post-processing of the images is very similar to the post-processing for portraits that I showed in a previous article.  I did mask out the background in both the images shown here with the Quick Selection Tool. I then erased the background selectively so that a layer of white underneath would be the background in the final images.
Thank you again to Nuby and Peter and Sandy for hosting this event.  Great times!  If you are in the Hudson Valley, NY area, do check their schedule out.