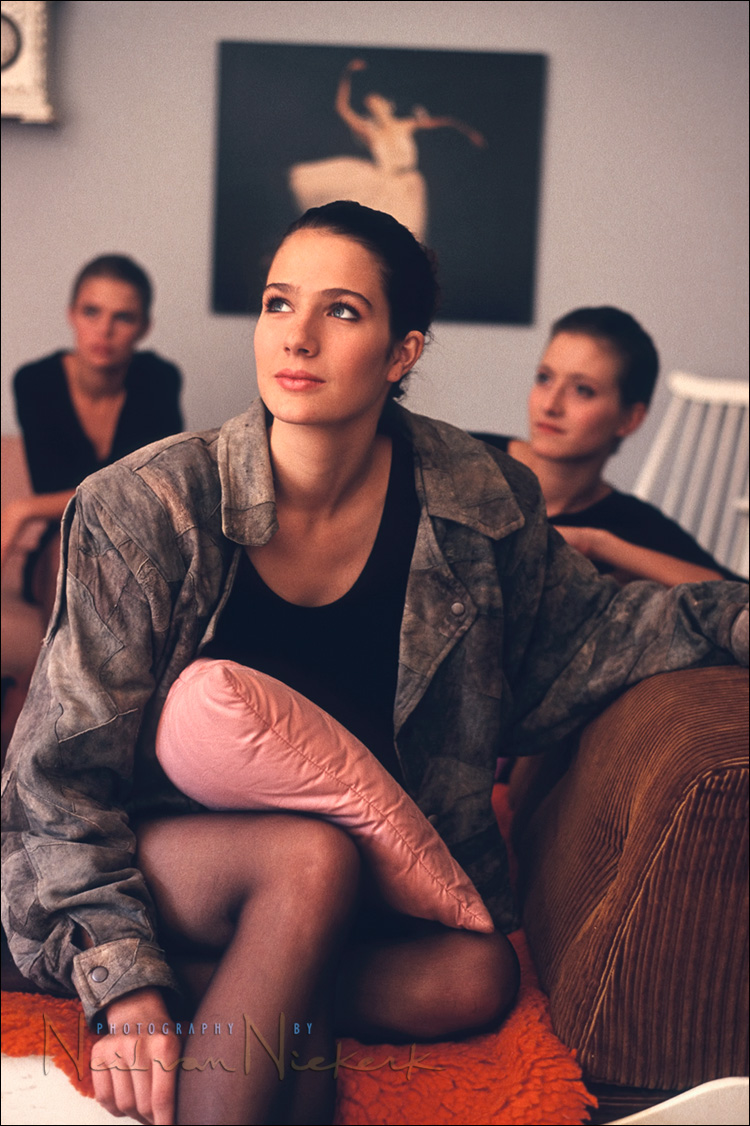 Portrait photography: Show us a favorite or break-through photograph
This photograph remains one of my favorites. It was taken circa early 90's during a studio shoot-out arranged by a camera club (CCJ) I belonged to in Jo'burg. In this photo, the models are waiting for their turn to be photographed in a studio setup, using studio lighting, as well as available light in the large studio. It was a candid moment, as I knelt in front of this model, Megan.
For me, this was a transitionary photograph – I was at a point where I knew basic photography techniques. I read voraciously, and devoured magazines and books. But my own images at the time – landscapes and cityscapes and such – were mostly "found" images. For me, there was still a gap between what I was photographing, and the images I was drawn to – portrait and fashion images which were more controlled. Even then, the portraits and fashion photography that appealed to me, had a fresh and "loose" feel – and I felt I wasn't quite  capable of that yet. It wasn't just insecurity, but also shyness in working with people, and posing them. I lacked the courage to involve the people in my photography.
Yet, here I had a photo that had that spontaneity and elegance that appealed to me. Even though the moment was presented to me, and I had nothing to do with how it was arranged, I still felt really proud of it … but more so, the realization dawned on me that I could do this. I could have set this up and shot it. It was within my reach.
I was aware of the problems with this photograph – the fingertips cropped off, and the tilt. The pillow she held to herself is incongruous. The background is cluttered. A more controlled photograph would've been more successful. Still, this was one of those photographs which sparked a change for me.
This photograph then, was pivotal in my progress as a photographer. For the first time I took a photo that looked (nearly) as good as I saw in photography magazines. I could do this!
Let's hear your story
I would like to hear your story, and see your favorite or breakthrough portrait. It need not be perfect. It just needs to be important to you.
Add your favorite portrait photo – your kids, or anyone that is important to you. Or show a portrait photo that has specific meaning to you. Make your entry informative or fun.
Post your comment here, and then email me the image (preferably watermarked), so I can add it along with your comment entry. Preferred sizes:  900 x 600 pixels; 600 x 900 pixels;  750 x 750 pixels. Somewhere around there. And if you need to ask whether it should be 72dpi or 300dpi, you are in for a stern lecture!
To make it interesting, this book on portrait photography was the prize for one lucky winner. Entries closed on Saturday, March 21st. The most interesting or informative or deserving entry as chosen by myself and my cosmic collaborator, won the prize. 
Even though this contest has closed, please add your comments – we would all love to hear. There are always stories that need to be shared.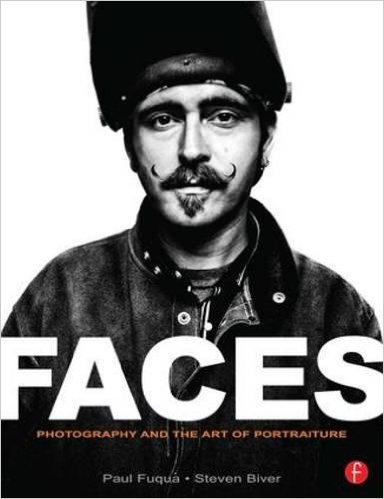 This comprehensive book on portrait photography, contains stunning images. Each image is paired with a lighting diagram, a description of why the type of image was chosen, and then takes you through post-production to put the finishing touches on.
There is a wide breadth of portraits — from street shots to studio shots. The emphasis is on the the techniques used to photograph these striking portraits – all the how-to when it comes to composition, posing, lighting, and even legal and model info.
If you are curious about the premise of this book, you can order it through Amazon USA or Amazon UK.
Details about the photo at the top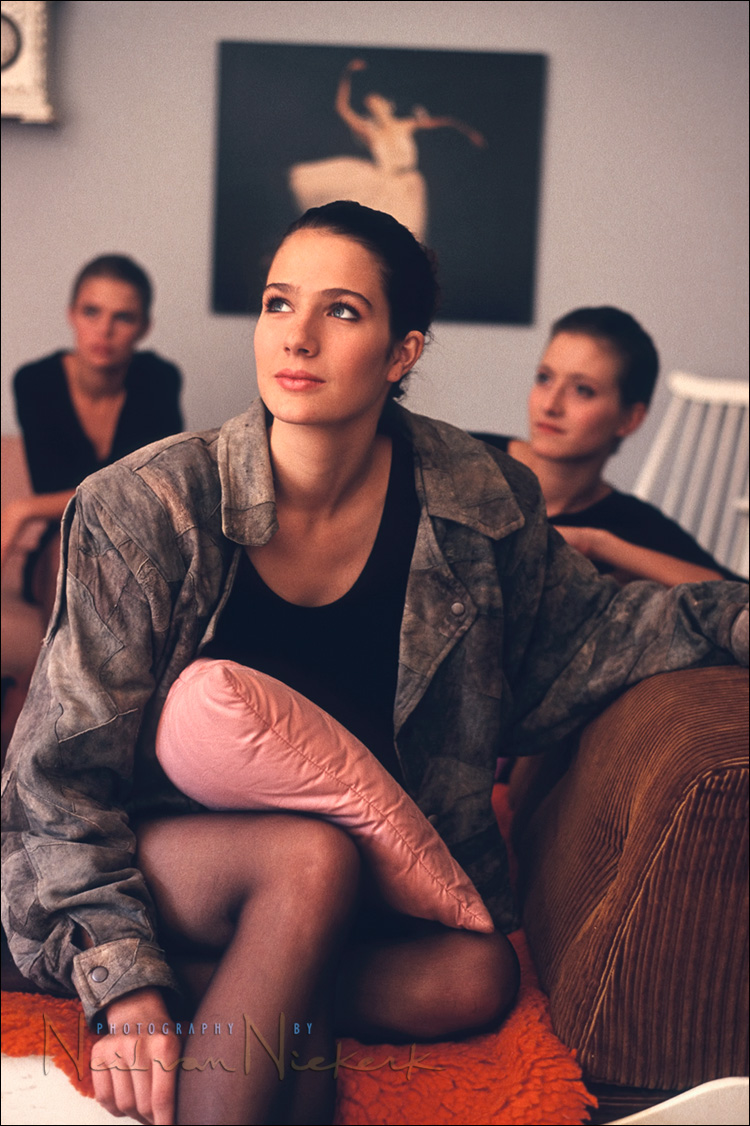 This was shot on Fujichrome, with either my Pentax Super-A, or Pentax Z-1 … or perhaps the Nikon F90x that I had migrated to in the early 90's. I am sure I scribbled notes somewhere about which camera and lens I used, and possibly even the camera settings. However, as with most photography, those kind of details aren't of much importance.
It is scanned from the Fuji transparency with a Nikon CoolScan 5000. What you see there though, isn't the "organic" look of film. I retouched it slightly in Photoshop, and then had to brighten it up and change the WB through Curves and Levels and a Color Balance adjustment layer.
For 20+ years I shot in Fujichrome, and loved the vibrant colors. I wish though that all the images I had shot, were 12 megapixel (or better) digital captures. They would've been more crisp, and more easily accessible and usable. For workflow, and for the final look, digital (imho) far surpasses film, and I know I will never go back to film. Life as a photographer is better and easier with digital. But those were the days.
Related articles